Custom Door Hangers
Custom Door Hangers are an excellent way to boost grassroots marketing efforts and make a big impact in your community. Fully customizable with your marketing message, coupon, or information, door hangers meet potential customers where they are and allow for an organic interaction right at their front or side door. Easily affordable for any marketing budget and even easier to use out in the field, custom door hangers can be the difference maker for service providers, local stores, delivery contractors, and so many more.
Custom Door Hangers: The Basics
Material:
Thick 16 pt. Cardstock
Printing and Finishing:
Door hangers are printed in full color on one or both sides for the same price.
Our custom door hangers are available in two different finishing options depending on your desired use:
Natural Semi-Gloss Paper Coating - This allows for writing or marking on the door hanger.
High Gloss UV - This will make the door hanger extremely glossy, durable, and stain-and-marking resistant - ideal for a professional and finished look.
Sizes:
3.5" x 8.5" or 4.5" x 11".
Die Cut:
Door Hangers are die cut with a hole to fit any door knob style.
Recommended uses:
Door-to-door marketing, service announcements, new business announcements, fundraisers, campaign announcements, and more!
Grow Your Business with Custom Door Hangers
Customer and community focused businesses of all types and sizes can benefit from utilizing Custom Door Hangers as a marketing tool. Here are some great examples we've seen from past customers:
Home Service Businesses (Plumbers, Heating and Cooling)
Home service companies know that getting solidified in a new neighborhood is a great way to build your bottom line. Announce your presence or block specials with door hangers to let neighbors know you're just down the street from when they need their next lawn or garden service. Don't forget to include a coupon or referral code, too.
Cleaning Businesses (Residential Cleaning, Outdoor Cleanup)
Neighbors trust neighbors - especially when it comes to letting service workers into their homes. Cleaning businesses can maximize their customer acquisition efforts by using Custom Door Hangers to let neighbors of current clients know that they're ready to take on new clients as well as a list of the services they offer.
Contractors (Construction, Repair, Cement Work, Window Installers)
Many contractors know how to use our yard signs to show off where they're working but Custom Door Hangers can take it a step further. They offer a great opportunity to introduce yourself to neighbors with a breakdown of exactly the services you offer and the quality you promise. Remember: you never know who's ready to take on their next home renovation or update project.
Dog Walkers
You rarely have time to stop and market when you're trying to help Fido get in his exercise, so let Custom Door Hangers do the marketing for you. Reinforce your visibility in the neighborhood with a Custom Door Hanger explaining your rates, qualifications, and services offered. Almost 40% of U.S. households have dogs - be sure your business is as visual as possible.
Neighborhood Day Care
Working parents are desperate to find safe, local, and affordable childcare for their children - but who has time to do the research? A beautifully designed and eye-catching custom door hanger can help you meet these parents where they are - presenting your business as a choice before they even start looking. Be sure to include your website information, insurance, and any accreditations you may possess for extra impact.
Landscapers, Gardeners, and Lawn Care
Setting yourself apart from the competition is easy with Custom Door Signs. Customers looking for the perfect pruning service for their yard will appreciate you telling them exactly what you offer and that you're available for work in their neighborhood. You can help take the guesswork out of who they want to hire by making sure they know you're the right company for their home.
Community Awareness Campaigns
If your organization is looking to boost turnout for an upcoming fundraiser, community project, or neighborhood cleanup initiative, Custom Door Signs are the answer. Because they are hand hung on only the doors you want them to go on, these signs can help you pinpoint exactly the groups you want to engage. Block associations, HOAs, and community groups across the U.S. use them to great effectiveness every day.
Custom Door Hangers Frequently Asked Questions
Is there an order minimum for Custom Door Hangers?
Our custom door hangers can be ordered in quantities as low as 25.
Am I able to design my own Custom Door Hangers or do I have to use a template?
We make sure all of our products are as easy to customize as possible, which is why we give you three options to make sure your Custom Door Hanger comes out exactly the way you want.
Upload your completed design file into our system in JPG, PNG, or PDF formats. Be sure to include a 0.125" bleed area to prevent unintentional borders.
Add your information to one of our professionally designed templates right on our website.
Use our state-of-the-art online designer tool to create your own design right on the web. You can even include your own logo and images.
What types of coating are offered on your Custom Door Hangers?
Our Custom Door Hangers are available with the following finishing options"
Natural Semi-Gloss Paper Coating - This allows for writing or marking on the door hanger for a personalized touch or to indicate a date, time, or contact method.
High Gloss UV - This will make the door hanger extremely glossy, durable, and stain-and-marking resistant - ideal for a professional and finished look but does not allow for any writing or marking.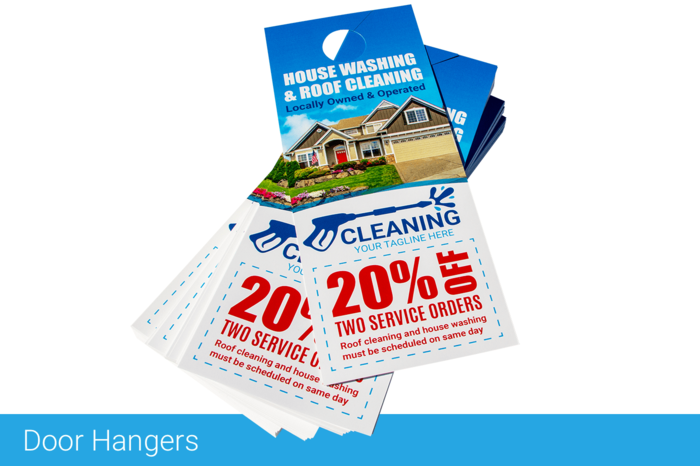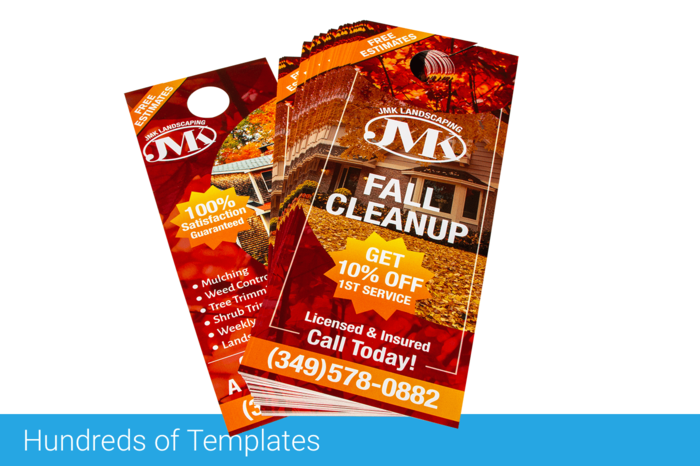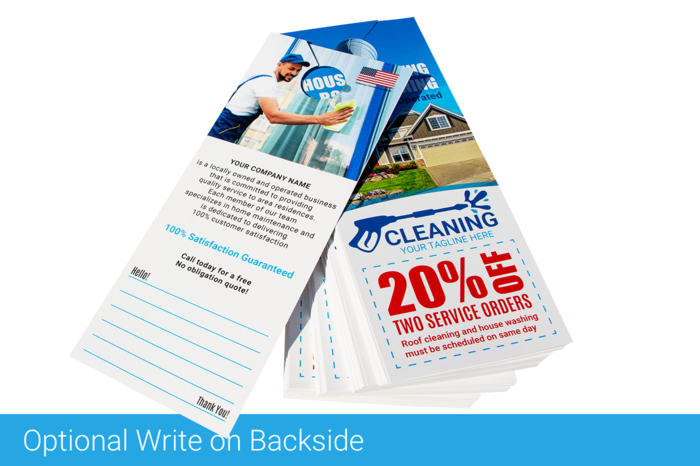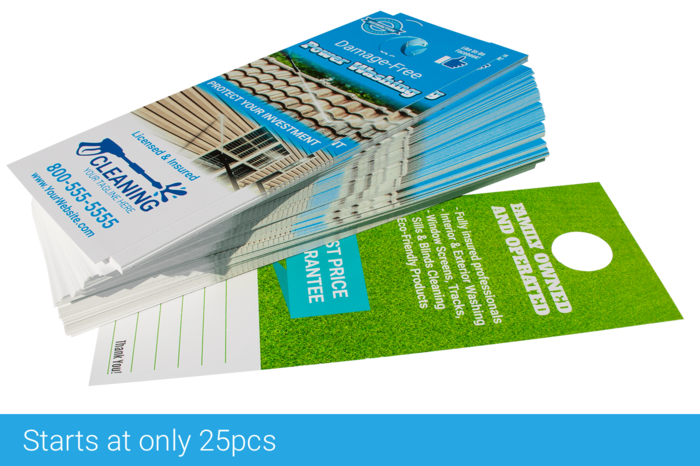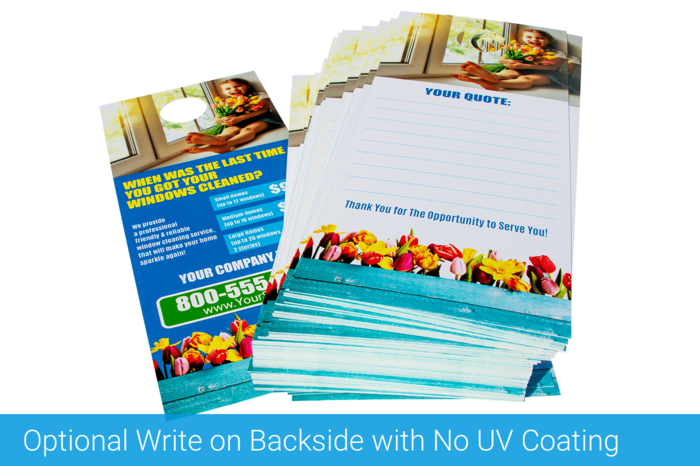 Free Super-Saver Shipping
With $75 order and discount code AWESOME