Custom Rack Cards
In the world of collaterals for businesses small and large, Custom Rack Cards can help you make a big impact whether you're going door-to-door, working a booth at a tradeshow, or simply wanting an easy way to explain all your business does to a new customer. Printed on durable and professional 16 pt Cardstock and fully customizable with any artwork of your choosing, every business, organization, or municipality can benefit from consolidating the information they want to share in an easy-to-take Rack Card format. Whether you're explaining the services that your service business offers in the neighborhood or outlining the goals of your upcoming fundraising season, Custom Rack Cards are the way to go.
Custom Rack Cards: The Basics
Material:
Thick 16 pt. Cardstock
Sizes:
3.5" x 8.5" or 4.5" x 11"
Printing and Finishing:
Custom Rack Cards from Printastic are fully customizable on both sides of the document and can be finished with the following printing options:
High Gloss UV Coating will give your Custom Rack Cards a professional finish that is glossy and stain-resistant.
Natural Semi-Gloss Paper Coating - This allows you to write or mark on the Rack Card - perfect for setting appointments, coupons, or specials.
Recommended uses:
Brochure inserts, menus, service announcements, campaign platform announcements, concert schedules, event schedules, and more!
How Rack Cards Can Help Your Business
If you want to continue to grow your business, Custom Rack Cards are a low-cost, high-impact way to do just that. Easy to use as stand-alone marketing pieces or to include with brochures, magazines, or in sponsorship bags, Custom Rack Cards can be used in a variety of different ways.
Rack Cards at Your Retail Location
Rack Cards are a great way to get out a lot of information quickly and efficiently. Easy to place on counters at a point of sale system, include when bagging purchased items, or given with receipts, Rack Cards can help increase customer retention and improve retail purchasing.
Rack Cards at Your Restaurant
Rack Cards are a natural fit with any restaurant or dining establishment. The perfect size to feature menus, specials, upcoming events, or themed discounts, their low cost means you can hand one to every diner who enjoys your location.
Rack Cards at Your Tradeshow Booth
Tradeshow attendees are often overwhelmed with the amount of collateral they get over the course of a show. You can help your booth stand out from the crowd by offering more via less - a simple Rack Card with all of your company's information.
Rack Cards for Your Service Business
What do you offer and where do you offer it? Two essential questions every customer wants to know. Give them the answers and directions on how they can contact you to schedule service with a Custom Rack Card that features all of your essential information.
Custom Rack Cards Frequently Asked Questions
Why are they called "Rack Cards?"
Rack Cards are named because traditionally they have been displayed in racks or on countertops. However, customers quickly discovered that Rack Cards have many more uses, but the name stuck. Rack Cards are one of the most versatile marketing products on the market today and can be used in seemingly limitless applications.
Do Rack Cards come in different sizes?
Our Rack Cards are available to order in two different sizes: 3.5" x 8.5" or 4.5" x 11"
Can I upload my own Rack Card Design or do I have to use a pre-made template?
Our customers know that we make creating great-looking print products as easy as possible. For that reason, we have three different design options available for our customers to help get the perfect prints in their hands.
Utilize our powerful online designer to create a design of your choice.
Our template library has countless options for you to customize with your artwork and logo.
Upload a fully completed file in JPEG, PNG, or PDF formats.
Is there a minimum amount of Rack Cards per order?
Unlike many print shops with huge minimums, our minimum order is only 25 - making it easy and affordable to outfit your business.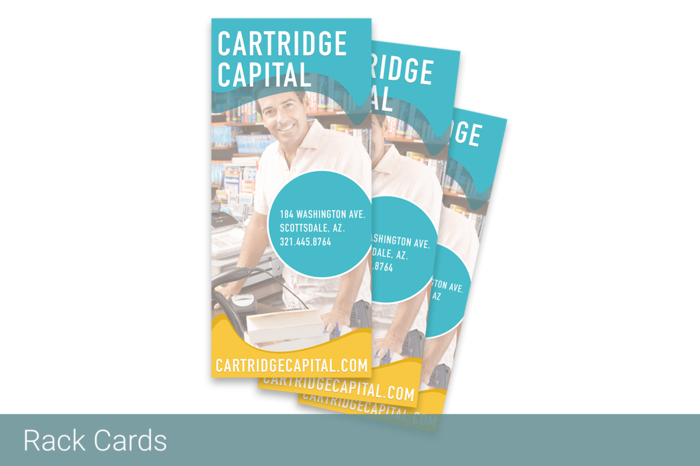 Free Super-Saver Shipping
With $75 order and discount code AWESOME