Table Throws
Full Color Dye Sublimated Table Throws
Printastic is proud to offer full color dye-sublimated table throws in two standard sizes. Custom printed table throws are perfect for trade shows, events, exhibits, presentations and more. Anywhere there's a table, you can brand it with a beautiful full color throw cover featuring your logo, products and messaging.
Custom printed table covers are also one of the easiest-to-transport branding tools to send out with trade show staff and field sales teams - just arrive at the event with this product to start the show! We specialize in quick-turn production for any size run of custom printed table throws with competitive pricing and industry leading product quality - featuring premium polyester knit fabrics for ultimate color pop, durability and feel. All table throws are wrinkle resistant and machine washable.
Sizes & Specs
8' Table throw: 96"W x 30"H x 30"D
6' Table throw: 72"W x 30"H x 30"D
- Heavy knit premium polyester fabric with extra high opacity and a wrinkle resistant finish
- Dye Sublimated printing infused into the polyester fabric
Our dye sublimated full-color table throws come in standard sizes of 6 foot (30" x 72") and 8 foot (30" x 96") to fit most rented convention tables. They're designed to hang down about one inch above the ground on the front and sides, giving you plenty of room to easily store your empty boxes, booth supplies, giveaways, brochures and all kinds of other items underneath.
File Specs
File Size: From 1/2 Size up to Actual Size in Inches
File Color Space: RGB
File Format: JPEG or PNG
Resolution: From 150 up to 300 dpi
Essential Marketing Tool
Event organizers and trade show exhibitors spend considerable time designing and selecting backdrops, banners and retractable displays for booths - but there is another equally important element: table throws. This custom printed fabric table throw can dress up an otherwise ordinary table at a trade show booth and bring more continuity to an exhibit as a whole.
Attract Attention
Trade show attendees have a great deal of visual input demanding their attention, and bold colors in a table throw will help draw their eyes to your exhibit. If your business specializes in visual media - such as photography studios or graphic design agencies - you can even have some of your images presented in high resolution color on your table throw to let attendees see detailed work samples. This type of customization is an excellent way of showcasing your strengths.
Improved Appearance
A table throw is a simple addition to your booth, but it can make a big difference. It can also be a more economical choice than replacing tables that have become dulled, scratched or worn out over time. A throw will hide any of these flaws that take away from your event's professional impression. We use a 9oz stretch polyester fabric, that is highly wrinkle resistant, creating a smooth, wrinkle free table surface on all 4 sides right out of the box - and the stitched hems give a highly polished look.
Features
Fits standard folding tables
Dye Sublimated polyester fabric
Edges are hemmed for clean look
Covers all 4 sides of table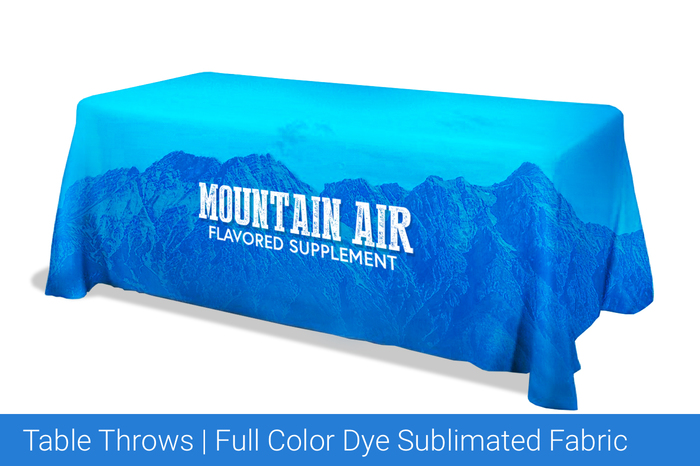 Free Super-Saver Shipping
With $75 order and discount code AWESOME