Custom Dye Sublimated Rally Towels
Whether you're a team that's got fans in the stands or simply want a unique and creative way to promote your business, event, or organization, our custom Rally Towels are a great way to engage your audience and spread your marketing message far and wide. Beautifully printed with dye sublimation and available in three distinct sizes perfect for just about any application, a beautifully designed Custom Rally Towel will help you get your business across the finish line. Printable from end to end and made of durable, long-lasting polyester and cotton, these full-color Rally Towels will give you the advantage you need to win over new customers, new fans, and new business.
Rally Towels: The Basics
Material:
100% Polyester printed side / cotton reverse.


Sizes:
11" x 18", 15" x 18" and 16" x 25" (measurements approximate).


Finishing:
Full-color dye sublimation print for beautiful edge-to-edge color.


Grommets:
Yes. Optional single grommet in the top corner.


Recommended uses:
Hockey Games, Football Games, Corporate Events, Sporting Events, Event Rallies, Sports, Teams, Camps, Fitness, Health Clubs, Rewards Businesses Giveaways, and more.
Using Custom Rally Towels
No matter what business you're in, sport you play, organization you represent, school you attend, or service you provide, Rally Towels can help make a big impact for you and your customers/supporters.
Rally Towels for Your Team
Custom Rally Towels are an ideal fit for sports teams of any kind at any level. Fans of all ages will fall in love with proudly waving your flag whether they receive it as a promotional item or buy it at your merchandise booth. A great way to show off sponsors, special theme nights, or honor certain players or coaches, the sky is truly the limit when you promote your team with a custom rally towel.
Rally Towels for Your Business
It's no secret that customers respond to giveaways and promotional items that they can actually use – and a Rally Towel fits that bill perfectly. A great way to show off logos, promotions, initiatives, event information, and more, a well-made and professionally printed towel can be your ticket to future success and brand recognition. With limited quantity ordering available, Printastic can help you outfit your next initiative without expensive costs or fees. Give them away as a signup bonus for new subscribers at a bank, or as a welcome gift at a gym for new members – the ways you can use Rally Towels to help your business are truly unlimited.
Rally Towels for Your Organization
If you're raising funds at a golf outing, encouraging bidders at an auction, molding students in a school or learning institution, or helping your faithful flock to feel inspired during a Sunday service, a Rally Towel can be a huge help. Great for showing off logos, celebrating groups or committees, commemorating certain holidays or unforgettable events, your custom design will be something your followers, participants, and congregants hold on to for a lifetime.
Rally Towels Frequently Asked Questions
What are the towels made of?
Our custom Rally Towels are a blend of 100% polyester on the printed side and cotton on the reverse. Aside from looking beautiful, these towels are also great for cleaning!
Do Rally Towels have to include a hole and grommet?
Nope! Along with your custom artwork, you can choose whether you want your Rally Towel to feature a grommet or not – it's all up to you!
Is the Dye Sublimation Printing Process really better than other ways of printing?
There are several advanced and high-quality ways of printing on fabric, but nothing comes close to the quality and durability of the dye sublimation printing process. With dye sublimation, we can print photo-quality prints, edge-to-edge, giving your towel a quality unlike any you've seen before. Full-color images come out in stunning detail and will resist the fading and flaking that many other printing processes are hindered by.
Are there different size options for Rally Towels or are they all one size?
Our Rally Towels come in three large and impressive sizes to make sure your design stand out. With towels sized 11" x 18", 15" x 18" and 16" x 25", you can make the most out of your printing space and feature your logo big and bright for all to see.
Are Rally Towels only for sports or athletic teams?
It's no secret that the sports world loves Rally Towels as a giveaway or sellable piece of merchandise, but businesses, organizations, schools, and other institutions love them too. Rally Towels can be used for so many different promotional applications – from banks to bookstores, gyms to clubs – there is virtually no limit to how they can be used.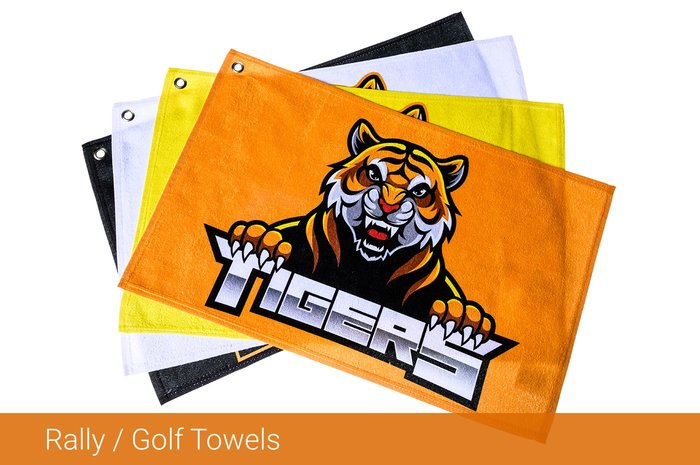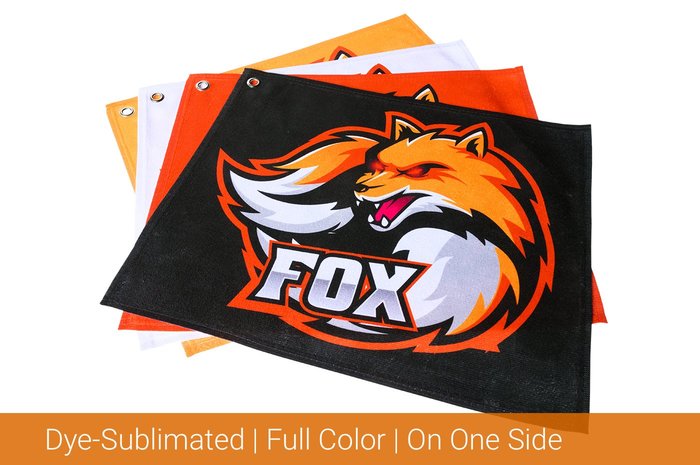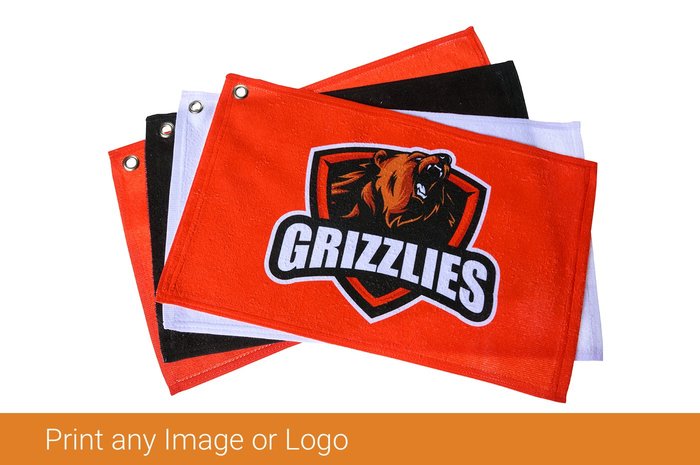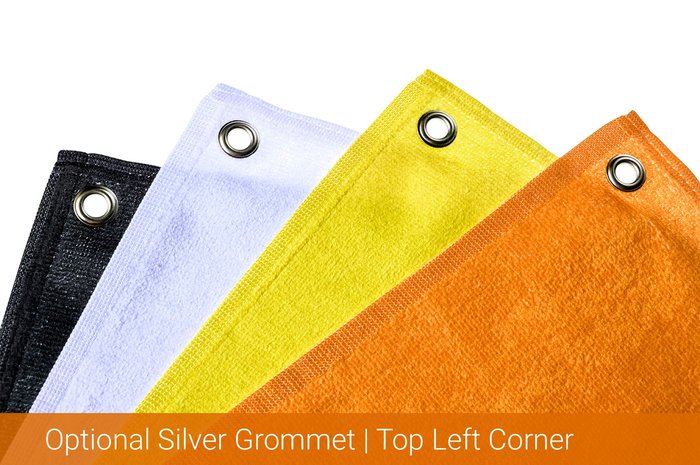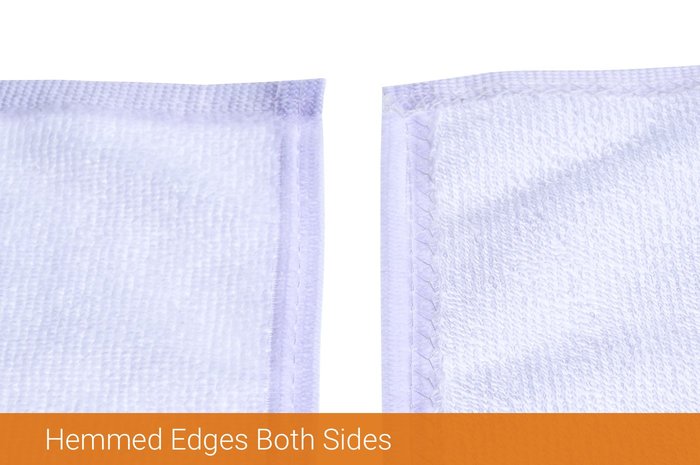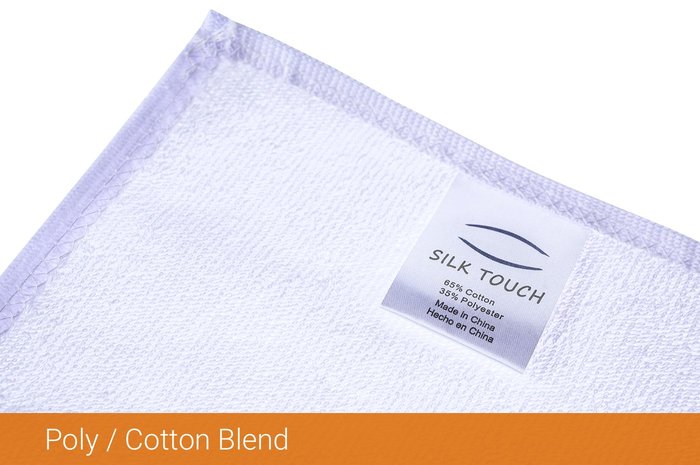 Free Super-Saver Shipping
With $75 order and discount code AWESOME