Professional Grade Custom Aluminum Signs
Aluminum signs are great solution for long term outdoor signage applications. Extremely durable aluminum signs deliver a highly professional look from a premium product that resists rust and corrosion throughout an extended product life. Custom printed aluminum signs feature full color, high quality digital imaging designed to last up to 8 years outdoor, giving the signs a sharp vibrant look at sizes up to 2x4 feet.
It's no wonder that Aluminum signs, with their style, durability and longevity have become so popular in the sign making industry. Aluminum is a fantastic outdoor material. It will not rust – that is the nature of aluminum. It will hold up as long as, if not longer than, any other sign material, making aluminum signs a great investment for conveying your message on a long term basis. Because of its assortment of features and functions, aluminum is highly customizable - making it a great choice for the majority of applications, such as custom interior and exterior wayfinding signage, monument signs, retail store signage, patient care signage, bank signs, logos, merchandising and a wide range of other sign solutions that will enhance the visibility of your products or company.
Overview of Aluminum Signs
Aluminum Print Process
Signs are produced with high resolution graphics printed & laminated on 8-year high performance 3M vinyl
We take a different approach when it comes to printing aluminum signs. While most aluminum signs offered with unprotected direct to aluminum low resolution UV printing, we found that laminating aluminum signs with pre-printed and laminated 3M vinyl provide far superior image quality, with unmatched durability and protection from elements, uncluding chemical, UV, weather, and abrasion resistance.
Printed and laminated on 8-year high performace 3M vinyl, our aluminum signs offer unsurpassed image quality - high resolution stunning images, with absolutely no pixelation, no blurrines, with crisp sharp texts down to 3pts, corporate logos, and stunning vibrant full color images. Top lamination offers additional graphics protection from UV, preventing yellowing, premature fading and peeling. Signs feature consistent, semi-gloss finish trhoughout entire sign surface, which is highly scratch and chemical resistant.
Aluminum Sign Sizes
Aluminum signs are offered in a number of popular sizes, ranging from 12x18-inches up to 24x48-inches. Sizes are listed in Inches, Height x Width. We will be happy to accommodate custom sizes on request, please contact us for custom size requirements. Custom sized signs will be priced by the next available standard larger size. The largest size we produce is 2x4 feet and it is limited by shipping restrictions.
Materials and Sign Thickness
We offer 4 standard aluminum choices, all equally suitable for up to 8 years long term outdoor use. The only important difference is the sign thickness and the rigidity it provides - while thinner options (040 and 3mm) are better suited to be installed on a backing, the thicker options (080 and 6mm) are an excellent choice for a very rigid free standing / pole mounted / hanging signage.
Double sided aluminum signs feature graphics on both sides, while single sided signs will have a painted enamel white reverse.
040 Aluminum
At about the thickness of a credit card, the 040 aluminum signs are ideal choice for long term outdoor signage to be installed on the buildings, fences, walls and any kind of a backing.
080 Aluminum
The ultimate in aluminum signage, the 080 thickness is roughly the thickness of 3 credit cards, and is used for state and government signage, highway and park signs, trail and map signs, and for any sign that is intended for a long term use.
3mm ACM Aluminum Composite Material
Made from the same incredibly strong material as our 6mm ACM signs, but at about half the thickness, it is a lighter weight solution for long lasting signs installed on most types of backing material such as walls, steel doors and fences.
6mm ACM Aluminum Composite Material
Hybrid aluminum/plastic composite sign material is a very substantial at 6mm thick (just about 1/4-inches) substrate for printing made from a unique combination of a solid, rigid plastic core sandwiched between two aluminum sheets - making a rust resistant and very dimensionally stable sign material.  
Aluminum Finishing
Deburred Edges
All aluminum signs are deburred before shipping. This process uses a special tool on all four sides of the sign to remove any major surface imperfections or sharp edges that could scratch human skin. Although deburred, it is always best practice to wear gloves when handling metal signs.
Installation Holes
You can designate if and where you would like holes punched into your sign. Placement choices include all four corners, top corners only, or center top and bottom holes for post mounting. The holes are not drilled, but precision punched - creating a very clean 3/8" round mounting hole. No matter the placement location, the holes are punched inside the sign 1-inch from the edge.
Rounded Corners
Aluminum signs can be ordered with squared corners if desired, but for safety we recommend selecting either 1 or 1.5-inch rounded corners to prevent your sign from having sharp corners. 1-inch rounded corners remove the danger or sharp corners while still keeping a very rectangular look to the sign, while 1.5-inch rounded corners provide a more gentle radius to the corners and is an industry standard signmaking specification applied to virtually all heavyweight aluminum signs.
File Submission Specs
We manually inspect every single file you upload before printing and will only proceed with your order if it can be printed at absolute 100% stunning quality with no compromises.
Larger files can be zipped and transmitted via any non-password protected cloud file sharing service
Bleeds
For all file types, bleeds are not required but would be very helpful for full color sticker projects. Use 0.125 bleeds whenever applicable.
JPEG / PNG
Set to actual sign size, at 300dpi, RGB Color Mode, with no compression, Photoshop quality level 12
PSD / PSB / TIFF
Set to actual sign size, at 300dpi, RGB Color Mode. Combine all layers into single background layer
PDF / AI / EPS
Set to actual sign size. RGB or CMYK Color Mode. Embed all linked images. Convert all text to outlines. Expand all strokes. Only use high res raster images at 50-100% scale. Files should not be password protected, if available export to PDF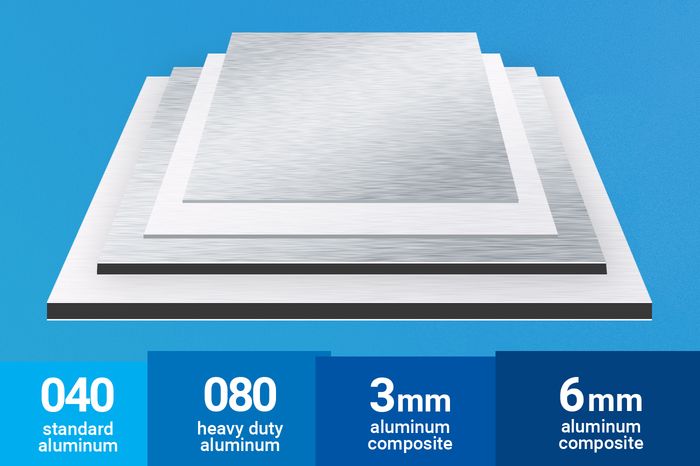 Free Super-Saver Shipping
With $75 order and discount code AWESOME