Pole Banners with Custom Pole Pockets
The primary purpose of a pole banner is to attract attention and provide subtle, yet differentiating, visual interest. Pole pocket banners are a highly-visible way to advertise for community-wide events and promote downtown businesses. Pole banners are also popular and highly effective when used to decorate schools and campuses for the holidays. Along with all kinds of sports and special events like "spirit week".
Whether you are looking to add professionalism to a grocery store parking lot or you're a community event planner looking to promote an upcoming concert or festival, pole pocket banners are an excellent advertising solution. Light pole banners catch the eye of passing motorists or pedestrians as they move about your city, and the more pole banners you use, the more likely it is that your event will remain in their minds.
Integrated Pockets
Insert rigid poles into the banner along the top and bottom edges for horizontal hanging in finishing a banner with pole pockets. Our pole pocket banners are made from premium 18oz. vinyl media that is exceptionally sturdy and wrinkle resistant. The pocket itself is heat welded as standard or stitching for additional strength is also an option. Pockets provide an even distribution of the banner's weight across the full width, which minimizes sagging. In addition, make a hanging banner more flat and taut by inserting a weighted bar in the bottom pocket. This will help enhance the overall appearance of your message.
Installing your choice of grommets in the four corners reinforces the pole pockets while also providing a convenient way to anchor the banner to the pole, which will then complete the banner. Each 4" pocket can accommodate poles up to 1.5" thick. The standard pocket configuration is to have one on top and one on the bottom of the banner. Optionally, you can order these banners with a pocket only on the top for suspending the banner from a ceiling or in a window indoors. For custom configurations, please contact us.
Heat Welded Pockets
The standard heat welded pockets are virtually invisible, providing a smooth, professional look and work great for indoor displays and outdoor installations in areas with easy to moderate weather conditions. The welding process quickly heats the vinyl to a melting temperature and bonds the two pieces of vinyl together to form a connection that cannot be torn apart under normal conditions.
Stitched Pockets
Although sewing stitches can be more complicated - it's worth the trouble, especially in windy conditions. Optional stitched hems are visible against the printed banner but provide extra heavy duty performance in outdoor installations due to the professional grade sewing. We use industrial UV coated thread in a variety of colors to match all kinds of banner designs.
Single Sided Pole Pocket Banners

Using the total surface area of the front vinyl to create high resolution graphics with a full bleed presentation allows for printing of single-sided pocket banners with no white borders on any edge.

Finishing a banner with pole pockets allows for insertion of rigid poles into the banner to allow for even distribution of the banner's weight to prevent sagging. Using opposing pole pockets can make the banner appear rigid and hang more flat and taut.

Single-sided pole pocket banners are typically used in situations where viewing is only possible from one direction. Popular installations include against walls, in dedicated frames or stands, on one-way streets and in parades & marching bands.
Fastening Grommets

As a standard feature, we install a grommet through the welded seam in each of the four corners. The purpose of a grommet is to provide reinforcement for the hem to ensure that the printed banner can be hung and displayed for long periods on the pole. Fasten zip ties through the grommets to the pole to prevent any sliding from left to right in windy conditions.

At Printastic, you can select the grommet color - black, silver or white - that best compliments the colors used in your artwork, at no additional cost.
Wind Vents

As an option, cutting the wind vents into the pole pocket banner will reduce the stress the wind causes and allows for the wind to pass through without damaging the banner. The vents consist of slits cut into the banner material in either a straight or half circle shape. Depending on which fits best with the design of the printed artwork on the banner.

Some towns and municipalities require wind slits in pole pocket banners. However, some do not. So it is best to check with your downtown Business Improvement District or local Chamber of Commerce to get the information that applies to your area.
High Grade 18oz Vinyl

Our pole pocket banners are printed on superior-quality 18 oz. vinyl - a rugged and durable blockout banner material that is specifically designed for optimal strength and ideal for outdoor installations. Even in harsh weather conditions. Our 18oz. Outdoor banner material features a combination of three layers of vinyl. A block-out layer in the middle is extremely strong and resistant to tearing, fading, and fraying outdoors.
Features
18oz Heavy Duty Vinyl
Lay-flat / Blockout Appearance
Printing on One or Both Sides
4-inch Printed Pockets
Heat Welded or Sewn Pockets
Grommets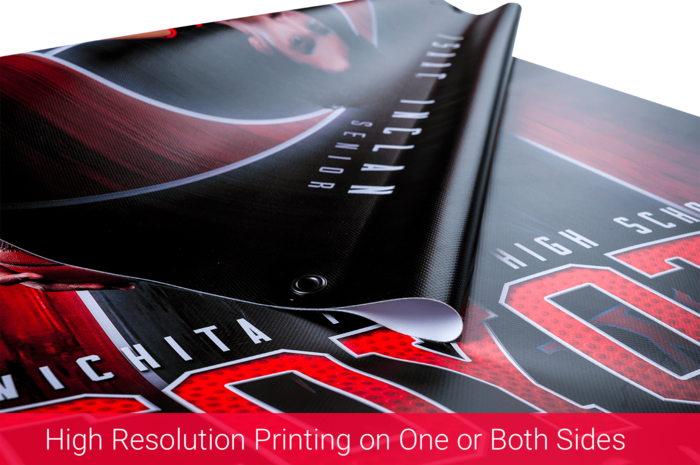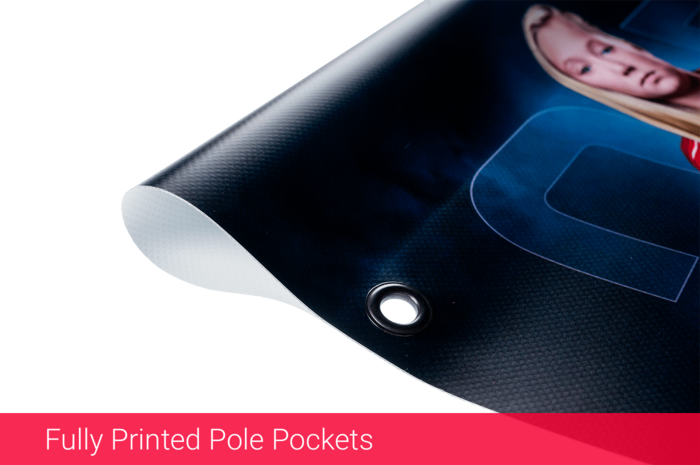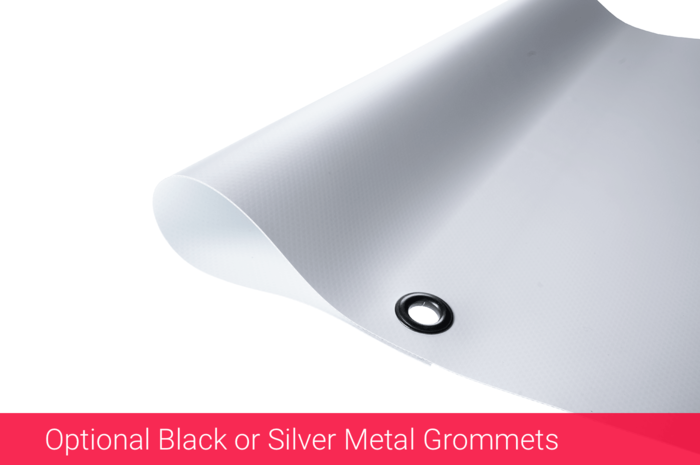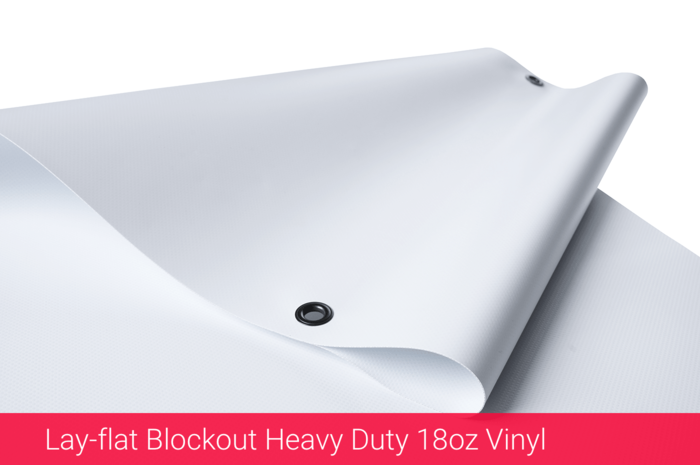 Free Super-Saver Shipping
With $75 order and discount code AWESOME