Ordering wholesale banners online doesn't mean you have to sacrifice on looks or durability. When you buy a banner wholesale you expect to get durability and a great look for a discounted price! Our wholesale banner programs offers organizations, franchises, businesses, and manufacturers the opportunity to get quality wholesale vinyl printing at an affordable price!
While printastic.com maintains a strong focus on providing custom printed vinyl banners to retail customers, we understand that there is a need for banner wholesalers for larger orders that carry expectations of a more heavily discounted price.
Wholesale printing should only refer to volume and price, not quality. At Printastic.com, our wholesale program offers just that - an affordable price that doesn't sacrifice on looks or durability.
Easily Place Each Order
To place an order, simply click here and log in with your username and password. Once you are logged in, you can specify your job requirements and banner options, then upload your artwork files to be printed. Wholesale pricing does carry a minimum order requirement of 50 banners of the same size with the same artwork.
Dedicated Account Manager
If you need assistance with an order or if you have questions about any product, there are several ways of getting in touch with us. The Printastic website features a dedicated "Live Chat" service that allows you to reach a customer service specialist immediately.
In addition, wholesale customers are encouraged to call me at any time on my direct line:
248-859-4008
I am available to you from 8am to 5pm Monday through Friday. By contacting me, we can discuss your expectations and needs as well as talk through any special requirements that you may have.
Flexible Payment Options
We currently accept Visa, MasterCard and American Express credit and debit cards. In addition, payments can easily be made via PayPal. We can also work with you to arrange payment by company check.
Blind Drop Shipping
For companies that prefer not to be an intermediary for banner orders, we offer blind drop shipping services. By using this service, your company can supply banners directly to your sales staff, dealer locations, show sites and event spaces in plain brown boxes with no branding and no paperwork inside - other than the banners. Our blind drop ship program puts your company name in the "ship from" area on the label, providing the appearance of direct shipping from your location. For banner shipments that are requested to go to multiple locations, an additional shipping and handling fee will be applied per each location.
Many companies get logistical and financial benefits from using their own shipping account. We are happy to ship using your FedEx or UPS account number at no additional charge.
Photographic Banners Printed With Next HD Image Quality
Printastic utilizes the latest Latex Print technologies to produce banners in sizes up to 10' x 50' in one single piece on all types of vinyl print materials. Our 10-Foot wide HP Latex Print systems allow us to achieve high-quality results and fast turnaround times. This is fast, Super-Wide production that passes on the cost savings to you.
Free Printed Proofs
We know how important it is to achieve and maintain accurate color fidelity from print to print. We want you to order with confidence, therefore a free of charge printed proof is available upon request with every order. Simply call Printastic Customer Service once your order is placed and paid for, and we will send one full size printed copy that same business day via FedEx Overnight delivery service at no charge to you. This allows you to see the product exactly as it will be produced before we begin production. Once you receive and review the proof, call us back and let us know that the job is approved for printing. Please note that requesting a printed proof extends turnaround time on each job.
Digital File Setup
When it comes to file preparation of large-format banner printing, there's a different mode of thinking. The traditional rules of file dimension and resolution used in standard offset printing don't necessarily apply. Preparing files for Large Format Printing does not usually require the higher dpi image files commonly associated with other printing methods. When setting up images with the document size set at 100% (the size of the printed product) it is only necessary to set the resolution at 150 dpi for most types of banners. We accept PDF, PSD, TIFF, AI and JPG files in RGB color mode.
Short Production Times
Banners purchased under our wholesale pricing program are produced just as fast as the banners we sell at retail, but there are more of them to produce. Due to the fact that wholesale printing volumes are much higher than retail, we require 48+ hours to turn most orders around. Orders over 1,000 sq. ft. will require longer and we will call to discuss and provide you with a reasonable and achievable delivery date after receiving the order.
Choice Of Delivery Options
We provide a range of delivery options to accommodate all types of customer orders. All orders purchased under our wholesale program qualify for SuperSaver shipping. For those who need their banners faster, we also offer FedEx Express delivery options - these delivery options are priced depending on your location and an accurate price will be displayed during the checkout process. We can also ship using your FedEx or UPS account number at no additional charge.
Shipping To Canadian Locations
Canadian customers are welcome to use our wholesale banner program. We do require Canadian companies to utilize their own account for shipping. Whether you choose FedEx, UPS or other carrier, we will prepare your banner orders and make them ready for pickup by your preferred shipping company. You are responsible for any shipping fees, duties, taxes and tariffs.
Printing Professionals
If you are in the print industry and sourcing banners for resale, we invite you to our industry-only, to the trade wholesale site - www.printtrader.com. PrintTrader, offers the full line of banner products as well as a range of other vinyl types - including adhesives, reflectives, perforated and laminates - all at wholesale pricing. Please note, you must be part of the industry to be approved for membership.
Dedicated Support
248-859-4008 direct
M-F 8am-5pm Eastern
Features
High volume pricing
Free Shipping to 1 USA Location
Free sample on request
Options
Ship on your account
Ship to Canada
White Label
Fulfilment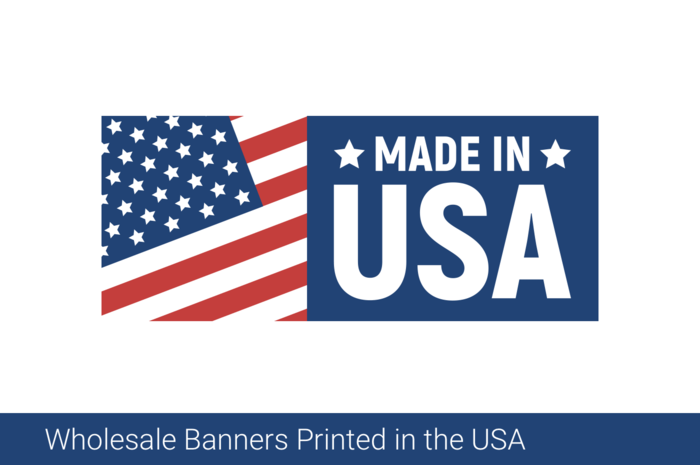 Free Super-Saver Shipping
With $75 order and discount code AWESOME