Custom Vinyl Banners
Get 10% Off Vinyl Banners In May By Using Our Banner-Club Coupon Code During Checkout!
Enhance events and stand out among the crowd with Quality Vinyl Banners from Printastic!
Featuring high resolution extreme high definition color printing to deliver spectacular image quality that pops with excitement.
Designing and finishing your banners included free is the Printastic difference, and is just what your business needs to get noticed!
Whether you design your vinyl banner using our online customization tools or upload your artwork for printing, you can rest easy knowing every banner ordered is backed by our NO HASSLE GUARANTEE!
Our durable banners are available on visually superior matte vinyl and exceptionally finished at no extra charge to include heat welded hems and quality grommets that compliment your design.
Attention to detail and careful production techniques ensure the banners we print are presented with a highly polished, professional appearance that will make your message look outstanding!
Printing Specifications
Print Process
Banners are completely odor free, dry, water & UV proof, with no tack, and smooth to the touch
We use latest generation 6 Color HP Latex Print Technology printed in High Pass, High Quality Mode (6 pass / 1200 DPI, CMYK LC LM mode), resulting in stunning high resolution printing with smooth skin tones & gradients, bright logo & text colors, and crisp clear printing with no fuzziness or blurriness.
Sizes & Packaging
Banners are shipped rolled, never folded, and are guaranteed to be wrinkle-free.
Sizing is listed in Feet, Height x Width. We offer banners ranging from 2x2 all the way up to 10x50 feet. We are happy to accommodate custom sized banners on requests, so please contact us for requirements if needed. Custom sizes will be priced by the next available standard larger size.
The Perfect Indoor and Outdoor Display
13oz Indoor or Outdoor Vinyl
We use standard 13oz vinyl for printing a visually stunning matte finished vinyl banner that produces excellent image quality with no reflections or glare even in brightly lit indoor or in outdoor locations even in direct sunlight.
18 oz Heavy-Duty Vinyl
18oz vinyl is for the person who wants to go that extra mile to make sure their banner is the strongest it can be. Definitely heavier and tougher than our standard vinyl, these heavier duty banners are not ideal for indoors and only recommended for extended outdoor use. Constructed of 3 layers, including a middle blockout layer, 18oz banners are truly heavy duty, non transparent, and completely blocks light preventing ghosting on the other side.
Hemming
Fold-back heat-welded hemming provides additional structural reinforcement and is invisible from the front.
In order to prevent fraying and extend lifespan, we heat weld the edges of each banner by folding and bonding together approx. 1 inch of extra vinyl material around the edges on all four sides forming a fused hem that cannot be torn apart! Heat welding provides maximum strength, helping your banner withstand wear, pressure and poor weather, and is superior to stitching, gluing, and taping.
Grommets
We use real metal #2 size grommets that are punched approx. 1/2-inch off the edge of the banner
At Printastic, you can select how many grommets you want and specify where you want them. In addition, you can select the grommet color to best compliment the colors used in your artwork at no additional cost. The #2-sized metal grommets we use have proven to be extremely durable. They measure 3/4" on the outside with about 1/2" diameter hole. The smooth inside edges of our grommets ensure the cord or rope passing through the hole will not chaff or fray.
Acceptable File Formats
We manually inspect every single file you upload before printing and will only proceed with your order if we determine your artwork can be printed at an absolute 100% stunning quality with no compromises
Larger files can be zipped and transmitted via any non-password protected cloud file sharing service
JPEG / PNG
Set to actual size, at 100-300dpi, RGB Color Mode, with no compression, Photoshop quality level 12
PSD / PSB / TIFF
Set to actual size, at 100-300dpi, RGB Color Mode. Combine all layers into single background layer
PDF / AI / EPS
Set to actual or 50% size. RGB or CMYK Color Mode. Embed all linked images. Convert all text to outlines. Expand all strokes. Only use high res raster images at 50-100% scale. Files should not be password protected, if available export to PDF
Printing and Production Questions
What is finishing?
Finishing includes sewing or welding hems to reinforce edges to strengthen grommet holes, inserting grommets for installation, and even choosing the right shade of grommets to ensure they do not distract from your design.
Does Printastic Include grommets, hemming and / or pockets at no charge?
Yes! Unlike our competitors, we never charge for the extras you need to ensure durability.
Will Printastic print my banner if I include an obvious flaw in my artwork?
We always inspect artwork and resolution before we print and will redesign your artwork prior to printing if we see a design flaw that should be corrected.
Am I able to upload my own print ready file?
Absolutely! At the time of ordering you will provide us either an uploaded graphics file or design your banner online using our easy to use platform.
Can I customize your templates or buy as is?
Yes! Using our design tools you may customize our designs with preferred font choices, sizing, rewording text, and adding graphics and background colors. And if you want to order a template without any alterations, you can do that also.
Are your products and materials manufactured in the USA?
Yes, we utilize raw products and services that are all based in the USA. Our production and sales facility is located in Novi, Michigan (Suburb of Detroit).
If I use your online designer, can I upload my own graphics and logos when designing?
Yes you can! Our online design tools allow you to upload any graphic file to include when creating your banner.
Does Printastic Offer a Print Guarantee?
Ofcourse! If the product you receive has anything wrong with its construction or printing, we'll replace it free of charge right away.
Are my banners water resistant and fireproof?
Yes. The vinyl we use when printing is NFPA-701 fireproof certified, and they will not absorb moisture even when placed outdoors for long periods of time.
Can I order a custom size based on my specific needs?
Yes. Printastic offers 100s of selectable custom sizes when ordering banners to ensure you have the sizing options you need to fit any location.
Advertising Questions
Are banners still relevant in our digital age?
Absolutely! Printing banners is one of the more effective and affordable methods for retail and service businesses to post specials, advertise sales and promote weekly offerings.
What type of business designs are most effective?
Whether you are promoting a service or product special, catchy and to the point text offers will always attract more attention than complicated graphically intensive banners.
Are color choices important when designing?
Contrasting your design's colors from the general color scheme of your surroundings is very important. Always have a general idea of the environment you intend to place your banner to ensure the color choices of your design pop visually and do not blend into the surroundings.
Is sizing an important part of the design process?
Correctly determining the appropriate size of your banner is important and should always be based on how large your fonts need to be in order for your audience to easily interpret your message.
How does time factor into how well my designs will attract attention?
The vast majority of people who would react to the promotions and specials you print are on the move, and making sure they have time to fully interpret your message by factoring in the number of seconds they have while passing by is critical.
Should I know where I intend to install my banner prior to ordering?
Yes you should. Knowing where you intend to place your banner will help you determine size, color choices, message length to maximize exposure to your audience.
Banner Printing Choices
Popular Use-Cases
High-Quality Printing
Latex Print Technology
High Resolution
6 Color Inkset
Eco-Friendly
Non-Tacky
Odorless
Quality Made
Durable Materials
Outdoor Ready
Heat Weld Hemming
Metal Grommets

Printed in the USA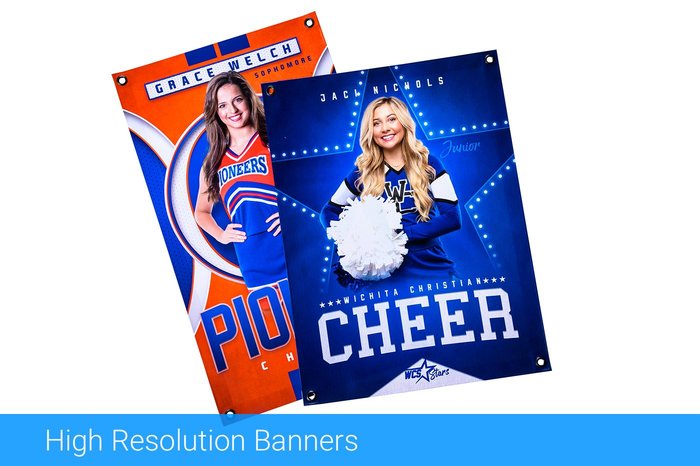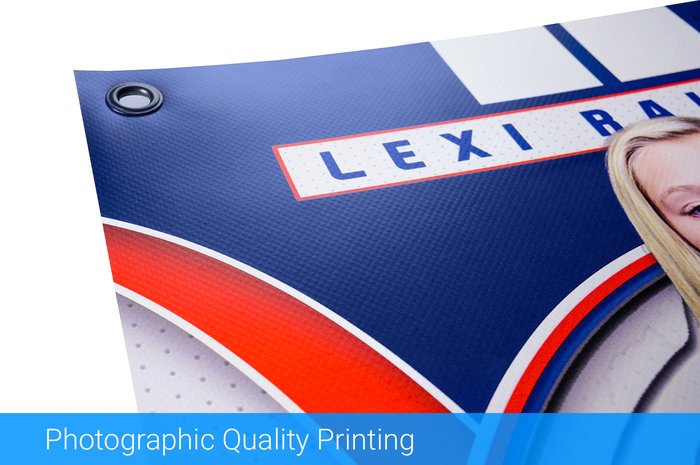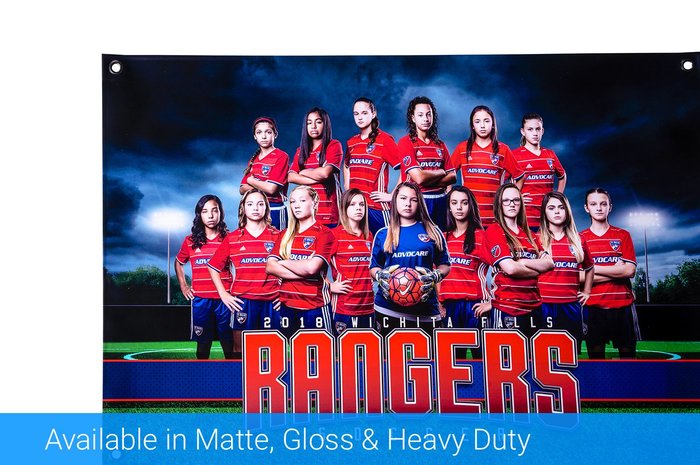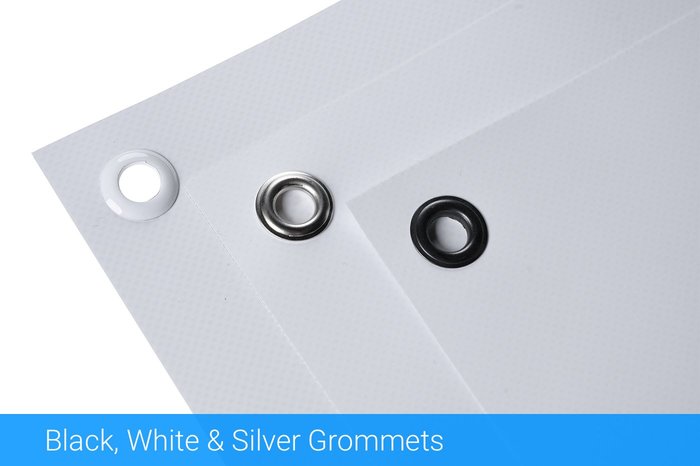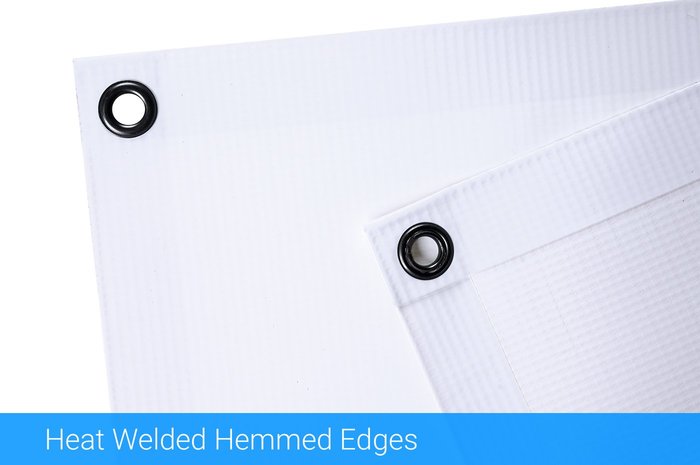 Apartments
Automotive
Business
Churches
Directional Banners
Events
Farms and Produce
Financial
Food & Concession
Healthcare
Insurance
Kids
Lodging
Marine
Non Profit
Real Estate
Rentals
Retail
Sales
Schools
Spas and Beauty
Sports