Vinyl Banners For Any Event, Size & Budget
Our vinyl banner signs feature high resolution photographic quality printing, ensuring fine details and sharp focus. Advanced high definition color print technology delivers true to life shades and accurate colors to ensure that your banner is bright and vivid.
Whether you create your banner with our easy to use design tools or upload your ready to print artwork, you can rest easy knowing that every banner we print is backed by our comprehensive satisfaction guarantee to meet the most demanding quality standards. One day turnaround time means that orders of up to 10 banners will be ready for shipping the next business day after the order is placed.
Constructed for long lasting use - indoors or outdoors - our banners are available on your choice of bright white matte or gloss vinyls with professional finishing options that include heat welded edges and a choice of grommets to compliment your graphics. Attention to detail and careful production techniques ensure that your banners are presented with a highly polished, professional appearance that will make your business look outstanding!
Vinyl Banners Overview
Print Process
Banners are completely orderless, dry, water & UV proof, with no tack, and smooth to the touch
We use latest generation 6 Color HP Latex Print Technology. All banners printed in High Pass High Quality Mode (6 pass / 1200 DPI, CMYK LC LM mode), resulting in stunning high resolution prints, with smooth skin tones & gradients, bright logo & text colors, and crisp clear printing with no fuzziness or bluriness down to 4pt text.
Sizes and Packaging
Banners are shipped rolled, never folded, and are guaranteed to be wrinkle-free
All sizes are listed in Feet, Height x Width. We offer sizes ranging from 2x2 all the way up to 10x50 feet. We are happy to accommodate custom sizes on request, please contact us for custom size requirements. Custom sized banners will be priced by the next available standard larger size.
Materials
We offer 4 standard banner choices, all suitable for indoor and outdoor applications. We recommend Matte vinyl finish as it provides minimum glare and keeps your banner highly legible in any lighting situation
13 oz Matte Banners
13oz matte vinyl is by far our best seller and the industry standard for everyday banners for both indoor and outdoor use. Its flat, non glaring appearance provides excellent image quality and easy to read messages with no reflections or glare, even in brightly lit areas or direct sunlight. With proper handling and installation, 13oz banners should last up to 3 years indoor / outdoor under normal conditions & care.
13 oz Gloss Banners
13oz gloss vinyl is a strong, durable material, just like our matte version, but with a high gloss finish that makes colors pop and presents graphics with a bright, shiny appearance for maximum impact.
8 oz Mesh Banner
8oz mesh vinyl is specially perforated mesh material that allows for high winds to pass through the material hence minimizing damage to the banner in windy outdoor setting. Also this light weight material is perfect for special uses when a partially see through material is required with pass through for light, sound and air.
18 oz Heavy-Duty Banners
18oz heavy duty vinyl is the best choice for oversized banners, banners for prolonged and outdoor use. Constructed of 3 layers, including middle blockout layer, 18oz banners are truly heavy duty, non transparent, blocks out light and won't allow for ghosting on another side, and can be used up to 5 years outdoor with proper handling and installation.
Hemming
Fold-back heat-welded hemming provides additional structural reinforcement and is completely invisible from the front of the banner
In order to prevent fraying and extend banner lifespan, we heat weld the edges of each banner - we fold and bond together approx. 1 inch of extra vinyl material around the edges of the banner on all four sides, forming a connection that cannot be torn apart! Heat welding provides maximum strength, helping your banner withstand wear, pressure and poor weather better than alternatives like stitching, gluing and taping. This is because the vinyl layers are actually fused together into one and works well for banners that require long longevity for commercial use.
Grommets
We use real metal #2 size grommets that are punched approx. 1/2-inch off the edge of the banner
At Printastic, you can select how many grommets you want in your banner and specify where you want them. In addition, you can select the grommet color to best compliment the colors used in your artwork, at no additional cost. The #2-sized metal grommets we use have proven to be extremely durable. They measure 3/4" on the outside with about 1/2" diameter hole. The smooth inside edges of our metal grommets ensure that in most cases, the cord or rope passing through the hole will not chaff as much as other usages and therefore has lower risk of cutting whatever is used to hang the sign.
File Submission Specs
We manually inspect every single file you upload before printing your banners and will only proceed with your order if it can be printed at an absolute 100% stunning quality with no compromises
Larger files can be zipped and transmitted via any non-password protected cloud file sharing service
JPEG / PNG
Set to actual banner size, at 100-300dpi, RGB Color Mode, with no compression, Photoshop quality level 12
PSD / PSB / TIFF
Set to actual banner size, at 100-300dpi, RGB Color Mode. Combine all layers into single background layer
PDF / AI / EPS
Set to actual or 50% banner size. RGB or CMYK Color Mode. Embed all linked images. Convert all text to outlines. Expand all strokes. Only use high res raster images at 50-100% scale. Files should not be password protected, if availavle export to PDF
Choice of Vinyl
13oz Matte or Gloss
18oz Heavy Duty
8oz Mesh
High-Quality Printing
Latex Print Technology
High Resolution
6 Color Inkset
Eco-Friendly
Non-Tacky
Odorless
Quality Made
Durable Materials
Outdoor Ready
Heat Welded Hemming
Metal Grommets

Printed in the USA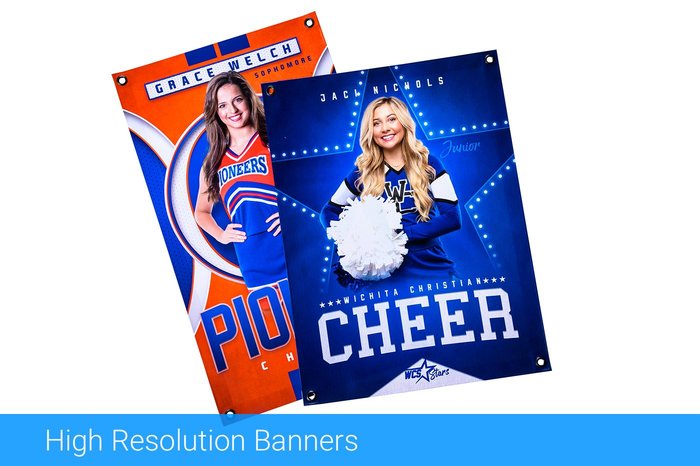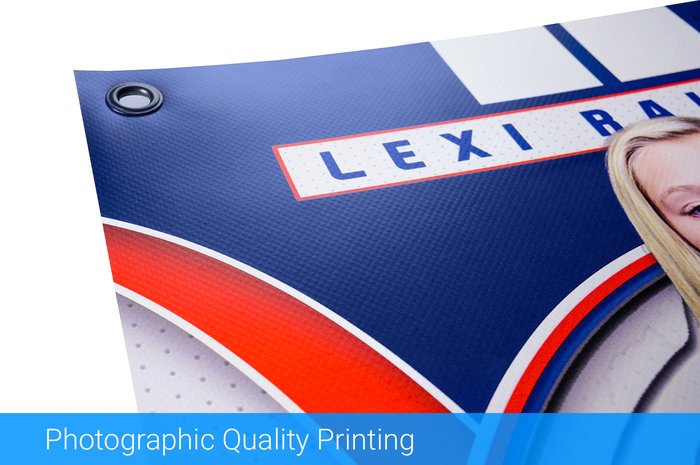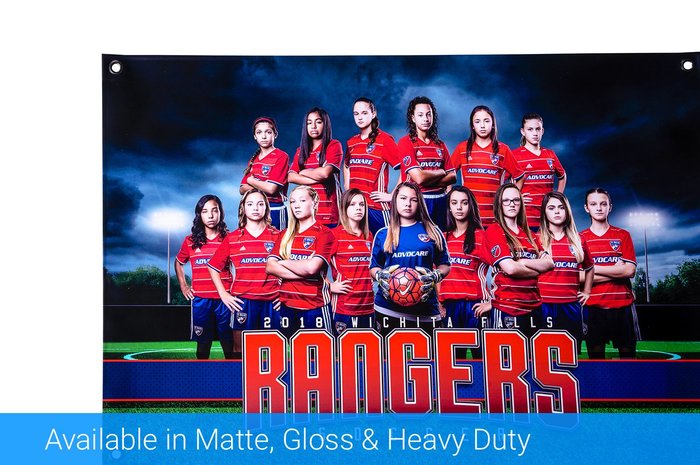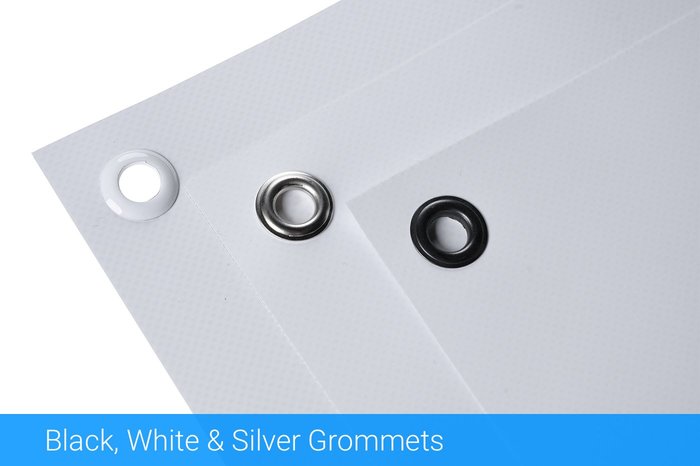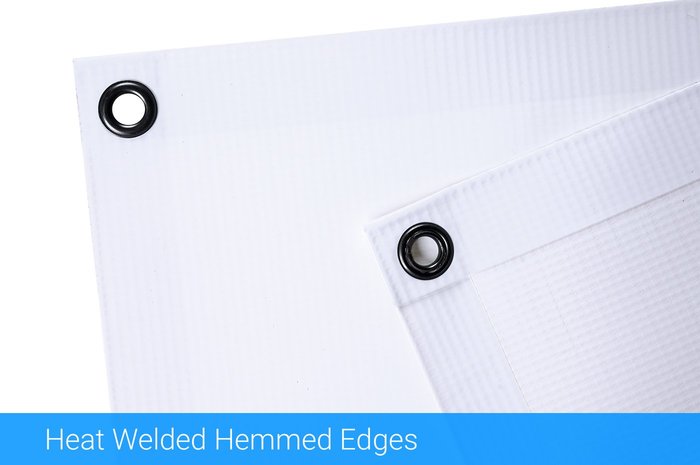 Free Super-Saver Shipping
With $75 order and discount code AWESOME