We take exceptional care when you trust us to print your custom banner. From printing with the latest high resolution eco-solvent printers, to using industry leading 8 color ink set, to providing you with a choice of multiple materials, hemming and grommeting options. Every banner we print is backed by our unconditional quality guarantee to meet even the highest, most demanding quality standards.
Vibrant 8-Color Ink Set Gamut

Printastic banners are printed with eight color ink set. Our print technology allows for enhanced gradients, skin tones, and bright vivid colors often found in reds, greens, oranges, and corporate logos and design.
Matte Vinyl Options

From indoor to an outdoor setting, our vinyl materials are designed to last. All vinyls we offer have matte, bright white finish to eliminate glare and provide the best quality printed image with no compromises.
Hemming & Grommet Options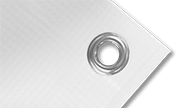 Banner edges are folded to the back of the banner and heat welded on all 4 sides, leaving the print side unaffected with no visible marks or stitches and keeping the printed banner dimensions unchanged. #2 Nickel Plated Grommets are punched through the top and bottom banner edges.