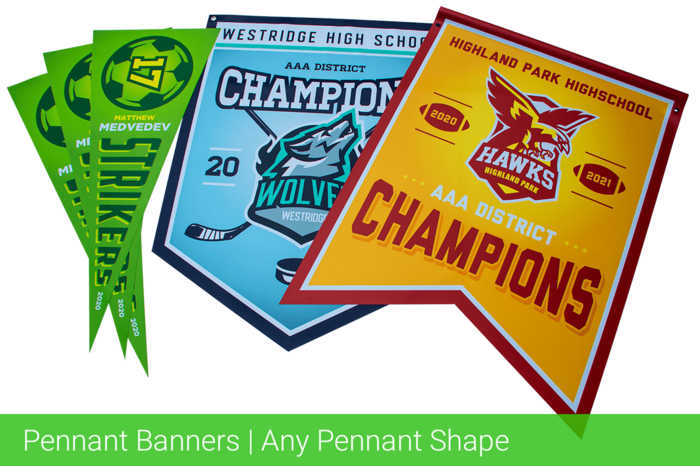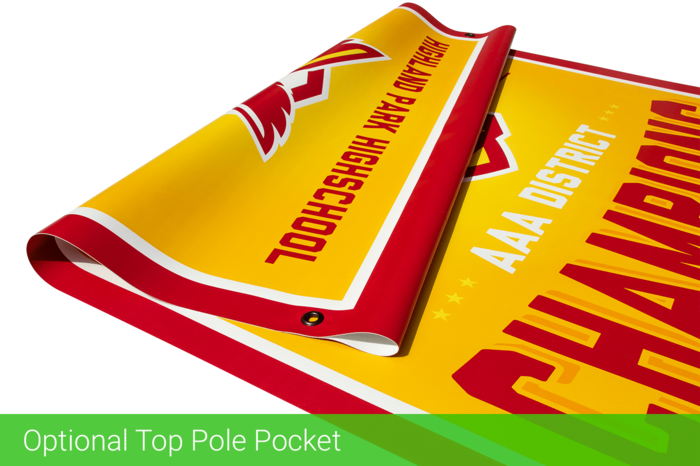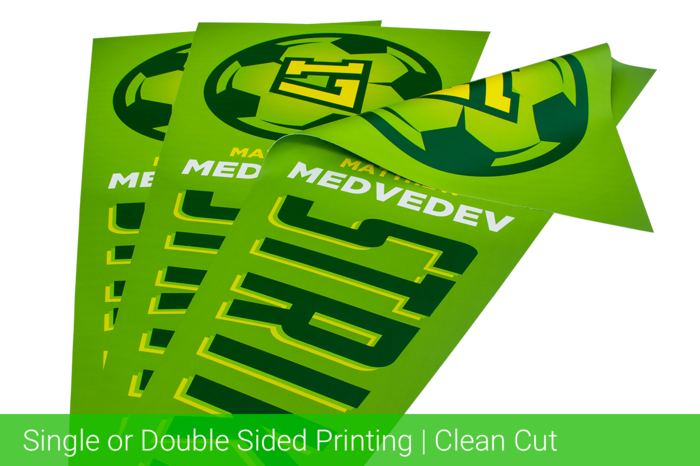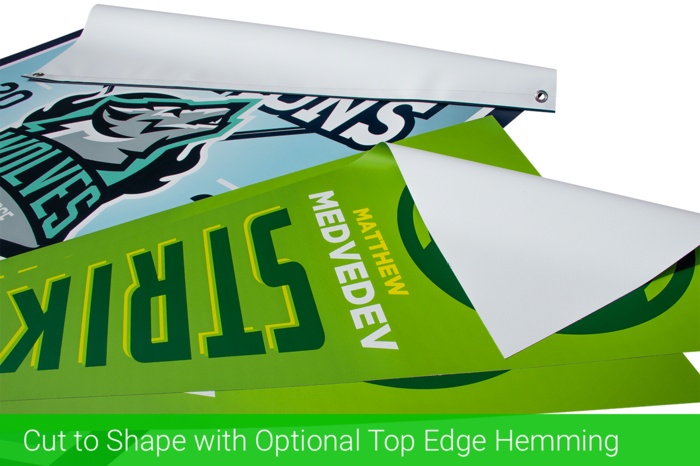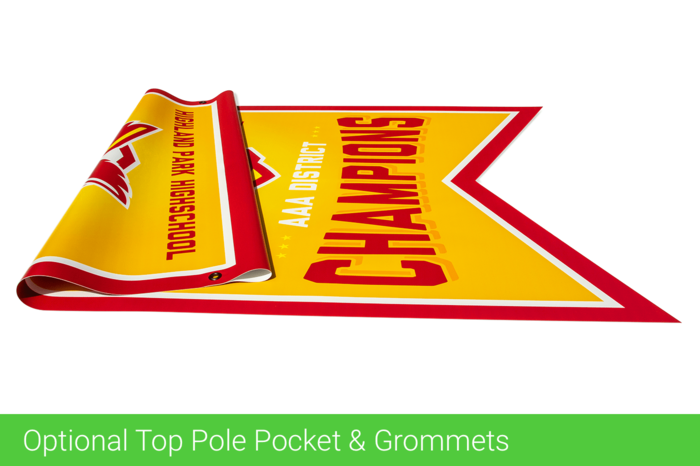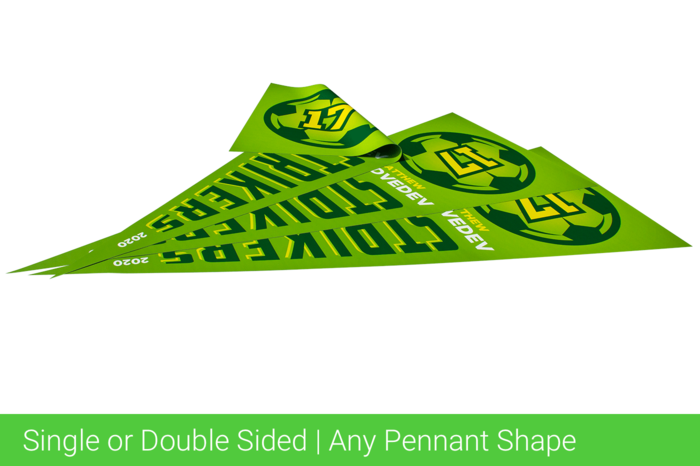 Custom Multicolor Pennant Banners
Custom Pennants are the perfect answer for any community, college, school, municipality, or organization looking for a highly visible, long-lasting, and meaningful way to recognize the outstanding achievements of their team, players, or just about any other entity. Made from our most durable 18-oz vinyl and printed in the highest quality, pennant shaped banners displayed in your gymnasium, classroom, hallways, common areas, or auditoriums will surely stand out for years to come.
Pennants come with a variety of finishing and hanging options for the ideal ease of installation and display. When ordering, you can choose between hemming on the top edge, ading a pole pocket, or flash cut all four sides. Grommets are also available on the top corners plus the bottom tips or turns depending on your pennant's shape. Single or double-sided printing is optional using the same image.
Specifications
Material:
18oz Heavy Duty Vinyl
Printing:
6 Color HP Latex Print Technology
Finish:
Three finishing options:
Flash cut on all four sides (no hemming)
Hemming on the top edge only
Pole pocket on top only
Sizes:
Available in vertical orientation with a maximum size of 5 ft wide x 12 ft tall.
Double-sided Printing?:
Yes
Recommended uses:
Team and player recognition, sponsorship promotion, championship awards, playoff and tournament displays, school championship monograms, and more.
Use Cases
Awards and Honors
A pennant is the perfect vehicle to announce and recognize team member contributions, sporting and academic awards, or yearly honors to players or entire teams.
Championships and Tournaments
Hang pennants from your auditorium ceiling honoring past team champs for a winning season, or tournament victory. With vertical lengths up to 12 ft, an entire team roster of players, and coaches can be recognized.
Academic Award Pennants
In the ever-competitive world of education, honoring academic achievements with a pennant in the classroom or in the hallways has become an important part of student recognition.
Frequently Asked Questions
What are the different hanging options?
Install your pennant using rods slid into top edge finished hemmed pole pockets that can be requested at no extra charge. Depending on the shape of your banner, we also offer different grommet placement including grommets added to the top corners and any points or turns on the bottom at no additional cost to the customer.
What size pennant can I order?
Custom sizes provide a vertical portrait shape and range from 3' X 2' to 12' X 4' with a total of 18 custom incremental sizes to choose from.
Are different pennant shapes available?
Yes, we will cut any symmetrical shape you require that fits within the size options we offer. Simply provide a cut line in the artwork you upload at the time of ordering.
Is double sided printing available?
Yes, your pennant can be printed with the same artwork on both sides.
---
product reviews
5
1 product reviews
see all reviews

olobeck
on February 8, 2021
Great company to work with!
This company was fantastic to work with. We ordered pennant banners, and I could not believe how quickly our orders were printed and shipped! Donald was very responsive every time I called. He was able to answer all my questions and help me work out nuances of a banner order over the phone. When we had some delivery issues (due to our providing an incorrect address), he was also extremely helpful in resolving these. I get the sense the are a small company, and we love supporting small business that do great work!