Custom Multicolor Pennant Banners
Custom Pennant Banners are the perfect answer for any community, college, school, municipality, or organization looking for a highly visible, long-lasting, and meaningful way to recognize the outstanding achievements of their team, players, or just about any other entity. Made from our most durable 18-oz vinyl and printed in the highest quality, Custom Pennant Banners displayed in your gymnasium, classroom, hallways, common areas, or auditoriums will surely stand out for years to come.
Our custom Pennant Banners come with a variety of finishing and hanging options for the ideal ease of installation and display. When ordering, you can choose between hemming on the top edge, a pole picket on the top edge, or a flash cut on all four sides. Grommets are also available on our custom Pennant Banners on the top corners plus the bottoms tips or turns depending on your banner's shape. Printing is available single or double-sided with the same image.
Pennant Banners: The Basics
Material:
18oz Heavy Duty Vinyl
Printing:
6 Color HP Latex Print Technology
Finish:
Three finishing options:
Flash cut on all four sides (no hemming)
Hemming on the top edge only
Pole pocket on top only
Sizes:
Pennant Banners are available in vertical orientation with a maximum size of 5 ft wide x 12 ft tall.
Double-sided Printing?:
Yes
Recommended uses:
Team recognition, player recognition, sponsor recognition, championship awards, playoffs and tournaments, school championships, state championships, and more.
Ideas for Pennant Banners
Awards and Honors
Pennant Banners are the perfect vehicle to announce and recognize individual contributions to teams, sporting and academic awards, or yearly honors to individuals or groups.
Championships, Seasons, or Tournaments
Pennant Banners can be hung or displayed in honor of teams that made it to the championship, winning seasons, or tournament results that should be enshrined in your rafters. Thanks to a vertical length up to 12 ft, entire rosters of players, volunteers, coaches, or participants can be included on your banner.
Academic Awards and Honors
In the ever-competitive world of education, honoring academic achievements has become an important part of student recruitment, fundraising, and morale. Pennant Banners can easily hang throughout classrooms, chapels, gyms, fields, and offices promoting student, faculty, and organizational achievement.
Frequently Asked Questions
What are the different hanging options for Pennant-Shaped Banners?
Our Pennant Banners are easy to hang or install in a variety of locations depending on your preference. If you'd like to hang on a pole, you can choose a hemmed pole pocket on the top edge of your banner as a finishing option. Depending on the shape of your banner, we also offer different grommet options including through the top corners and any points or turns on the bottom.
What side Pennant Banner can I order?
We offer custom-sized Pennant Banners based on your preferences. Only available in vertical (portrait) format, our banners can be printed as large as 5 ft by 12 ft.
Are different shapes available for custom Pennant Banners?
Our Pennant Banners are available in symmetrical pennant-shapes only. Any symmetrical shape that is included in the file you provide to us for print will be the shape of the resulting banner.
Can my Pennant Banner be doubled-sided?
Yes, Pennant Banners can be printed with the same artwork on both sides of the banner.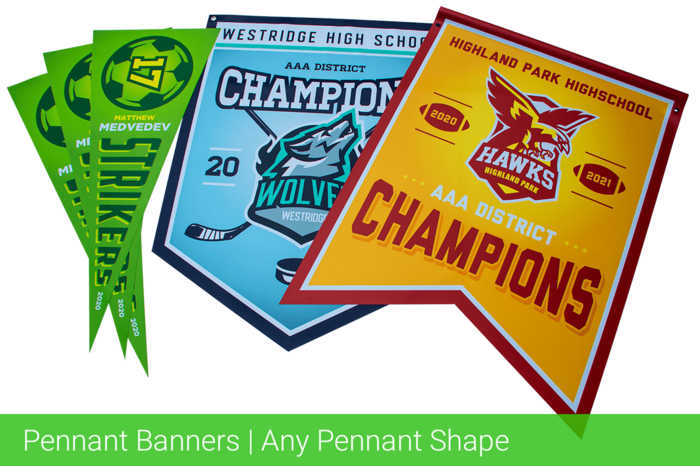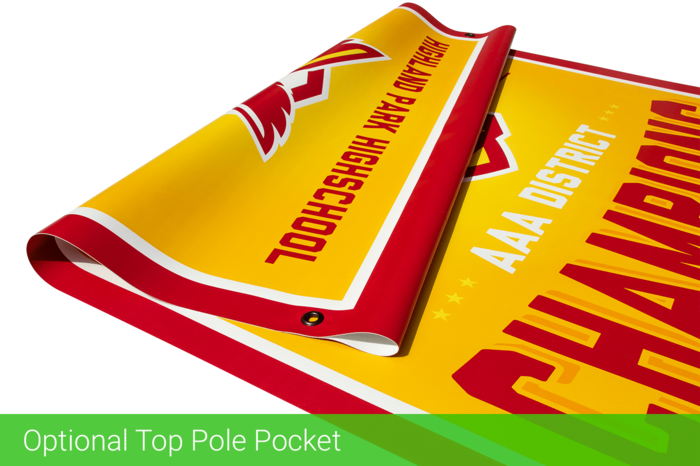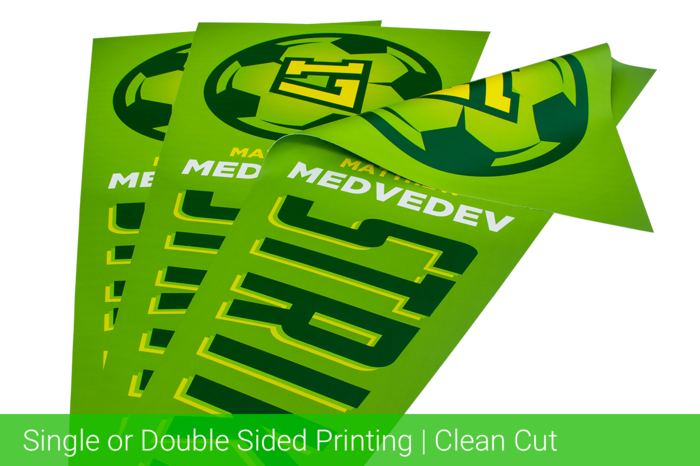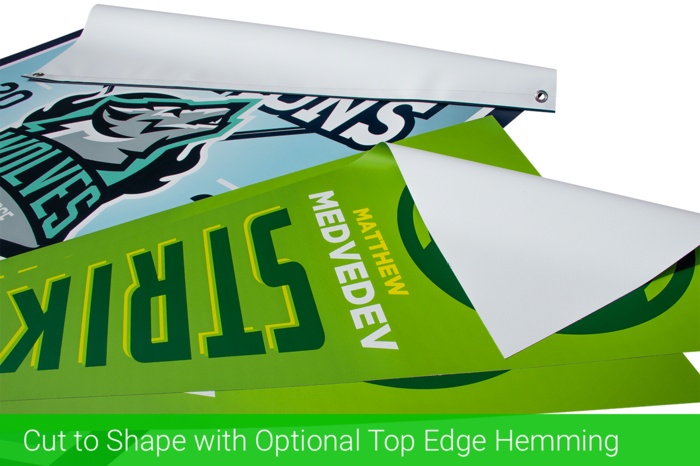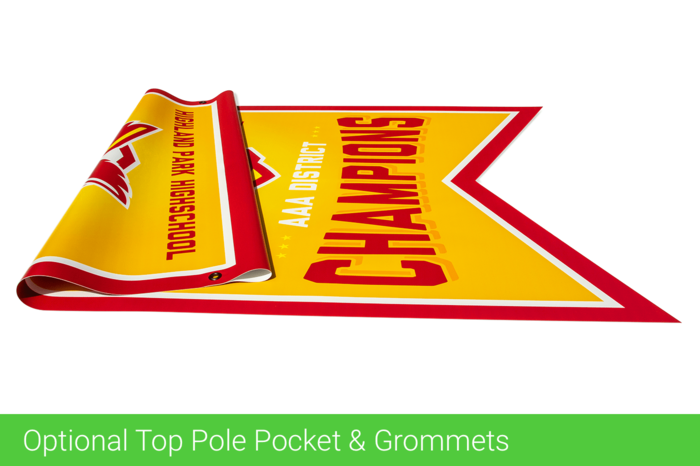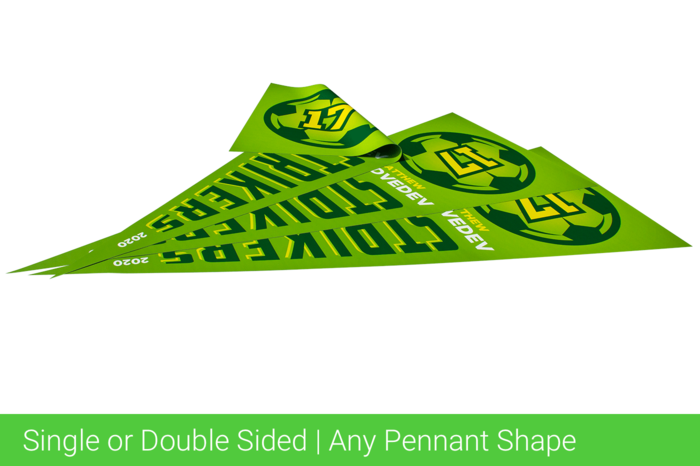 Free Super-Saver Shipping
With $75 order and discount code AWESOME