Tax Banners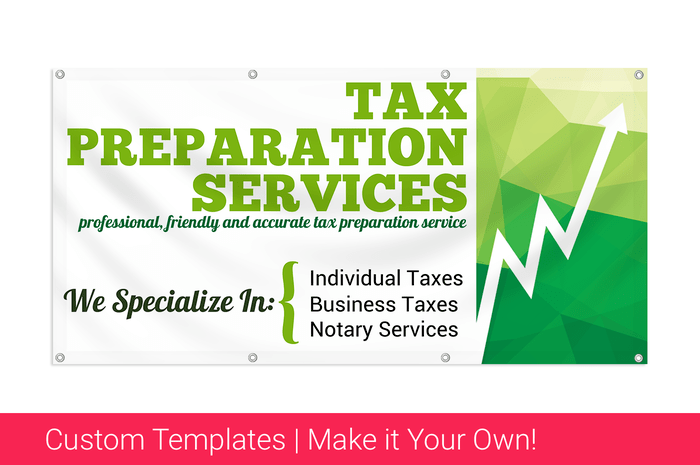 Tax Signs
Customizable signs tax services use to prepare attractive refund incentives and IRS filing is actually one of the major contributors these specialist use in their advertising strategy for increasing the number of filers a firm will process between the months of January through April 14 of every year. This time, known as tax season is prime time for accounting firms, income tax preparation specialists, IRS filers, and even the new online e-file agencies that have become popular in the last decade.
Signs are one of the more effective ad mediums a business can use when it comes to generating attention and attract the kind of immediate response tax specialists rely on to alert their target audience that tax season has arrived and the necessary burden of preparing taxes this year is now upon us all. It is said that Death and taxes are the only requirement we as people are obligated to during our lives. Instead of debating this all too famous statement, we will recognize that most of us do not cherish doing our taxes, and we are confident that the tax preparation industry understand this fact all to well by reading the banners we print during each year's tax season.
Acquiring new income tax customers requires a strategy of incentivizing the simple message of whether or not the person filing this year has taken advantage of all those tax loop holes that exist to ensure they are not paying too much taxes, or whether they can generate a nice refund this tax year. Tax preparer's and filers alike know that the U. S. tax code is is one of the most complicated in the world, and the mere possibility that the savvy tax accountant and expert filers know how to find circumstances to minimize our tax burden and maximize the dollars we can possibly get back is all the information needed to attract the income tax consultation needed to close a new customer.
Income Tax Filing Signs
Custom tax preparation signs we have prepared that will allow you to add your tax specialist logo, custom IRS graphics, tax filing incentives and refund enticements this tax season to attract customers to your income tax agency to process their 2014 income taxes before the April 15 deadline.
Although most accounting tax businesses realize the important of using signs in their overall advertising campaigns to increase the number of income tax filers they can service for tax season, the kind of signage including the proper message that is conveyed is an important part of the turnout. Especially given the fact that E-filing is getting to be so popular these days, a tax refund specialist in the new millennium really needs to portray the expertise a true professional possesses when reviewing a person's income tax needs.
IRS e-file services are mostly automated procedures run by software that any data entry person can utilize to file someone's taxes. With this being the case, this software more often than not fails to optimize the potential refund potential a filer may be able to receive and leave alot of excess money on the table that any filer would rather have in their pocket. This is the emphasis that needs to be told to the prospective customer, and the better a tax filer understand the importance of an experienced eye reviewing personal or business taxes prior to filing with the IRS, the more business that tax processor will acquire.
Many tax filing services are beginning to use banners and signs to better convey their expertise when it comes to proper reviewing taxes and filing procedures. In fact many tax filers are so sure of the fact that they can find money to add to someone's tax refund that they advertise the fact on our banners, "If they can't find additional moneys to add to their already aware IRS refund, they will file a person's taxes free of charge". Regardless of whether your tax firm has similar claims for attracting new filers in order to boost business this tax year, there is not doubt that conveying a filing agency's tax filing expertise using banners in order to draw in additional filing accounts each tax year can make a huge difference in the amount of business an income tax filing agency is able to get.
Getting the buzz and attention through the use of multiple sized tax signs printed on quality latex banners is key to really optimizing your signage campaign to attract new customers. We recommend using a multiple banner approach to ensure maximum exposure to an accounting firm's filing services. Through the use of smaller square banners, such as 2x2 banners, 3x3 vinyl signs, or even larger 4x4 square banners, we recommend using these smaller banners to pose some serious questions to your target audience for several reasons. First be brazen about combating Internet based e-file services. Use several weaknesses that online only agencies have faced in the past. For example, Turbo tax and other big online filers have had hacking problems, so be sure to inform potential customers as to the risk of identity theft online agencies subject their customers to. Use wider signs such as our most popular 3x6 banners all the way to our 4x12 banners depending on the space your have for installation to help educate filers still needing to file their taxes about the money they could very well be missing by not having a thorough review of their taxes performed by an educated tax processor. More often than not, the average tax filer will either pay to much or not get back their rightful refund if they choose to use some of these online only tax filing services.
We realize that most of you will already have print ready files for your tax refund banner promotions ready to promote the tax filing plans you offer. If this is the case you can easily upload your graphic file at the time you order, and we will review your file to ensure your banner message is printed to your expectations. However, for those of you that do not have a print ready file ready, we have created some custom tax filing service sign templates you can easily modify to suit many of the tax services you may be offering. Simply find the promotion you like best from our pre-created tax filing sign category, and use our easy to use online banner design tools to customize your tax refund message any way you want. Our online designer will make it easy for you to modify any template so that your banner contains the unique color schemes, desired fonts and type styles for your banner ads. We also allow you to upload your own graphics and logos onto these sign templates, so even if you have a graphical logo you want to use within your banners, you can easily add your logo and any other graphics you want for personalizing your message.
Be rest assured, when you buy any of our banners, high resolution printing is what you can expect from the vinyl banners you will receive from Printastic.