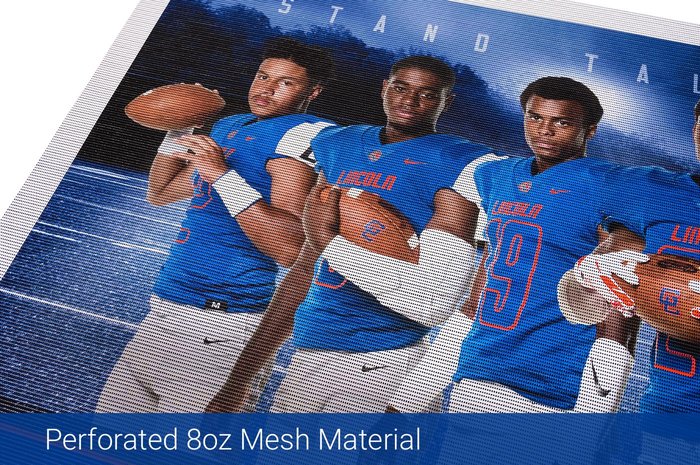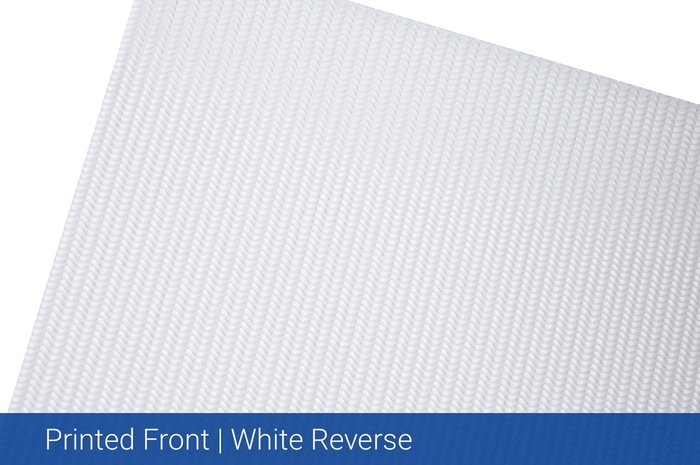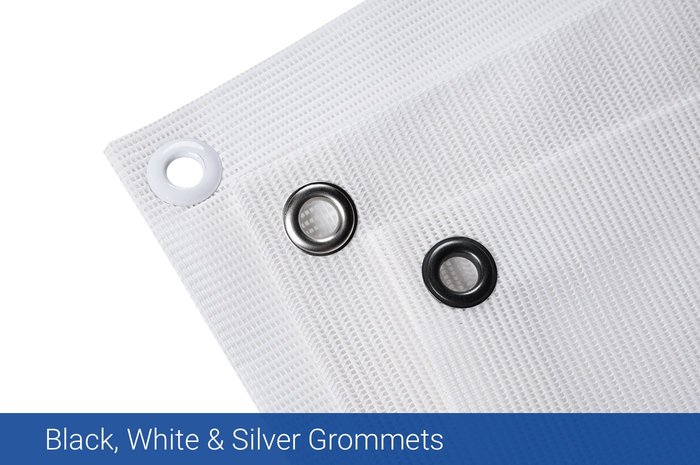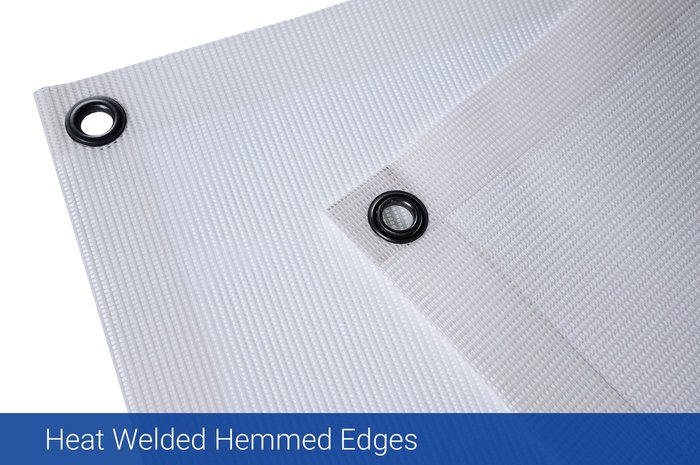 Custom Mesh Banners
Printing Permeable Mesh Material Banners Will Make Sure Your Sign Withstands Unusual Windy Conditions Especially When Installing A Banner Where Each Side Is Exposed.
Wanting to get your business noticed outside your store or venue even in winds that diminish the effectiveness of traditional banners? Printing your banner on outdoor mesh vinyl is an excellent alternative to cutting wind slits that can cause a banner to be torn, which is especially important in open spaces where wind needs to flow through your banner.
When you need a banner that will be used in an outdoor setting, stretched between any two poles, where wind gusts are present, the weaved webbing of mesh substrate allows for wind to easily pass through, preventing any unnecessary billowing that will detract from your printed artwork and message.
Made of a lightweight 8oz vinyl strands wove tightly together, this process forms very small holes allowing for wind, light, and sound to pass through while not affecting the quality of printing.
Vinyl vs Mesh Banner!
We recommend printing mesh banners opposed to solid vinyl when installing a banner on chain link fencing or any free standing surface area outdoors. If wind can pass through where your banner is installed, using mesh instead of solid vinyl will reduce tension and prevent billowing.
A mesh banner is fast becoming the preferred choice for outdoor displays due to technological improvements in print visibility while reducing stress caused by the elements.
Prior to mesh materials, the only choice was to cut lots of circular slits in a banner to help create areas for wind to pass. Although these slits help air flow, they also tremendously weaken the structural integrity of a banner.
Semi-transparent and semi-see through
If you install an outdoor mesh banner between any two anchors, structures, poles or trees, the banner will be somewhat semi-translucent, depending on the lighting.
Won't block the sound
Freestanding Mesh banners also allow sound to easily pass through without distorting sound waves, making mesh signage highly desired for stage and concert displays hung in front of speakers and amps.
Overview
Print Process
The inks we use in mesh banner printing is completely odorless, dry, water & UV proof, with no tack, and smooth to the touch
We use latest generation 6 Color HP Latex Print Technology. All printing is performed in High Pass High Quality Mode (6 pass / 1200 DPI, CMYK LC LM mode), resulting in stunning resolution prints.
Material
8oz Mesh Vinyl
Hemming
Fold-back heat welded hemming is included at no additional charge and adds additional structural reinforcement for grommets.
In order to prevent fraying and extend lifespan, we fold and heat weld the edges to bond together approximately 1 inch of mesh vinyl on all four sides, forming a connection that cannot be torn apart! Heat welding provides maximum strength, because the mesh layers are actually fused together into one.
Grommets
We use metal #2 size grommets that are punched approx. 1/2-inch off the edge of the banner
The #2-sized metal grommets we use have proven to be extremely durable. They measure 3/4" on the outside with about 1/2" diameter hole. The smooth inside edges ensure cords or rope passing through the hole will not chaff as much as other usages and therefore has lower risk of cutting whatever is used to hang the sign.
Submitting Files When Ordering
We manually inspect every single file you upload before printing your banners and will only proceed with your order if it can be printed at absolute 100% stunning quality with no compromises.
Larger files can be zipped and transmitted via any non-password protected cloud file sharing service
JPEG / PNG
100-300dpi, RGB Color Mode, with no compression, Photoshop quality level 12
PSD / PSB / TIFF
100-300dpi, RGB Color Mode. Combine all layers into single background layer
PDF / AI / EPS
Set to actual or 50% banner size. RGB or CMYK Color Mode. Embed all linked images. Convert all text to outlines. Expand all strokes. Only use high resolution raster images at 50-100% scale. Files should not be password protected, if available export to PDF
---
product reviews
5
4 product reviews
see all reviews

JohnnaKristen
on January 31, 2023
I ordered a very large banner (vinyl/mesh). I am extremely pleased. This was my trial/test run as I am in the marketing business and order hundreds of banners each year. I have used local and online companies and Printastic is great for larger sizes. The quality was perfect. There was not one single defect on the entire banner. The colors were bold and the images were not pixelated or blurry. This deserves a 10 star review especially due to the fast shipping!

Monty
on January 7, 2023
This is the 2nd set of banners that I have bought. The 1st set is a year and a half old and are still in great condition. The only reason for buying the 2nd set is because I wanted to try the mesh style the see if it would do better in the wind. Boy, do they work and you can still read the signs easily. Thanks your quality signs and reasonable prices. I will be ordering another set soon

Terry Hansen
on September 28, 2022
The mesh banners look great and the price was more than reasonable. Well done, Printastic!

josephklem
on June 5, 2021
Outdoor mesh banners for my church
We've been using Printastic to produce outdoor banners for our church for a few years now. Their website is easy to use, and their products are well made and they deliver on time! I would strongly recommend Printastic.