Full Color Yard Signs
Our yard signs are digitally printed on standard horizontal 18" x 24", 4mm-thick (about 1/4 inches) white corrugated plastic boards. The corrugated plastic flutes that run from the sign's top to bottom are designed to be used with any standard wire H-Stakes (metal wire stands that go inside the flutes of the sign) for easy outdoor installation. The signs are completely weatherproof and can be used for any outdoor project – from a few months up to a few years in proper conditions. The optional H-Stakes allow installation of yard signs in grassy areas, lawns, gardens, boulevards and walkways as long as some soil or soft ground is available.
All of our printing is done in high resolution full color. Our all digital full color printing process allows us to print high quality yard signs, and the resulting images are very crisp, colorful, and tight. Images, logos, or pictures incorporated into your design will look very sharp – just like a printed photograph. There are no image complexity or color restrictions as found with traditionally screen printed yard signs. This makes our yard signs the perfect choice for a smaller run, full-color signs where image quality and the ability to print photographic images with exact brand color reproduction is critical. Because our signs are individually printed in full color, your design options are unlimited. You can create and combine yard signs with different designs and still qualify for the quantity price breaks. In addition, you may choose between single or double sided yard signs and can combine both styles in a single order.
Overview
Print Process
Signs are digitally printed in high resolution full color
Yard signs are digitally printed in full color, with no limitations regarding colors, images, logos or photographs in the design. With our print technology, 100s of free online design templates, and our free online customization tools, it is easy to create your own yard sign design right on our website, or upload your own ready-to-print design file. We'll print your yard signs true to your design in full color on one or both sides.
Sizes
We offer 18x24-inch yard signs, which is the most popular and widesly used size. This size is also used for many standard sign frame holders.
Materials
Yard signs are weatherproof and can be used both outdoors and indoors
Corrugated Plastic
Signs are printed on fluted white corrugated plastic, also known by it's manufacturer's brand name Coroplast. This plastic is weather and UV proof for outdoor use up to 2 years in proper conditions.
Optional H-Stakes
H-Stakes are the metal wire stands that go inside the flutes of the sign. H-Stakes measures 24-inches tall by 10-inches wide and are made of galvinized wire, and once fully inserted can stand your sign up to 18-inches high off the ground.
File Submission Specs
We manually inspect every single file you upload before printing your yard signs and will only proceed with your order if it can be printed at absolute 100% stunning quality with no compromises.
Larger files can be zipped and transmitted via any non-password protected cloud file sharing service
JPEG / PNG
Set to actual sign size, at 100-300dpi, RGB Color Mode, with no compression, Photoshop quality level 12
PSD / PSB / TIFF
Set to actual sign size, at 100-300dpi, RGB Color Mode. Combine all layers into single background layer
PDF / AI / EPS
Set to actual or 50% sign size. RGB or CMYK Color Mode. Embed all linked images. Convert all text to outlines. Expand all strokes. Only use high res raster images at 50-100% scale. Files should not be password protected, if availavle export to PDF
Features
Standard 18x24-inch Size
Full Color Printing
High Resolution
4mm-thick Corrugated Plastic
Printed One or Both Sides
Options
10x24-inch Metal Wire Stands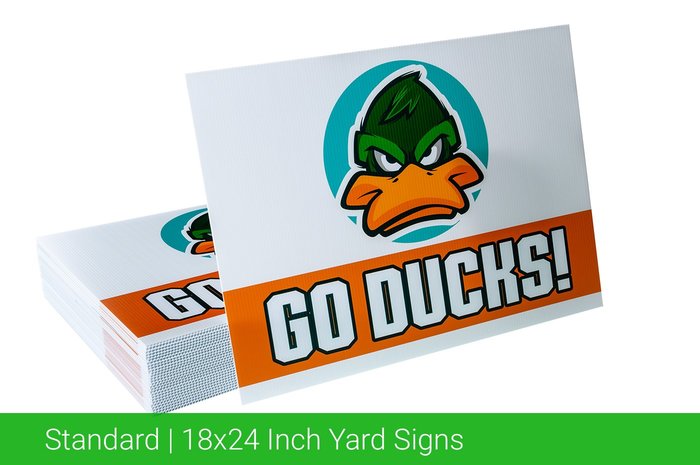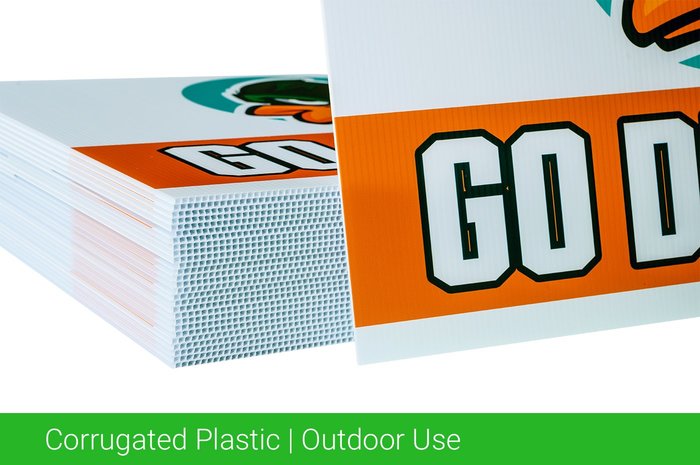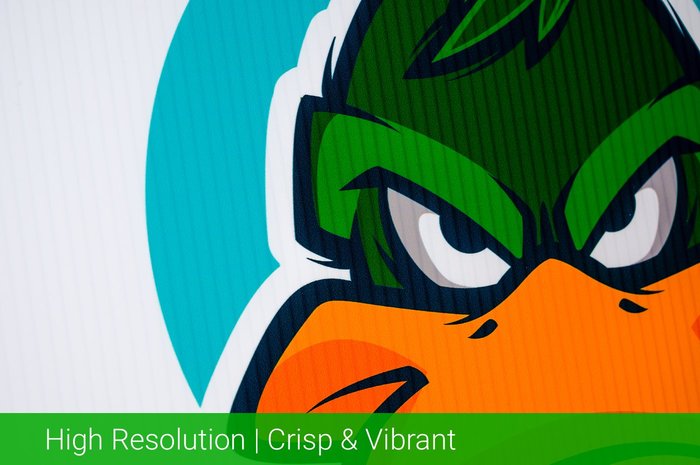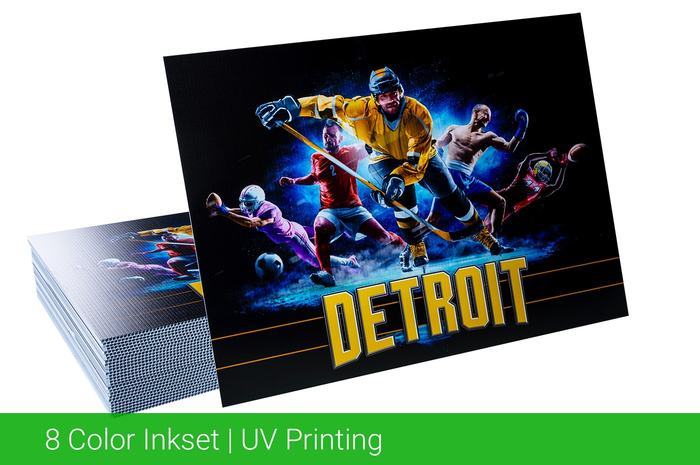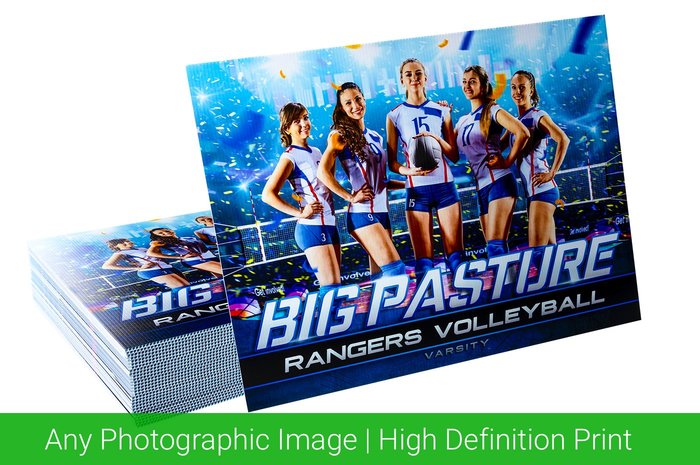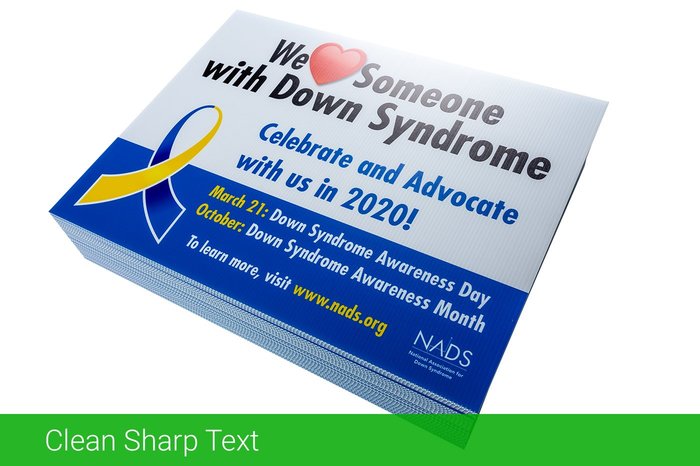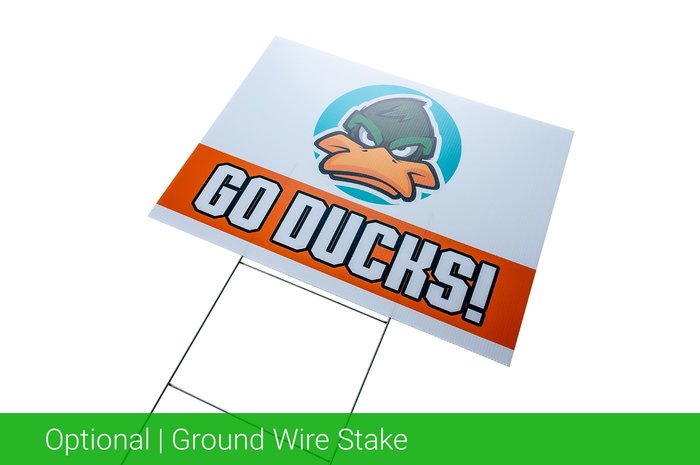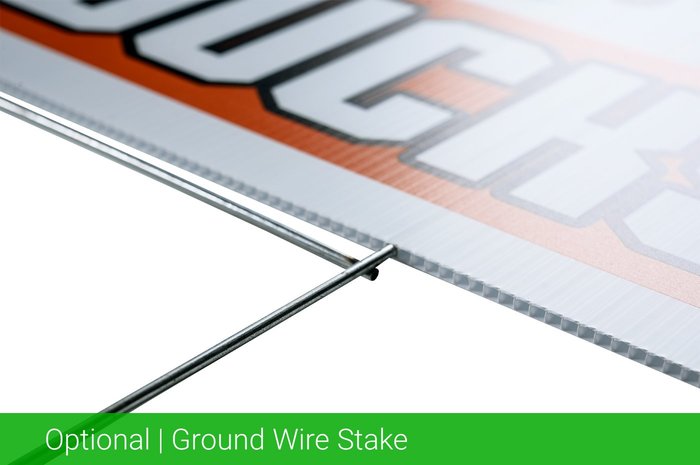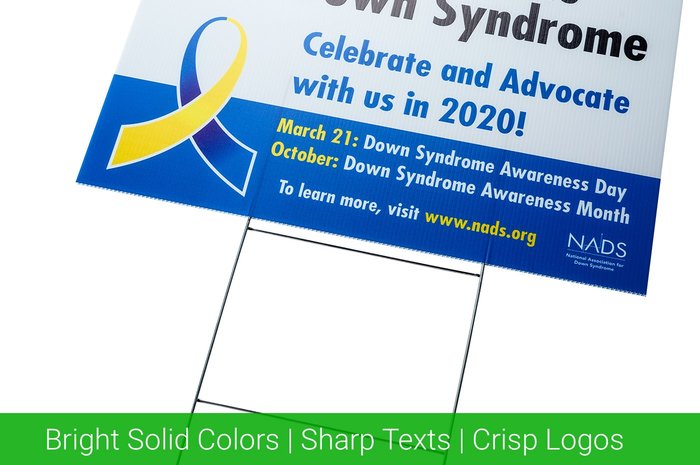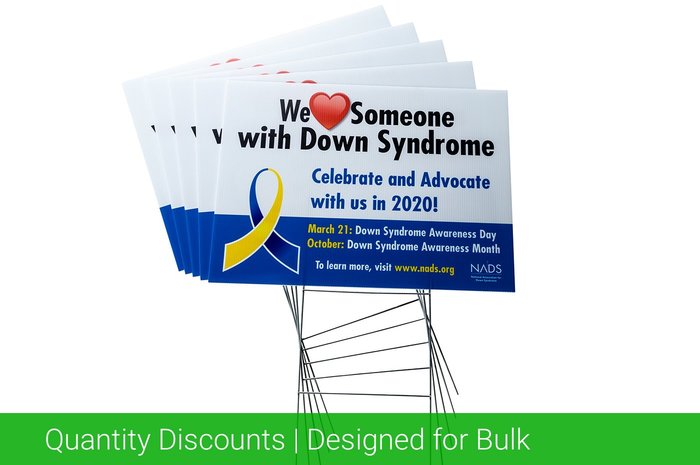 Free Super-Saver Shipping
With $75 order and discount code AWESOME