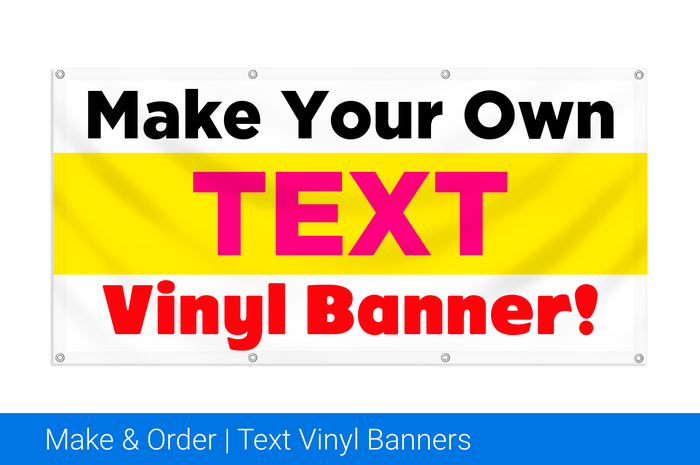 Text Banners
Text Only Banners are proven to deliver best results due to the simplicity of their design. By printing a bold textual message using effective block style fonts in high contrast definition on an opposing background color, keeps your banner's intended message concise, to the point, and interpretable within seconds.
With any outdoor banner ad, reducing the amount of time it takes for a passerby to process the message is essential to how effective your banner's value proposition will be when it comes to maximizing your banner's ROI. Convoluted designs with complicated graphics and many colors only provide visual obstacles that get in the way of the intended message, where a simple ad only conveyed through a few call to action words are easily interpreted and will get your message across the minds of your target audience quickly and effectively.
Using Our Text Only Banner Templates
Printastic's professional printing staff has been in the large format printing industry for over 40 years, and we have had the opportunity to print some of the most effective text only designs for vinyl banners. With our experience, Printastic has put together a huge collection of effective text only themes to help new customers design the perfect textual banner regardless of the advertisement, notice, or message you want to convey. Combined with awesome ideas for contrasting text from background elements along with design methods to divide lines of call to action words within your banner's text only design, we are confident that our text specific themes are the perfect way to begin designing a banner of just worded text that will have passing traffic noticing.