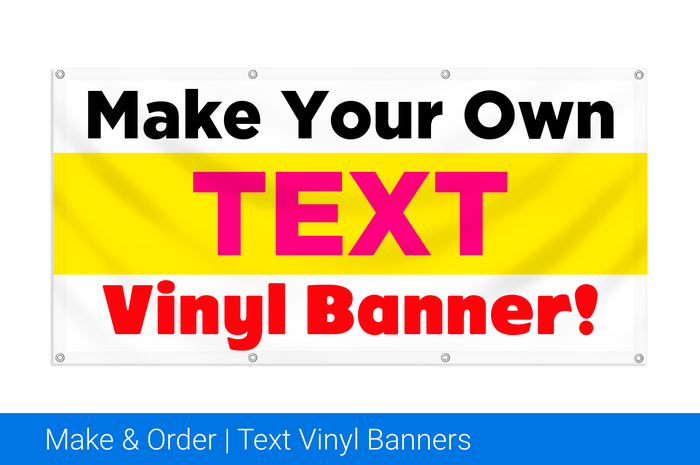 Custom Text-Only Banners
Vinyl text banners are simple, affordable & practical—get your message seen!
Sometimes simple is better. Text-only banners work because the focus is on the message—the simplicity of their design is proven to deliver outstanding results. Make your message concise and easy-to-understand with a bold all-text message that features:
Superbly readable & effective block-style font
High contrast definition
Opposing background color
Having your message be easily readable and quickly understood by passersby is a key element of banner success and value. Custom text banners optimize your ROI by eliminating visual obstacles and helping audiences get the message.
Use Our Text-Only Banner Templates
Our professional printing staff has been in the large format printing industry for more than 40 years and we've created a template library with thousands of examples to inspire your creativity. Our experience is an advantage—we can help you design the perfect textual banner for any advertisement, notice, or message you want to promote.
Add our awesome ideas for contrasting background elements, along with design methods to spotlight call-to-action words within your banner's text only design—now you have a recipe for success! We are confident that our text-specific themes are the perfect way to deliver maximum value for your banner investment.
Text-Only Banners—Simple & Effective
The affordable shortcut to engaging with audiences is using all-text banners. Design your banners and buy today, we'll ship them to you quickly—use our online design tool to get started, or contact our support team with any questions or special orders.