Auto Part Store Banners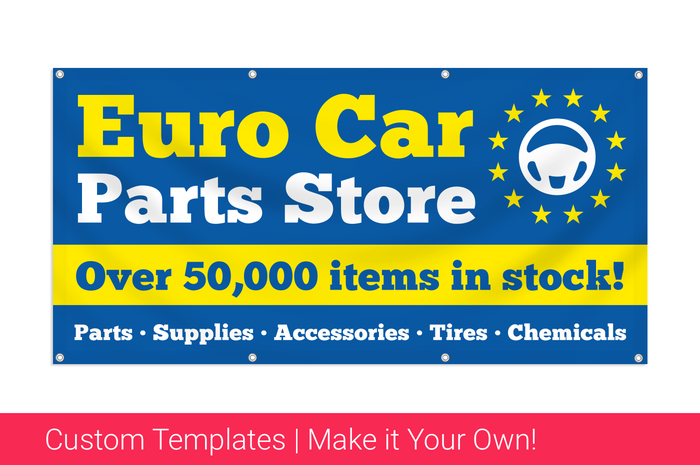 Custom Banners For Auto Parts Stores
Differentiate your store from the competition!
If you're looking for affordable marketing that yields high return for your auto parts store, look no further than full color vinyl banners - bang for the buck is extremely high! Custom banners can be very large and are therefore highly visible over long distances, drawing customers' attention towards your business and away from your competitors. The use of custom printed vinyl banners can make a huge impact on your auto parts store. From displaying banners to announce the arrival of new inventory to conveying monthly messages that promote aftermarket sales specials, there are countless uses for custom auto parts store banners from Printastic.com. With full-color printing, high-quality materials, unlimited custom designs and quick turnaround times, we can help you to achieve auto parts success.
Your unique signs can contain any text you want with any custom logos or photos that you may have - all printed on a professionally designed banner template that you customize. Customization is easy - select your favorite template and make it your own! Show your business name, logos of brands that you carry and descriptions of your store's unique benefits. More advanced users might want to create artwork with a graphics editing app like photoshop, and that option is also easy to submit for printing. When the design is finalized, just save it in any standard image file format and order the size banner that your artwork was designed for.