Home

\

Chili Cook Off Banners and Signs
Chili Cook Off Banners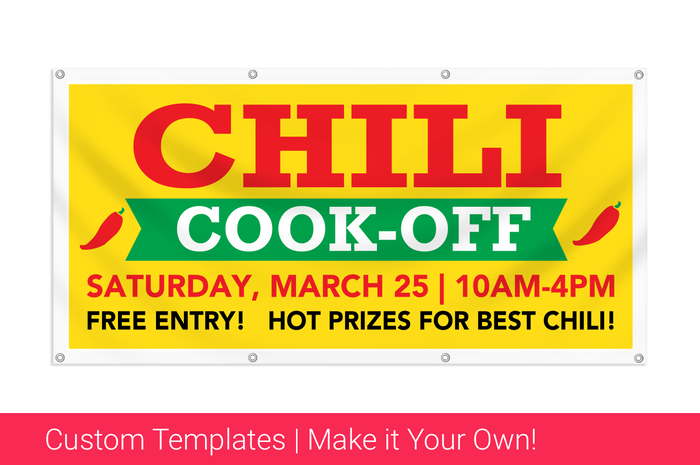 Chili Cookoff Banners
Use custom printed chili cook-off banners to promote attendance to any chili cooking event is easy and effective. Freestanding banners set up along the road adjacent to where the chili cook-off is being held is an excellent way to boost attendance. Design recommendations for promoting a cook off event include, announcing the event and posting any entry fees that may need to be collected. In the case of designing your custom banner, think about using colorful chile graphics and hot colors that demonstrate spicy cooking.
If you are one of the chili cooks hoping to win first prize for best recipe, printing custom chile stand banners to dress up your cooking area is a great way to increase awareness of your chili stand to ensure the crowd uses their tickets to try your chili more than the rest of the competitors at the event.
When ordering, if you already have created the exact banner you want us to print, simply pick the size and upload your artwork to us. If you have yet to design your banner, we offer an easy to use online banner designer that allows you to create your banner from scratch, or start with one of our chili cookoff banner templates.