Clearance Banners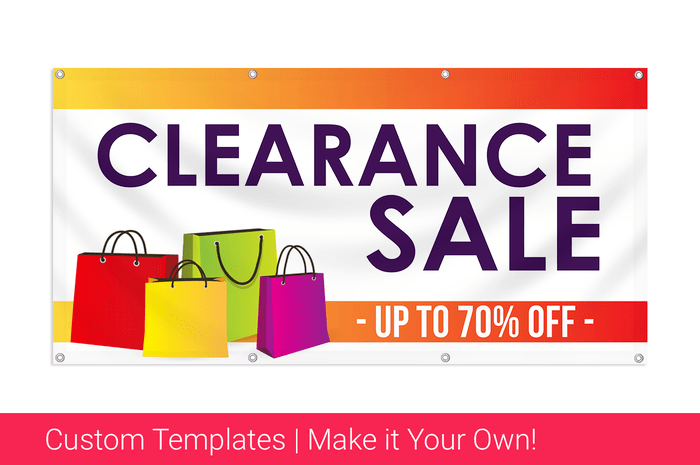 Clearance Sale Banners
Unique and one-of-a-kind customizable clearance sale signs are one of the better ways a retailer can promote a successful sales event.
Clearance banners and signs are a great way to get higher visibility, motivating buyers to purchase your current deals and discounted merchandise you want to move. Knowing that some sales events are better than others, there is no disputing the fact that the clearance sales are one of the more successful selling events a store owner can advertise.
If you are looking to get more eyes on your latest clearance deals, having a high quality business banner helps. Reasons for a clearance sale in the eyes of the ordinary buyer gives a psychological motivations that the owner has to liquidate last year's fashions or clear the shelves of a previous brand's model to make room for newer products that soon will be filling a retailer's shelves.
Don't hesitate, stop trying to figure out ways to advertise your up and coming clearance sale and order a clearance banner today! Our growing selection of vinyl banners are certain to help get your sale more visibility outside and inside your store.
Want to turn your discounts into big sales numbers?
Announce your Clearance Sale with a one-of-a-kind banner from Printastic!
We know that everyone out there in the business world does not have the prefect graphics expert sitting behind a desk ready to conjure up that perfect inventory clearance message. With this in mind, and the fact that many of our past banner printing jobs have been to create clearance sale signs for retailers all over the country, we have created an awesome assortment of free clearance sale pre-printed signs that can be easily customized and personalized using our online banner design tools that anyone can use. Simply find the clearance banner that best suits your liking and customize it within our banner creator to easily personalize the message under your own store brand. Add your custom logo, change the message to fit your store, and even modify our pre-existing clearance slogans to add your own creativity to these already proven selling gems we wanted to provide to you free of charge. Once you are finished with your custom clearance sale message, add it to cart and we will promptly print your clearance masterpiece in the same bold and vibrant colors you have imagined and created.
Your Final rendition of these Colorful Clearance Signage should shout your message loud and clear, so as you are altering one of our pre-existing clearance banners, be sure to keep your background colors and foreground text message separated by contrast and color. The more easily read your clearance message is, the more attention your promotion is going to get. Also as you are creating your perfect clearance sale ad, think about where your target audience will primarily view your signage. Take into consideration whether they will be driving motorists or walking traffic that passes by your store. These are important factors when creating your clearance banner message, so always remember the more legible and easily read your sign is, the more likely your clearance sale will be a success.
If you already have a print ready clearance message already created, you can bypass using our sign design tools and simply upload your own completed design file in PDF, PNG, JPEG, or PSD formats. Choose from several hanging or material options, and your banner will printed in photo quality and ready to display!