County Fair Banners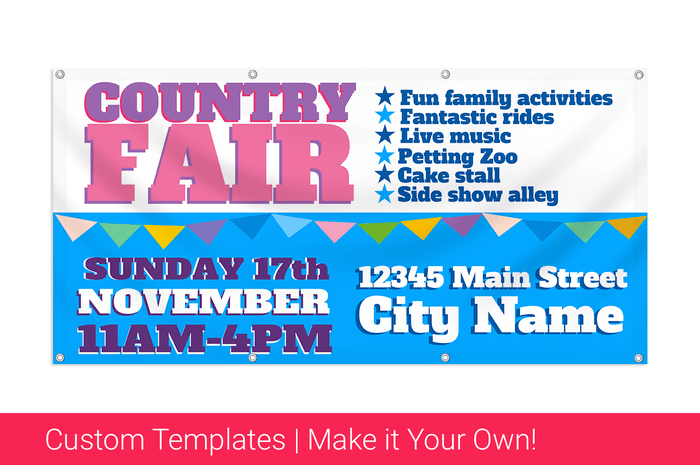 County Fair Banners
Advertise your Fairground's open season with vinyl Banners from Printastic
Using Vinyl banners to advertise your county fair is a very effective way to create event awareness, organize your facility, and showcase all you have to offer.
Fair banner templates from Printastic have been thoughtfully designed to promote excitement by using warm colors and inviting images. Your banners will inform viewers when and where your fair is. Fairs have long been a family activity destination during the summer and autumn months and it's important to make yours stand out.
As the popularity of fair attendance continues to rise, displaying vinyl banners has become a preferred method of letting the public know about the range of products and events that you offer. Livestock contests, beauty pageants, talent shows, dance demonstrations, bake offs and more can all be advertised individually or in a group on a single fair banner.
Making sure that your banners are visible from busy roads is important because the decision to visit the county fair can be a spur-of-the-moment thing that is prompted when a family sees your display. You work hard to bring your customers a quality fair going experience, and custom banners from Printastic will ensure that your message reaches the maximum audience possible.