Home

\

Farmers Market Banners
Farmers Market Banners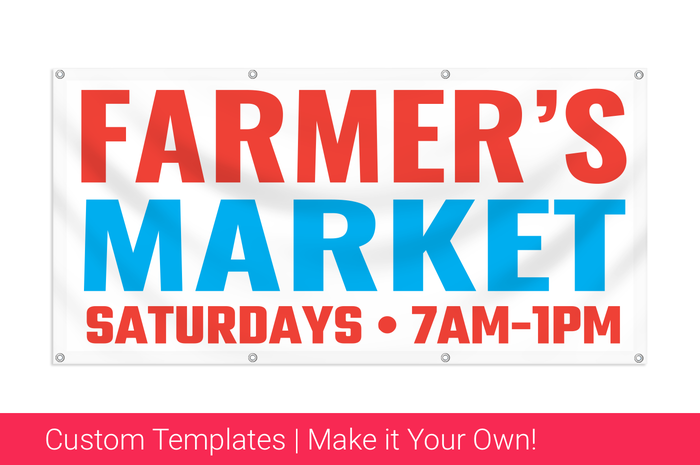 Custom Farmers Market Banners
Farmers Markets are a great place for consumers to purchase fresh fruits, vegetables, seeds, foods, and homemade baked goods. Sellers and small business owners work together to sell goods to the community, making these events great opportunities to interact with new customers and increase awareness about their offerings.
Farmers market vendors will use quality custom banners to aid in attracting shoppers to their fruit or produce stand. In fact, strategically placed banners in front of your stand or overhanging above is one of the best ways to increase visitors shopping for fruit and vegetables.
Shoppers will actually have a list of the vegetables they intend to buy so they can be sure nothing is forgotten. Imagine how effective your banner will be if you print the fruit and veggies you have for sale on your banner, so as the shoppers are looking at their shopping list, they can identify your booth as one of the main vendors they can visit to buy the majority of items on that list.
Always use strategic sales terms that produce shoppers want to see. For example: using words like organic, fresh, and the fact that you supply fruit and vegetables from farmers that use natural pesticides only.
Ordering Your Farmers Market Custom Banner
If you already have your banner designed, provide us with your artwork by uploading your graphic file to use when you order. If you do not have a design for your banner, you can create a new banner from a blank canvas or customize one of our predesigned farmers market banner templates using our online designer.