Used Furniture Banners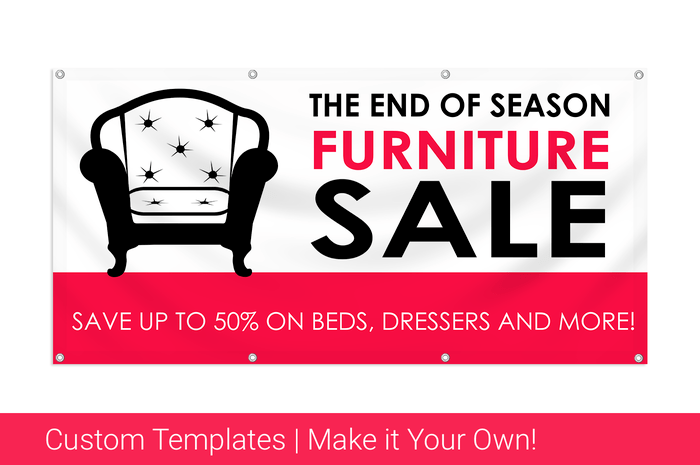 Banners for Used Furniture Stores
Exterior and interior banners are a cost-effective marketing tool that can help you boost used furniture sales. Full-color presentations can be used to promote sales and increase your revenue while building a loyal customer base.
Increase Awareness and Reach
When you use a large banner to promote the variety of used furniture you sell, you can bring in different types of customers to your store. For example, some customers may be looking for high-end furniture that you offer, while others are looking to furnish their first apartment with more affordable items. By appealing to different shoppers using affordable quality printed vinyl banners, you can increase the number of customers you see each day.
Indoor Furniture Banners
Furniture banners hanging from ceilings and displayed on showroom walls is another great option that target customers in your store with specials and POS advertising you want to convey.
Improves Branding
Custom banners also help with branding, which is important to creating a lasting, good first impression.
Cost-Effective
Banners are cost-effective, making them valuable marketing tools for businesses on a budget who rely on the local community for sales.
Order a Custom Used Furniture Banner Today
Selling used furniture can help your business reach an entirely new audience. Promoting to that audience is as easy as using effective signage with outdoor and indoor banners. Try our design tool that lets anyone upload their own artwork or choose from one of our customizable templates to get started designing a banner that increases used furniture sales.