Going Out Of Business Banners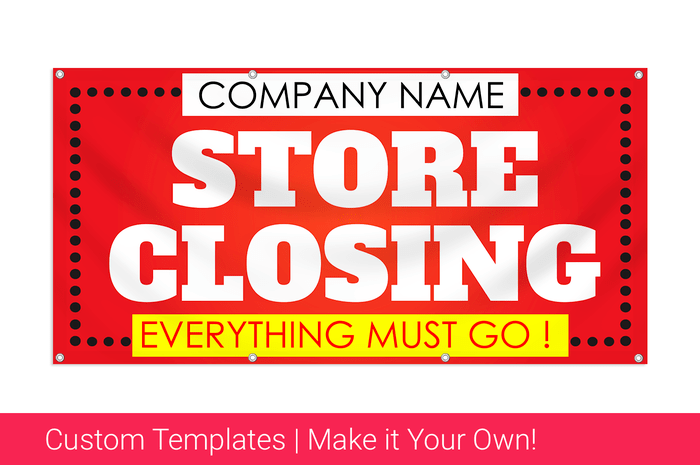 Let Us Help You Print The Perfect Custom Going Out Of Business Banner
Just because you're business could be closing doesn't mean you can't grab a few going out of business sale banners to help revive sales and move inventory? Turn a potential business shut down into cash with a going out of business event, and use affordable vinyl banners to post your going out of business sale.!
The public's first impression when a going out of business event is advertised, is to perceive there has to be some great deals to be had. In fact, we know a few stores that have been going out of business for over a decade, so we figure using a going out of business banner to advertise a sale is just routine for some companies.
Designing a banner is easy, fast, and fun with Printastic's new Online Design Tool. Built to support the first-time or expert designer, our Online Design Tool gives you access to a large library of ready-made templates to start your design. After choosing a unique template, add your own images, graphics, logos, or text. Grab the attention of passersby with an eye-catching, custom banner. If you're a more experienced designer, you can also upload your own completed design in PSD, PNG, JPEG, or PDF format, and choose between several material and hanging options to complete your banner. When you're ecstatic with what you see, Printastic will print your going out of business banner in stunning photo quality and ship it to your store right away.
No matter the reason you're choosing to close your doors, a successful going out of business banner is just as important as a grand opening banner. Design it in minutes. Receive it in days. Promote your sale with a "Going Out of Business" banner from Printastic and be sure to get customers in your door.