Home

\

Guaranteed Credit Approval Banners and Signs
Guaranteed Credit Approval Banners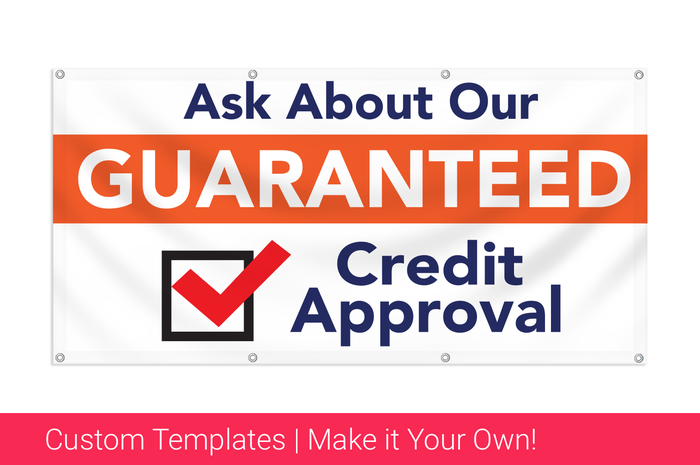 Guaranteed Credit Approval Banners
Buy custom banners to announce Guaranteed credit approval to help thousands of Americans make large purchases no matter their credit score. With guaranteed credit approval, you can sell more items and make more sales to all of your customers.
A banner is a great, cost-effective solution to advertise your guaranteed credit approval program so that you can bring in customers without breaking the bank.
Who Can Benefit From Guaranteed Credit Approval Banners
Any business that offers financing can benefit from a banner that promotes guaranteed credit approval.
The best way to let your customers know that you offer a financing program is to get the word out with a large, eye-catching banner. Your customers will see your banner from the road on their way to and from work, making them more likely to stop in for a test drive.
Order Custom Credit Approval Banners
Simply upload a print ready file or choose to customize one of our credit approval templates using our online design tools, or apply one of our credit approval designs as is to your banner order.