Home

\

Health Insurance Banners
Health Insurance Banners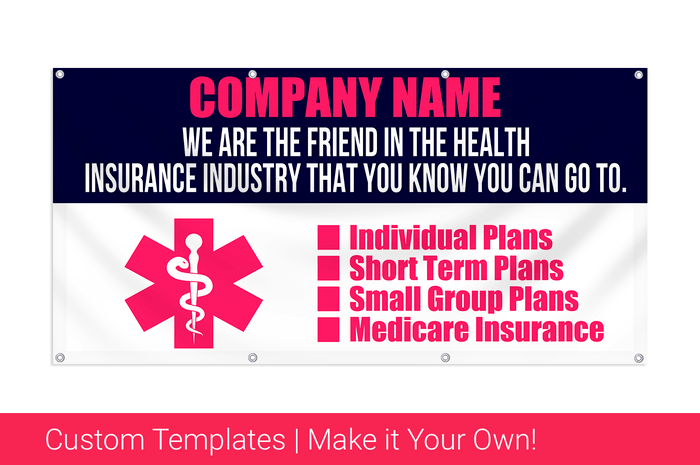 Health Insurance Banners Bring Attention To Your Office
Health Insurance banners get the attention of potential new customers.
Use Printastic's full-color, customizable banners outside your insurance firm's office to feature new signup specials, announce what insurances you offer, or even to just to let others know about important insurance information. Your customers depend on you to keep them educated about health insurance developments, so vinyl banners are useful inside and outside of your location to instruct and inform. Are you offering a new insurance package? Have you extended your hours? These are all great things to promote with health insurance banners. If your office is hard to find or is located within a large medical complex, vinyl banners identify your location and minimize confusion. Encourage the health and well-being of every customer with health insurance banners.
Health insurance banners are a useful resource for medical facilities large and small. Hospitals can be a confusing place, so health insurance banners help patients and their families easily-identify where they need to go, or that they've reached the right place. At Printastic, we offer a wide variety of templates you can use to create custom health insurance banners that convey any message. It's free to personalize our banner templates with your facility's logo, name, operating hours, contact information and personal messages that promote overall good health. You can even create banners that feature pictures and information about each of your health insurance plans. Our high-quality, digital printing produces brilliant, full-color custom banners that look professional and catch the eye of your guests. Printastic.com has everything you'll need to create personalized health insurance banners.