Liquidation Banners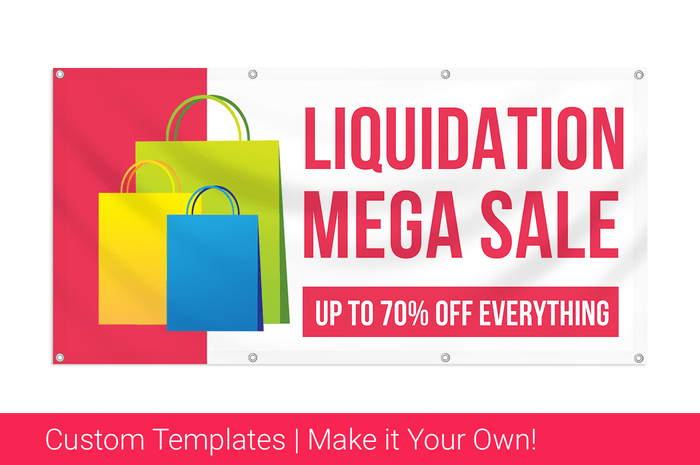 Liquidation Sale Banners
One of the more effective retail sales promotions a store owner can plan is the all too famous Inventory Liquidation Sale. The concept of offering deep discounted sales offers on stagnant older inventory is as old as the retail store itself and this is definitely a promotional sales program that will never lose its attention getting impact. Some people have to have the latest, the greatest, the newest product or fashion on the block and this consumer is keenly aware they are paying top dollar. However, there are those price conscience shoppers who patiently wait for the the item to ferment a little before they purchase. These shoppers know that they are after the price reduction. last months latest model now needs to be liquidated to make room for this month;s latest rendition. When Selling signals in the form of advertising for items that are being drastically reduced, one word stands out above the crowd. This famous price reduction word is LIQUIDATION! This word signals the psyche of the discount buyer like no other word a store owner can use, and savvy retailers know that in order to attract the discount buyers, all that is needed is a blow-out liquidation sale.
Incentives a retailer may have to liquidate their inventory is actually quite simple. Of-course the first reasoning is to clear out less popular inventory in order to make room for newer products. Other reasons, However, include the selling of discounted products in order to liquefy funds for cash-flow purposes. Maybe your store purchased a few pallets of merchandise that is just not selling well and its time to get rid of that inventory in order to raise extra capital to experiment with other merchandise that is becoming popular among your consumer target audience. The best way to quickly sell is to offer HUGE DISCOUNTS! making the buying decision among the more thrifty crowd to good to pass up. Liquidation Selling communicates this urgency to sell items fast quite effectively and by creating a few outdoor banners to convey a liquidation offer, a retailer can easily attract attention to the bargain buying opportunity a consumer just can pass on.
Ready to Liquidate inventory in your store?
Catch the attention of all potential customers with a personalized Liquidation Sales Message!
We have helped many store owners all over the country create and print some of the most effective liquidation sale signs in the retail market place. Whether a fashion boutique needs to make room for new fashions coming in their store, or the newest electronic fad is expected to arrive any day. In order to make room and remove yesterday's inventory, you can bet that it will be the Liquidation Sales offer that will pre-empt any new product arrival.
There are three methods a retailer can use to create liquidation sales sign offers. With a little creativity, a store owner can create their own print ready file that we will happily print. However more often than not, your smaller retail operations will need that extra creative assistance to create that perfect liquidation sales offer that wins the day. For this we have created an easy to use online sign design tool that someone can use from scratch, or one can search through our free liquidation banner signs that can be just as easily modified and personalized in our sign design tool.
The details of your sale are easy to display when you create a banner using our new interactive Online Design Tool. Designs can start by choosing one of our amazing ready-to-personalize templates, or you can upload your own completed design file in a variety of formats. Customize your banner by adding images, photographs, logos, or text, and select from a several material and hanging options to complete your design. When you're impressed with your results, place your order and Printastic will print your photo quality banner and send it to you ready to display in your store.
The success of any sale hinges on spreading the word to every potential customer, and announcing the savings with a Liquidation Sales Banner from Printastic will help you do that in style. Design it in minutes, receive it in days, show the community you're serious about their savings by designing an awesome banner display from Printastic.com!