RV Sales Banners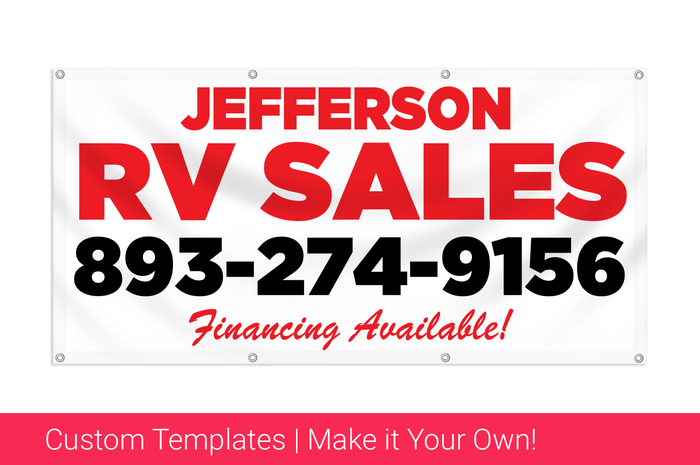 How RV Dealers Use Custom Banners
RV dealers take up a huge area of space to inventory the recreation vehicles they sell, and can use the road side traffic perimeter around that space as an advertising opportunity by printing custom banners and strategically positioning those banners in areas with high visibility.
Examples of RV Advertising that can be achieved using outdoor banners.
Many people believe that owning an RV is an expensive luxury that they cannot afford. However, this is not true with the rv financing options that exist, so why not educate these potential customers by printing some RV financing and sales banners that communicate the type of loans that are available to buyers?
By hanging several custom banners along around your dealership showing how enjoyable camping in a recreational vehicle can be while enticing passing traffic with awesome deals on price, is an excellent way to move your RV and Camping trailer inventory.
Displaying the lower monthly cost of an RV instead of the total of the RV can demonstrate how much an RV will cost in a normal month for the average person, allowing them to quickly calculate whether or not it fits within their budget.
Increase Awareness and Visibility
Printing banners can help you generate brand awareness to spread the message about your dealership to those who pass by. Your local community constantly be reminded about your dealership, so when they are ready to buy a camper or RV, your dealership will be the brand they think about.
Order an RV Sales Banner Today
Customize your banner to match your business with logos and colors using our easy-to-use design tools. You don't have to be a graphic designer to create an effective banner that drive traffic to your dealership. Simply upload your own artwork or choose from one of our customizable templates to order now.