Tent Sale Banners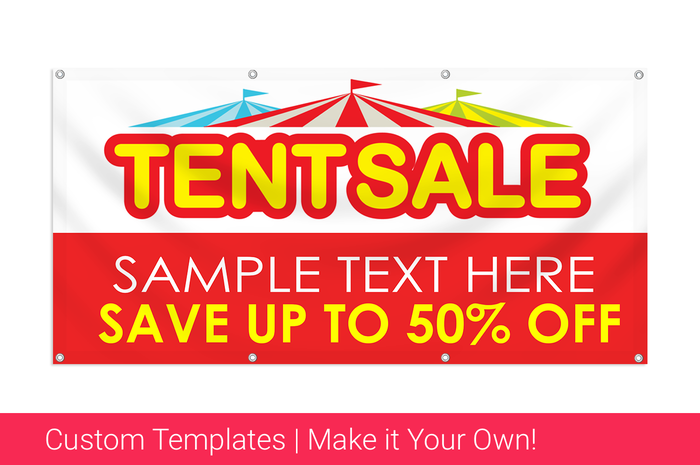 Tent Sale Banners
Retailers that are located in large parking lots or have adjacent wide open spaces next to their retail store should take advantage of and plan tent sales event throughout the year. Tent sales when promoted correctly, are perfect for attracting attention to the area where your store is located. Motorists and passing traffic will see the huge tent getting erected prior to the launch date of your tent sale, and if you communicate your tent sale event by printing custom vinyl banners to add that attention getting hype to your promotion, on lookers will take extra notice and plan to participate. Tent sale signage can be installed along the canvas walls of your retail tent or even erected to be displayed at the top of the tent. These large presentation banners are perfect for promoting your tent sale and these banners are sure to help you effectively communicate the kind of tent sale your store is planning.
Since the beginning of time, retailers have been using tent sales to draw attention, attract customers, and offer great discounts on all kinds of merchandise, and our easy to use design tools and printing operation makes creating effective tent banners easier than ever. Whether you already have your tent signage ready for printing, or you need assistance in creating that perfect tent sale message, we have the online turnkey tools to print all the outdoor banners you need to promote your next tent sale effectively. Not only does our Online Design Tool make designing your banner easy, it's also a ton of fun! Start by surfing through our library of ready made templates to select a design that's perfect for your store, and get creative by quickly adding the images, graphics, logos, or text of your choosing.
Looking to draw a crowd to your upcoming tent sale?
A Tent Sale Banner from Printastic is the only way to advertise!
Decide between several hanging and material options, and your banner is ready to be printed! Have a design you've already completed at home? Not a problem! Printastic's Online Design Tool allows you to upload your own design in PDF, PNG, PSD, or JPEG formats – making it the most powerful and user-friendly design tool anywhere!
Whether you're trying to move last year's models off of the lot, or needing to clear merchandise off of your shelves, a tent sale will create the fun and engaging atmosphere that customers love. Design it in minutes, receive it in days, your tent sale isn't complete without a custom Tent Sales Banner from Printastic.com – the online leader in custom printing!