Custom-Printed Fabric Banners
Custom-printed fabric banners are the ideal choice for grabbing attention in a variety of indoor spaces and venues. Constructed from 9 oz. polyester with exceptional high-quality and long-lasting dye-sublimated print, Printastic fabric banners include free sewn hems and grommets for easy hanging in arenas, places of worship, retail locations, and any other indoor space.
Fabric Banners: The Basics
Recommended uses: Interior displays including retail locations, trade shows, dealerships, carnivals and fairs, parties, celebrations, and more.
Fabric banners have remained one of the most popular banner types on the market today because of their versatility and ease-of-use. The 100% polyester fabric is washable, wrinkle-resistant, and exceptionally durable thanks to the unique tight weave of the material and strength of its composition. The dye-sublimated printing process means fabric banners are totally customizable with uncompromised quality and display properties no matter what size banner you choose. Seamlessly printed up to 10' x 100', our fabric banners are finished with a stitched hem that helps to strengthen the banner's edges and finishes its professional look.
Display and Hanging Options
Fabric banners can be displayed just about anywhere in any indoor setting with excellent results. We do not recommend fabric banners for extended outdoor use as the material and printing are not formulated to resist damage from exposure.
Grommets
A staple for banners of all types, grommets can be added to your banner at different intervals (every 2-3 feet; four corners; etc) to ensure your fabric banner will hang securely in the position and setting of your choosing.
Banners displayed with grommets are best secured with strong strings, ropes, or bungee cords when fastening to non-flat surfaces like fences. For more permanent installations on walls or buildings, screws with properly sized washers will keep your banner secure.
Four-Inch Pole Pockets
Four-inch pole pockets are an easy and discreet solution for displaying your banner in non-traditional spaces. Pole pockets are sewn directly into the banner and can be placed at the top, bottom, or sides of your design depending on your display preferences. Pole pockets are best used for indoor semi-permanent displays.
Best Venues for Fabric Banners
Churches
Fabric banners are truly a great option for any church, synagogue, mosque, or other houses of worship that is looking to catch the attention of its congregants and easily announce upcoming events, provide wayfinding directions or give instructions for services or ceremonies. The durable material means these fabric banners can be used year after year and displayed in just about any indoor location via grommets or poles, and the lightweight easy-up, easy-down installation makes them ideal for events and open houses.
Trade Shows
Trade shows are the perfect venue for fabric banners. Lightweight, easily portable, and exceptionally functional with many display options, a custom fabric banner will add an eye-catching and premium element to your trade show display. Fabric banners also offer very low glare and photograph exceptionally well – making them a perfect background for pictures for social media and promotion. And, they can be displayed and taken down in seconds leaving room for more productivity and less set-up/tear-down time.
Retail Businesses and Schools
For high-traffic places like retail stores and schools, fabric banners can be a huge difference-maker. Exceptionally affordable and easy to place in many different areas thanks to the variety of hanging options, a fabric banner can be used for everything from indicating sections in your store to acknowledging championship seasons in the gymnasium.
Caring for Your Fabric Banner
Though very versatile and durable, proper care is required to maintain banner integrity and brilliance. We recommend regularly washing your banner on your machine's gentlest cycle in cold water for the best results. Do not dry in a dryer; simply lay out or hang to air dry in avoidance of direct sunlight to prevent fading. Do not iron. Use hand-held steamers on an as-needed basis for wrinkles.
Fabric Banner Frequently Asked Questions
Are fabric banners printed in full color? What is the process?
Yes. The unique dye-sublimation process allows us to print in full color with no extra charge to our customers for multiple colors. Unlike normal digital printing, dye-sublimation utilizes heat transfer paper to transfer the printed image directly to the fabric in exceptional high-quality resulting in stunning images and prints that will retain their quality with proper cleaning and care.
Using this same process, fabric banners can also be created doubled sided with the same or two different banner images printed on polyester banners and joined together.
Do I need a graphic designer to design my banner for printing?
No. We offer a large variety of templates in our online template library for our customers to use at no extra charge. However, if you'd like to design your own banner or have a graphic designer put together a design for you, you can use our online designer or a program of your choice. We can work with several different file types to help print you the perfect banner.
How big can you print my banner? Will the banner stretch?
In order to guarantee visibility, the smallest fabric banners we print are 2'x2', with the largest seamless banners coming in at 10' x 50' – and many sizes in between. Fabric banners of any size will comfortably stretch between 2-5% of their total size making them ideal for stretch-tight displays, use in frames, and in other applications where you want a crease-free, wrinkle-free look that vinyl banners, which do not stretch, cannot offer. However, in order to maintain the integrity of the material and the design printing, we do not recommend stretching a banner beyond the 2-5% threshold.
Why should I choose a fabric banner over your standard vinyl banner?
If you're looking for a low-cost, high-efficacy promotional display for indoor use, fabric banners are a perfect choice. The premium fabric and high-quality printing provide eye-catching results with a low-glare appearance - perfect for trade shows, houses of worship, and more. Fabric banners are easy to display, easy to store, and are very low cost for the quality.
If your need is for a durable, outdoor display that can stand up to the elements, our vinyl banners are probably the better option.
How long will my banner last? Are they easy to damage?
With proper indoor use and care, fabric banners can last up to three years and even longer in an indoor setting compared to just one year when used outdoors. Though the banners are scratch- and water-resistant, they can tear when exposed to sharp or blunt piercing objects. Be sure to always display and store your banner in an area free of these kinds of hazards.
How do I hang my fabric banner?
All of our fabric banners are offered with two different hanging options: grommets and pole pockets.
Grommets can be placed at various points throughout your banner via our five different grommet options that you can choose during checkout.
Those options are:
No grommets
Four corners
On all four sides every two inches
On the left and right sides every two inches
On the top and bottom every two inches
Grommets are best used with ropes, bungee cords, or strings to help keep the banner tethered in place.
The other option we offer for hanging your banner is pole pockets. These pockets are sewn directly into the fabric and are perfect to display your banners on poles in any indoor setting or situation.
Are fabric banners for indoor use only?
To ensure the longevity and quality of your fabric banner, we recommend that they are only used indoors out of direct sunlight. This will ensure the longevity and quality of your banner for three-plus years.
What is the best way to store my banner to prevent wrinkles and damage?
We always suggest storing your banners where they'll be free from water, sun, or any other kind of damage from the elements. While rolling your banner for storage is probably the best option, our high-quality polyester fabric is wrinkle-resistant – giving you a great looking banner every time you display it.
Features
9oz. Polyester
Dye-sublimation
Indoors or Limited Outdoor Use
Water resistant
Scratch resistant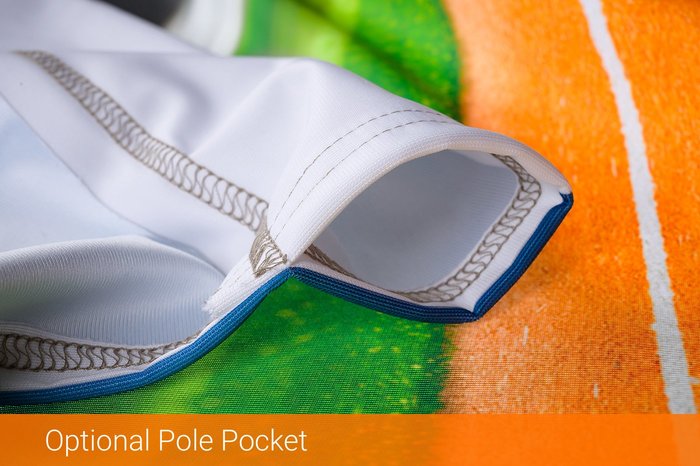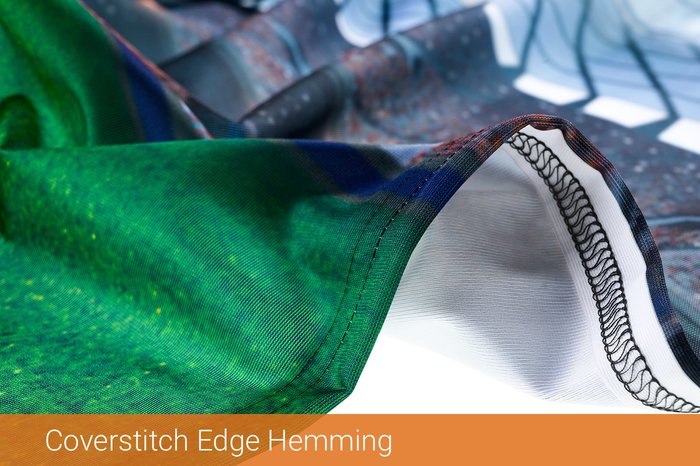 Free Super-Saver Shipping
With $75 order and discount code AWESOME