Home

\

Finish Line Banners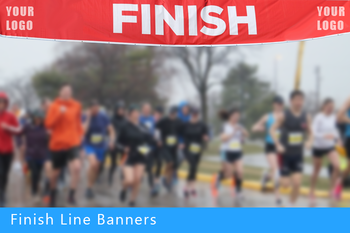 Best Quality Finish Line Banners
Host your race in style & watch the winner feel like a champion when they cross the finish line!
High quality, professional looking start and finish line banners are must-haves to show participants and spectators that your event is worthy of attention. Our vinyl outdoor banners are ideal for:
5K/10K runs
Marathons & half-marathons
Charity walk-a-thons
Triathlons
Turkey trots
Off-road racing events
Motor races
Bike races
And much more...
With our online design tool and its library of hundreds of templates, you can easily design your banner to include a finish line checkerboard, racing graphics, sponsor logos, and your images and promotional messaging. Quickly design and order unique start/finish line banners that put your event in the spotlight.
Finish Line Banner Printing Specifications
Start and finish line banners are typically free-standing banners that are installed over the race course, roadway, sidewalk, or path below. Banner specs include:
Sturdy outdoor banner material
We use 18oz blockout layered vinyl, which is optimal for several reasons. The thick material ensures that double-sided printing (a common request) will not bleed through from one side to the other. It's also very durable and able to withstand outdoor conditions of sunlight, wind, and weather without fading, tearing, or showing signs of premature wear. The material is also lightweight enough to be easy to transport, setup, and take down.
Size variations
Finish line banner height can be ordered from 2-3 feet and width from 16-24 feet. If you have a custom size request, please call us and we'll provide you a quote.
Colors & graphics
We can print any colors and color combinations, and also any image quality up to and including photographic quality. Our advanced printing technologies can fulfill almost any request.
Printed banner accessories
We will provide hemmed pockets for pole mounting, if needed, including any grommets required for installation. You can also check our Rope Banners page—these are an affordable solution that provides added assurance and support to any free standing banner that has traffic passing nearby or underneath.
Finish Line Banner Help Center
Do you have questions about purchasing finish line banners? Here are some common questions and requests:
"We have custom logos and graphics from multiple sponsors—can we add all of them to our banner design?"
Absolutely! You just need to make sure your banner has room for all the images you want to add, usually there's plenty of space. Make sure you add your race's logo and the iconic checkerboard design!
"Are wind slits needed for finish line banners?"
Wind slits are not necessary for the sizes we offer: they don't have enough surface area to benefit from additional ventilation. Except for extreme conditions that would typically cause a race cancellation, your banner will be fine without wind slits.
"Can we buy finish line banner installation hardware from you?"
In order to keep our prices for printing and shipping as low as possible, we do not include installation hardware. Our banners are designed to be compatible with most finish line setups or DIY installations.
Purchase a Custom Banner & Upgrade Your Finish Line
We've helped races and competitions around the United States make a bold finish line statement—are you ready to elevate your race?
Our online design tool has everything you need to get started and you can also contact our support team with any questions or special orders. Look through our design templates for ideas and inspiration—we're excited to get to work on your new banner!
---