Now Hiring Banners
If you're looking to add to your staff, fill new positions, or bring in skilled help to assist your business as it continues to grow, a "now hiring" banner can be a great place to start. Fully customizable with any artwork of your choice, available in a variety of sizes, and easily installable both indoors and out, "now hiring" banners can help turn your hiring goals into a reality without breaking the bank.
But "now hiring" banners can offer so much more than a simple message. Thanks to a variety of different sizing options, you can include all of the essential information your potential employees want to know like hours, pay, start date, positions open – even job responsibilities. The more information you can give upfront, the better your selection of candidates will be when they submit their application. Think a "now hiring" banner might be right for you? Here are a few great ways Printastic customers have used "now hiring" banners to their benefit!
Now Hiring & Help Wanted Banners
Think a "now hiring" banner might be right for you? Here are a few great ways Printastic customers have used "now hiring" banners to their benefit
To Advertise Ongoing Hiring
A semi-permanent banner installation to let customers, passers-by, and the public know that you're looking to add some new staff to your business can be your most powerful tool in hiring. Installing a "now hiring" banner inside of your business, across your storefront, at the street so passing traffic can see, or even on your elevated sign can help get the message out quickly and efficiently to all who may be interested.
Plus, using a banner at your place of business can have another fringe benefit: attracting the right type of employee. Ads in the newspaper, online listings – you have to hope the right people are going to see those at the right time. A banner at your business hits the two most important demographics in hiring: those who already know about your business and those who live in your area. A well-placed "now hiring" banner will help you inform the right people that you're hiring at the right place.
To Announce a Hiring Event
For businesses new and old, filling out your staff with reliable workers can be a real challenge – especially when you need to hire more than one. Many retail locations, restaurants, and service businesses have helped attack this problem with hiring events – a full day of drop-in interviews where candidates can be evaluated, interviewed, and hired right on the spot.
But the success of these events is only measured by how many great candidates show up to join the team. If you're planning a hiring event, a custom banner can be a low-cost and impactful way to get people in your front door and on your workforce. Banners advertising the upcoming day and time as well as banners to be used day-of with important messages like "hiring event today" and "stop in now - on-site interviews" can be the difference between a hiring event that is lackluster and one that is overwhelmingly successful.
To Point Candidates to Your Website or Phone Number
The hiring process is perhaps more different now than it has ever been before. Many businesses, organizations, municipalities, and schools are skipping face-to-face interviews all together and instead are accepting applications online and interviewing candidates via the phone, online, and video chat platforms.
If you'd prefer your candidates to start the application process via your website, an email, or a phone number, a banner at your place of business is a great way to let them know how to get started.
How to Get Started With Your Banner
If you're ready to get started creating your "now hiring" banner, we have three great options for you. You can always browse our stunning and easily customizable selection of templates below. All you have to do is find one you like, customize with your information and branding, and you'll have a professional banner ready to order in just a few short minutes.
If you'd like to start your design from scratch, you can use our online "design your own" option which will give you a powerful design program right at your fingertips. You can use this to add elements like your logo and colors while customizing a design that is perfect for you.
Finally, if you have a designer on staff or know your way around programs like Photoshop or Illustrator, we also accept file uploads of your completed designs for easy uploading and printing.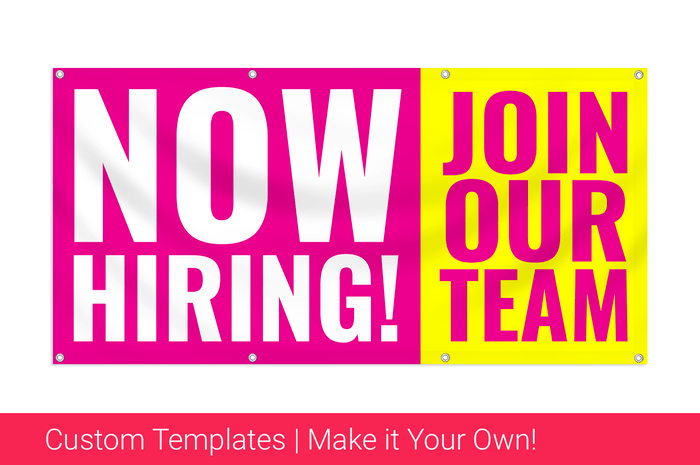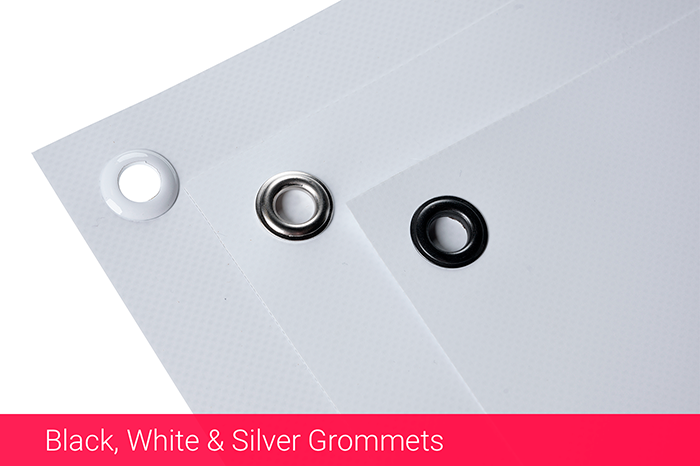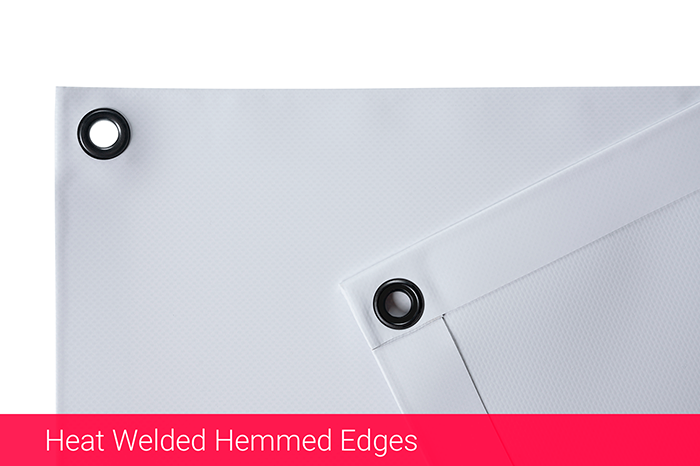 Customizable banners
Change Text, Colors, Add Logos & Pictures