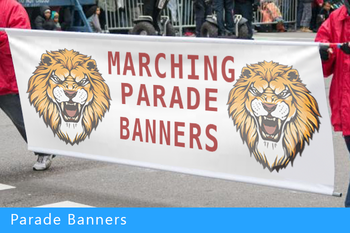 Parade Banners that Make You Stand Out
Get your marching band, club or organization noticed with a high quality banner.
No parade is complete without colorful, attractive parade banners leading the way! Banners are a great way for marching bands, school clubs, and civic organizations to introduce themselves and promote their participation in any marching event.
We're here to help you get noticed—our banners are specially designed for the unique presentation needs of marching events. A sturdy heat-welded top-pocket for the banner pole ensures no drooping or sagging while marching. Lightweight material can take a beating, but is convenient to carry and store.
Custom Printed Parade Banner Specifications
First time ordering? Here is what you need to know:
Banner heights
Heights of 2-4 feet are available—anything taller would be difficult to march with.
Banner widths
We offer widths up to 25 feet using our online design tool. If you have something longer in mind, please contact our support team and we will be happy to provide you with a custom quote.
Banner material
Our marching band banners and parade banners are printed on superior quality 18oz vinyl. This is a rugged, durable banner material that is specifically designed for optimal strength, frequent use, and outdoor conditions.
Banner extras
Hemmed top-pocket is standard and we use a heat-welding technique for superior strength and wear-resistance. Grommets are not included, as these are not used for parade or marching band displays.
Why Choose Us?
We're proud to have printed and delivered custom banners to thousands of marching bands, school clubs, civic organizations, and parade participants around the United States. We have superb reviews and great word-of-mouth because our banners:
Are easy to carry.
18oz vinyl material stands up to punishment, but it's also lightweight and easy to carry. The hemmed top-pocket is a snug fit for any standard parade pole and makes carrying simple and convenient. Storage and transportation are a snap.
Can be customized with any images & text.
We use full digital process color printing technology, which allows for photo-quality results. Design your banner to stand out and get you noticed by the crowd!
Are affordable & arrive on time.
We offer incredible prices and dare the competition to beat us! We also provide excellent customer support and fast, reliable delivery—you're in good hands when you order from us!
NOTE: Parade pole is not included with your order. This allows us to offer you the lowest prices for printing and shipping. If you need to purchase a pole, they are available at any local hardware store (PVC pipe also works).
Order Your Custom Parade Banner Today!
We're ready to get to work on your custom banner! Getting started is easy:
Use our online tool to design your parade, float or marching band banner;
Choose a template & upload your image or text;
Use the preview image to confirm how it looks;
Place your order & we're ready to go!
Contact our support team with any questions or special orders. We're here to help you make a winning impression on the crowd!
---
product reviews
5
2 product reviews
see all reviews

Suzie
on September 18, 2023
Very easy to use the website and order. Order came in quickly and correct. Very nice for the price. Just ordered my second banner today.

Laura McCammack
on June 6, 2023
SUPER fast printing/shipping, high quality, and the only parade banner with pole pockets I could find