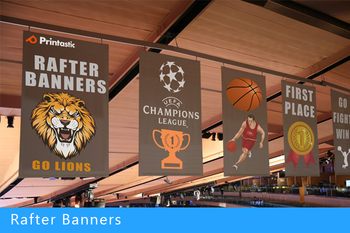 Rafter Banners
Custom rafter banners are used by school athletic organizations, sporting venues and business conventions to celebrate victories, announce accomplishments and motivate participants.
Hanging from the rafters in the ceilings of auditoriums, school gyms, convention centers and large retail buildings, rafter banners are made to be secured from the top and freely hang loose from the bottom side. This requires the use of top and bottom pocketed hems where inserts are used. The top pocket of a these vinyl banners include the mounting rod insert for fastening to the rafter roof beams in the ceiling while the bottom pocket is used to insert a pole or dowel to ensure the banner is weighted down providing the perfect amount of tension for a taut presentation.
Banners used to hang from ceilings are sized in a vertical format because of the recommended weight needed for a good presentation that does not curl or drape improperly. Our vertical sizes start at a smaller 3 feet tall by 2 feet wide banner to a large format facade size of 12 feet tall by 10 feet wide, allowing a range of sizes to fit any roof banner needed.
By default we include hemmed top and bottom pockets for inserting a secure installation dowel at the top and including a heavier rod at the bottom for proper weight considerations. We also will provide grommets at no additional cost should additional tie downs be needed for installation purposes.
Rafter Banner Printing Suggestion
With our affordable pricing, even the smallest of schools and sporting leagues can now print custom insignias and mascots to rally the fans including the printing of celebrational banners to remind fans of past sports victories or special mentions for a particular team player that fans remember.
School athletic departments are one of our more popular customers to print banners purposed for hanging in sports auditorium rafters, but these banners are also an excellent choice for companies to motivate attendees at a business convention. We also see car dealers hang these ceiling banners from the roof of a car showroom to help incentivize car shoppers.
Rafter Banner FAQs
Frequently Asked Questions
Are Rafter Banners Easy To Install?
Yes. Often referred to as rafter raiser banners, they will often use a rope to safely and easily raise them to the rooftops where they can be tied off and easily lowered when it is time.
Can I include Photos In My Design?
Our print technology allows for full digital process color printing meaning that photo quality results are easily attainable.
Are the hemmed pockets strong?
Yes! We heat weld our hems meaning that welding process literally fuses the hems together making them the strongest welded pockets possible.
Do you provide the rods to insert into the hemmed pockets?
We do not supply the rods or dowels for inserting into our rafter banners. These are available at any hardware store and would dramatically increase the shipping cost of your banner.
---