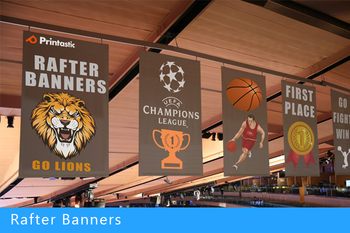 Custom Rafter Banners
Raise 'em to the roof! Design your own custom rafter banners to celebrate your most special victories.
Honor your most important accomplishments, celebrate victories, announce special feats, and motivate people with custom designed rafter banners. These banners look beautiful hanging from your arena or venue ceiling, where large crowds can feel your history come alive!
School athletic organizations
Sports teams
Business conventions
Churches & faith organizations
Civic clubs
Social & academic societies
Our rafter banners are high quality, with a beautiful appearance that attracts attention. They are secured from the top with a mounting rod through a hemmed pocket and hang down freely; the bottom edge is also designed with a hemmed pocket for a weighting rod that provides the perfect amount of tension for a taut appearance and crisp presentation.
What's included in our rafter banners
Ceiling banners are formatted to display vertically. Our vertical sizes begin at 3' tall by 2' wide and can be as large as 12' tall by 10' wide—our selection allows a range of sizes to fit your needs.
Top and bottom hemmed pockets are included standard—these are used to insert mounting and weighting rods, for proper hanging display. Grommets can be provided at no additional cost, if you want to use tie downs for installation.
Who is using our custom hanging banners?
Our affordable pricing means that no matter what your school or organization's size, you can have the highest quality banners custom printed with your insignia, logos, and messaging. Rally your fans, celebrate victories, or memorialize special players and people.
School athletic departments are one of our most common customers. We also print and ship banners to many different types of academic societies, civic organizations, convention centers, and businesses around the United States.
Frequently Asked Questions
Find out more about designing, ordering, and using our custom ceiling banners.
Are rafter banners easy to install?
Absolutely. Often referred to as rafter raiser banners, installation is simple and fast for most standard wood, metal, or mixed-material rafter systems. They work well with rope-and-pulley systems that allow the banners to be safely and dramatically raised or lowered during events.
Can I include photos in my design?
Yes, and they will look great! Our print technology allows for full digital process color printing, meaning that photo-quality results are easily attainable.
Are the hemmed pockets strong?
Yes. We heat-weld our hems; the welding process literally fuses the hems together, making them the strongest welded pockets possible and easily able to support the weight of the banner, mounting rod, and weighting rod.
Do you provide the rods to insert into the hemmed pockets?
No, rods are not included. To keep your costs for production and shipping as low as possible, we do not supply the banner rods or dowels. These are available at any hardware store at very affordable prices.
Upgrade Your Venue with Custom Rafter Banners
Rafter banners are a tradition that preserves and honors your organization's most noteworthy people and events. Try our online design tool to begin your design, we have hundreds of templates to help you create the perfect banner.
You can also contact our support team with any questions or special orders. We're ready to help you celebrate a tradition of greatness today!
---