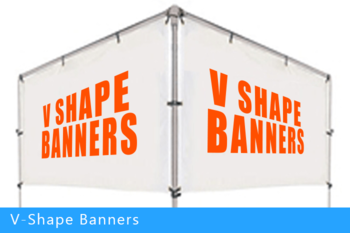 Outdoor Roadside V-Shaped Banners
Advertise to intersecting traffic with custom V-Shaped banners to maximize exposure to oncoming traffic from all directions.
V-Shaped banners are very popular for roadside advertising along intersections where these perpendicularly placed banners capture the attention from motorists traveling in all directions from two different streets at the same time.
In-ground V-Shape banners are ideal for intersection advertising to motorists coming and going in perpendicular directions. They are lightweight for transporting and ease of installation, and extremely durable for withstanding the outdoors. Pre-configured heights range from three and four foot sizes with widths extending from eight to twelve feet.
Both 3 and 4 foot tall 8 foot v-shaped banners include two four foot banners with identical printing attached together with ties to the inner grommet eyelets of each banner to form the v-shaped middle.
How To Install V-Shape Banners
Already constructed with two identically sized banners attached together from the inner grommet eyelets, our v-shaped banner kits are easy to install.
Simply stake three 90 degree perpendicularly placed poles into the ground with a measured distance equal to half of the banner's overall width and slightly taller than your banner's height. Make sure that your middle post is centered closest to the road or corner intersection.
To begin installing the banner in a V-Shape once the posts are staked into the ground, we suggest zip tying the top middle grommet of your banner to the center post. This will permit your v-shaped banner to swivel in the middle.
Next, use the top grommets on both ends of your banner to situate each side of the banner to each end post. Be sure each side of your banner is level to the center top and taut enough to prevent sagging.
Once the top middle and end grommets are secured, we suggest tying the bottom center and end grommets of your banner to the lower side of your posts applying enough tension to make sure the banner is tautly secured without stretching.
Lastly, once you have the upper and lower middle and end grommets of your V-shaped banner secured, simply fasten your zip ties to the remaining grommets to provide a safe and highly presentable display that can be seen from perpendicular traffic, and your installation is complete.
V-Shaped Banner Frequently Asked Questions
Can i use a V-Shaped Banner On Uneven Ground?
Yes, you can easily level your three or four foot banners on the in-ground posts even if the ground is not level by making sure the height of the posts can accommodate the level height of the banner.
Are V-Shaped Banners Better Than Double Sided Banners For Intersections?
Yes. A v-shape banner can be seen from perpendicular directions while a two side banner cannot.
Can My Banners Include Full Color Process Printing?
Yes. We digital print our banners, and you can include high definition full color process graphics on your banners.
Can I Get Custom Sized and Finished V-Shape Banner If Needed?
We do accept special requests if your banners require special sizing or finishing. Please contact us for a custom quote if this applies.
---