A Cost-Effective Way To Attract Attention
Window Banners are a great option for advertising to the public because of their versatility and extremely high rate of visibility. From a simple message with large text to a more elaborate design with pictures and logos, we Printastic provides unmatched quality at an affordable cost.
When purchasing a window banner, always consider the most important factor - the size and location of the window. Other factors to think about are traffic patterns, existing signs, and visibility. Once you decide on a location, Printastic can create a custom window banners to fit your needs. If you're having an event such as a sale or celebration, window banners are a great way to convey that message to anyone that visits or drives past your location.
Today, first impressions are made everywhere - including windows.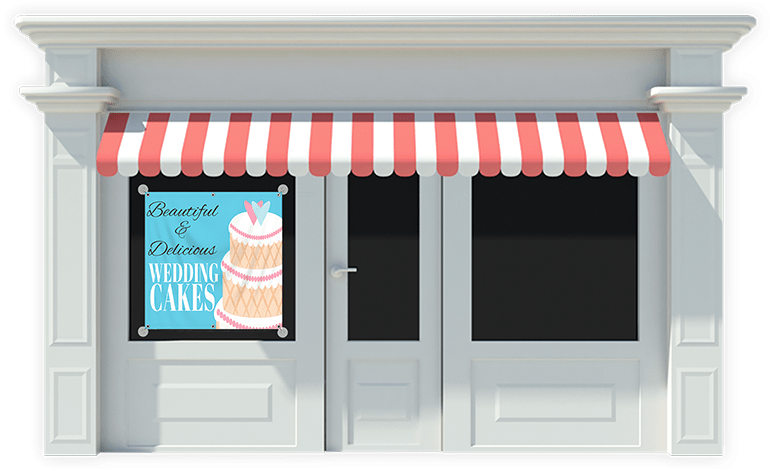 If you're a business — small or large — your window banners should most definitely match the style of your branding.You could use photography from your website, possibly include your logo and you should keep your fonts and colors consistent. Your window banners don't all have to be an exact clone of each other but they should definitely be a cohesive family. That's a sure sign of good branding.
When you begin to plan your window banners, always start with your message. Of course you know your business and what you offer - but what kind of customer are you looking to attract?
Do you want to showcase a particular aspect of your business?
If you're a retail location, do you want to highlight a particular product?
If you are a service provider, do you want to promote a satisfaction guarantee?
Do you have a unique tagline or sales message?
Easy to use window advertising
Unlike window clings, which can be difficult to hang, and decals, which can be difficult to remove and leave messy glue on your window - Window banners are easy to hang using suction cup hooks, they are easy to remove and leave no mess behind. Just place the suction cups on and hang the banner, it's that easy. Add the optional nickel platted grommets to the banner to make this easier and look nice. By using this method it makes changing your message easy. Window banners are reusable, so you save money and it is good for the environment. Adding a second copy of each banner will enable you to hang them back to back so your message will show both inside and out. Printastic offers an optional edge hem, but for window use you may want leave it off - It gives it a cleaner and more professional look. Choose a size that fits your window, 2'x4', 3'x6' and 4'x8' and have it printed vertically, horizontally, or square - whatever fits best. Whether you want to promote a special event, announce a new product, or draw in new customers, window banners are the perfect way to drive traffic into your business.
Window Banners Spotlight Your Storefront
Large or small, the best window banners help your business to stand out from the other stores or buildings around you with beautiful and professional imagery that delivers a clear message. Vinyl banners are a great solution if you need a temporary indoor window sign for your business that can be changed out or taken down frequently. You can simply attach the banner to the store front window with suction cups inserted through the grommets in the banner. Vinyl banners are a good choice for window signs because they are very durable, UV resistant, and are easy to roll up and store when not in use. You can choose between 13 and 15 oz. matte vinyl material during the order checkout process.
Window banners can be designed online using Printastic's professional banner design templates to ensure your banner looks exactly as intended. When laying out your banner design, remember that many people find script styles and serif fonts more difficult to read, so try to try to avoid using them whenever possible. Viewing distance is also a key consideration when choosing your colors. Pick a background color that contrasts nicely with the text and graphic elements to ensure that viewers can read your banner or sign easily.
Design from scratch or upload your company designs. It only takes minutes!
Lastly, a few words on frequency: You want to create a consistent image so you need to have a plan for changing your banners. Constantly creating new banners on a whim will quickly confuse your audience so having a plan in place is a great idea. Here are a few tips for when and why you should change your window banners:
If your branding has had a redesign
If your company is seasonal
If you're highlighting an event
You can easily upload your own designs using www.printastic.com or you can create window banners using our professional design templates and powerful customization tools. Once you've gotten a good feel for the process, you will be on your way to having a family of beautiful, branded window banners.