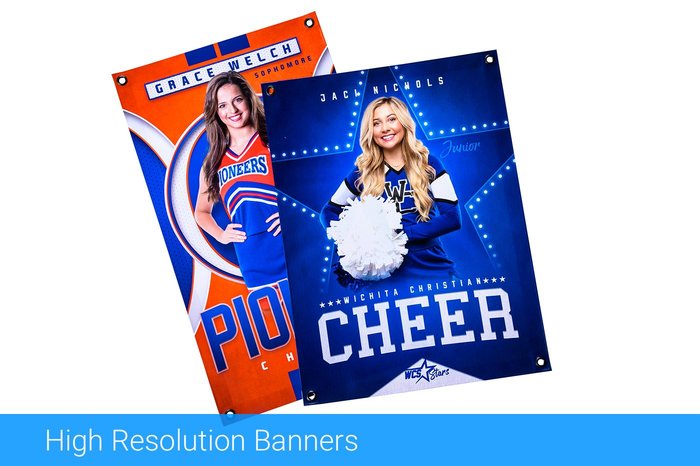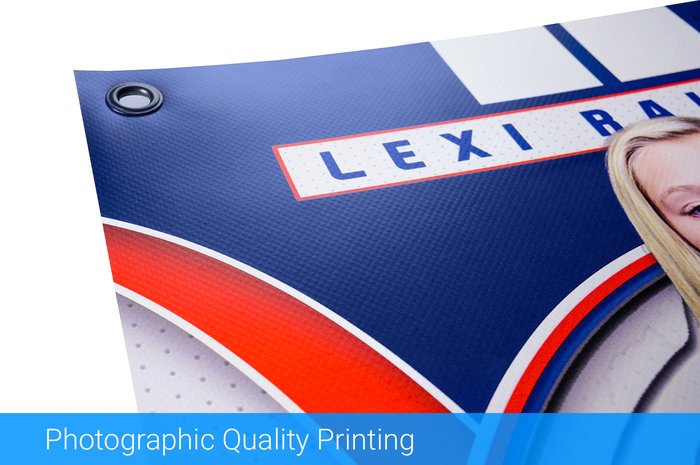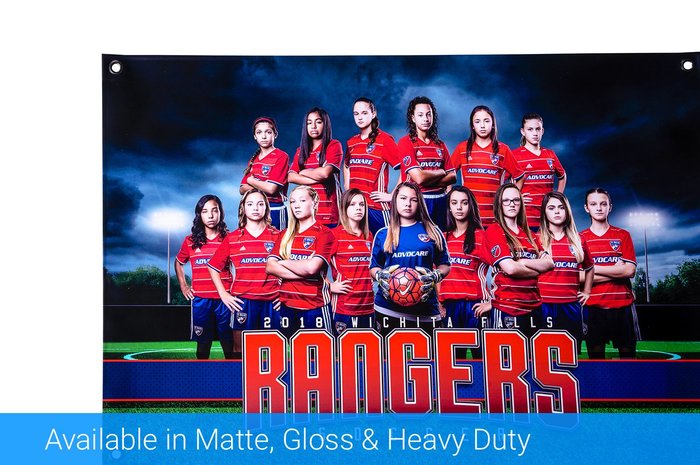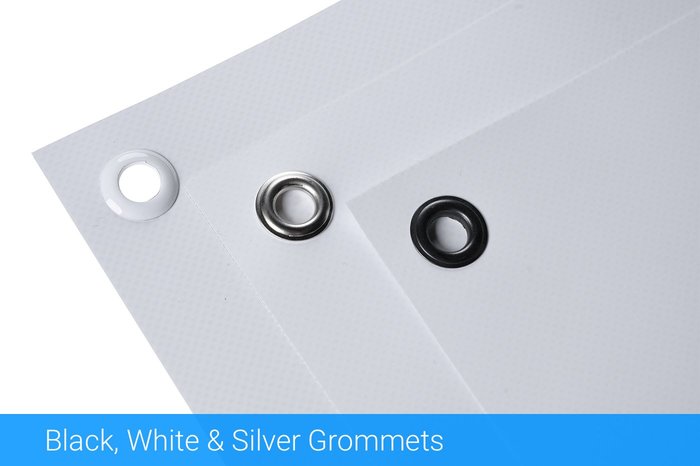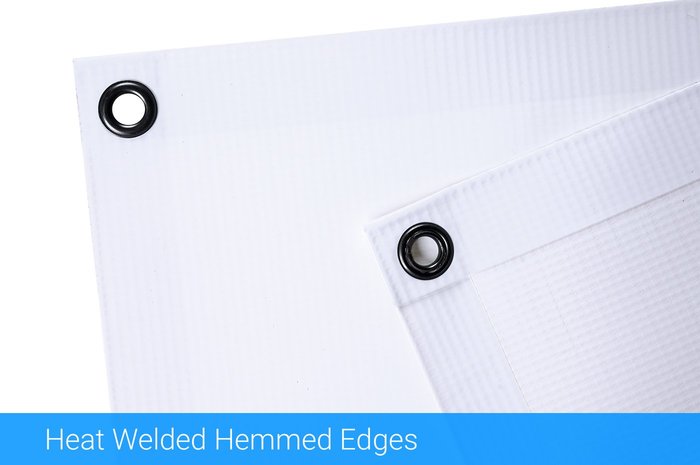 4'x5' Banner Options and Specs
Low Price, High Quality! Our 4' x 5' sized vinyl banners are suitable for display both indoors and outdoors. Printed on tough 13 oz. vinyl banner material with full color photographic imagery or individual spot colors, the custom banners that we produce are suitable for display both indoors and outdoors. After the printing process, each vinyl banner is finished with heat-welded hems on all four sides (which reinforces the edges and gives each banner, professional, finished edges), and finally grommets are installed in all four corners and every 2 to 3 feet along the top and bottom hems running the length of the banner, making your banner sturdy and durable for a longer amount of time and repeat use. The installation of grommets gives you multiple options to display your banner on a variety of surfaces using commonly available hardware at your local hardware store. We offer a wide variety of sizes to meet your vinyl banner needs ranging in sizes from 2' x 2' to our largest size banners measuring a finished size of 5' x 50'! Vinyl banners are an ideal and affordable way to advertise your business, show support for a local cause or simply to create a fun and festive atmosphere at your next celebration.
Many other sizes available, see the all banner sizes page
The 4' x 5' ft Banner Pricing and Materials
4x5 13oz Vinyl Banner
starting at $60
Most popular choice for promotional banners, these regular duty vinyl banners printed on 13oz bright white vinyl in matte or gloss finish and suitable for indoor and outdoor use for up to 2 years with proper care.
4x5 18oz Outdoor Heavy Duty Banner
starting at $60
A go to choice for banners to replace or compliment permanent signage, these heavy duty banners printed on thick matte heavy duty 18oz vinyl are suitable for extended outdoor use for up to 3 years with proper care.
4x5 Mesh Banner
starting at $80
These 8oz mesh banners are perforated with a micro hole pattern to allow the wind, light and sound through. They are a perfect solution for locations with high winds or with a requirement for partial transparency.
4x5 Pole Pocket Banner
starting at $80
Printed on smooth lay flat 18oz vinyl, these banners come with clean cut edges and 4-inch pockets installed on top/bottom, left/right or top only, making perfect signage wherever pole installation is required. Pockets accept 2-inch round poles (poles not included).
4x5 Double Sided Banner
starting at $100
These banners are printed on non transparent 18oz vinyl on both sides with either same or different image with clean cut edges. The highly opaque blockout layer insures no see through or image ghosting from side to side. Options include pole pockets.
File Setup for Printing 4'x5' Banner
Adobe Photoshop (also applies to all Raster Files)
- set up artboard to be 48" x 60" in inches (or 1/2 scale if necessary)
- set dpi to be anywhere from 100 to 300 dpi
- regular RGB or sRGB color space
- save as 100% quality jpeg file
Adobe Illustrator (also applies to all Vector files)
- set up canvas to be 48" x 60" in inches (or 1/2 scale if necessary)
- regular RGB, sRGB color space, or
- Coated GRACol or Coated US SWOP v2 color space
- embedded raster images should be at least 100dpi at actual size
- embed all raster images
- convert all text to outlines
- expand all strokes
- save as a pdf file
Pixel Dimensions for 4x5 banners
For 4x5 banner pixel dimensions should be:

- at 72dpi - 3456x4320 pixels;
- at 100dpi - 4800x6000 pixels;
- at 150dpi - 7200x9000 pixels;
- at 300dpi - 14400x18000 pixels;

As a general rule, the more detailed your artwork is, the higher DPI (pixel count) it should to be. For pictures and photographs, lower pixel/dpi counts are fine (72-100dpi). For text rich artwork, and for files with lots of details such as logos, maps, menus, etc, use higher pixel/dpi count (150-300dpi).

72 dpi is the minimum resolution we would recommend for printing, and the 300 dpi for the maximum resolution.
Size
4 x 5 feet
48 x 60 inches
121.92 x 152.4 cm (Metric)
Layout
Landscape (Horizontal)
4ft. high by 5ft. long

Printing
High resolution
Full color latex printing
1000 dpi photo quality mode
Print is UV & weather proof
Shipping
Shipped rolled in a tall box
Banners are never folded