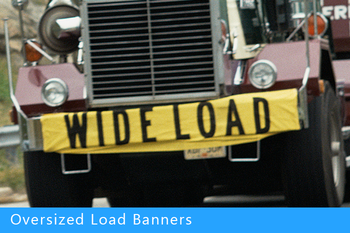 Wide Load & Oversize Load Banners
Durable, easy-to-install wide load banners that are legal in all 50 states.
Oversize load bumper banners for trucks and escort vehicles are a necessity for transporting certain very large loads. Our banners include hemmed-in bungee cords and are specifically designed to fit on the front of any semi truck or rear trailer bumper, to comply with regulations and alert oncoming and approaching traffic of an oversize load in transit.
Wide Load Bumper Banner Specifications
Local jurisdictions, individual states, and the federal government have safety regulations that must be adhered to when transporting a wide load. This includes the colors that are allowed on any oversize load bumper banners. To identify acceptable background colors and text requirements, we suggest visiting Oversize.io's State Regulations Page before customizing your wide load banner.
Size
Our oversize load banner size options are 1 or 1½ feet high and 5-7 feet wide. This range of sizes is ideal for the overwhelming majority of appropriate trucks.
Material
We print our wide load banners on highly-durable 13oz high denier vinyl, featuring a level of durability that exceeds requirements.
Finishing
Your banner is delivered finished with hemmed in bungee cords, for easy and convenient fastening to your truck or trailer bumper. Check before you buy—most banner vendors don't include fasteners, we do!
Aside from banner design, there are many considerations to manage when transporting oversize loads, including:
Allowed hours of movement
Allowed routes
Weight allowances
Required safety equipment
Tall loads vs. wide loads
Warning flags & lights
Check Oversize.io and local, state, and federal resources for more information.
Buy Your Oversize Load Banners Today
Get the banners you need to comply with relevant municipal, state, and federal safety regulations for operating vehicles carrying wide and oversize loads. Use our online design tool to get started, or contact our support team with any questions or special orders. Order the affordable solution to be safe and legal!
---