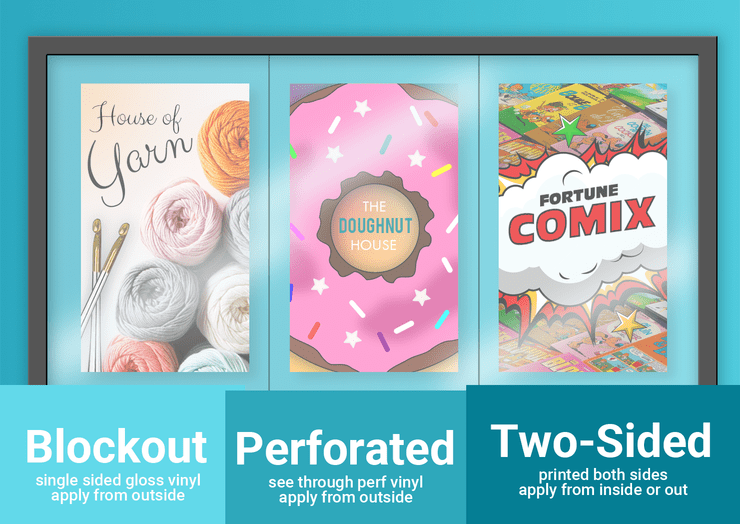 Window Decals
Adhesive vinyl decals for retail and commercial storefront window graphics
Perfect for retail stores, shops, boutiques, malls, commercial locations and restaurants, our window decals come in many sizes and styles to help you get the most from the traffic passing by your store windows every day. Specially designed for use on glass windows, our window decals come three distinctive ways: block-out single sided, two-sided, and single-sided perforated see through.
The block out decals will block the portion of your window with your printed message. Blockout window decals apply on the outside of the window only and will show your graphics on the outside and a solid gray layer on the inside.
The perforated see-through window decals, are printed on the front only and are still applied to the outside of your window - on the outside, it will show your message, and on the inside, it creates a darkly tinted glass effect that allows you to see outside through the perforation holes. The graphics on the perforated decal is not as vivid as on regular block-out decal but still very visible and does the job well.
Double-sided decals will show your graphics on both sides and can be applied inside or out, allowing you to show an advertising message on the inside of your store as well. Applying double sided decals from the inside will provide additional vandal and tamper proof protection to your graphics.
Our block-out decals are designed to last up to four years, and the perforated and double sided decals for up to two years on a clean vertical windows. Window decals come in standard square and rectangular sizes up to 4 foot wide by any length.
Overview
Print Process
Window Decals are completely orderless, dry, water & UV proof, with no tack, and smooth to the touch
Printed in the high-resolution mode on high definition eco-solvent printers, our window decals provide the sharpest detail even down to a 3pt text, with rich colors and smooth gradients, with no pixelation or blur. Our printers use an 8 color ink set for amazingly vibrant color at 1440 DPI print resolution.
Window decals come non laminated, printed on quality outdoor durable vinyl, and provide excellent UV & Water resistance.
Materials
Blockout Vinyl
Bright glossy blockout vinyl, with excellent outdoor and UV durability, provides a rich vibrant color on the outside and solid blockout grey adhesive on the reverse, with the life span of up to 4 years. Designed to be applied on the outside of your windows, it shows your graphics on the outside only and completely blocks the view from the inside, making it a great way to blockout large windows with graphics.
Perforated See-Through Vinyl
The see through decal will display message on the outside for up to 2 years, and allow to see through from the inside of glass through the perforated hole pattern, creating a dark tinted effect. Designed to be applied on the outside of the windows, it would show a perforated 50/50 hole pattern on the outside, making the graphics appear slightly washed out, while providing a dark tinted see though effect from the inside.
Two Sided Vinyl
Two sided decals are printed on both sides, with one side of the graphics featuring permanent removable adhesive, that can be applied on either side of the windows - inside our out, for up to 2 years. The ability to be installed on the inside provides for additional vandal and tamper proof applications, while allowing your advertisement to be seen from both sides. Tinted glass may partially reduce visibility on the glass side.
Sizes & Finishing
Window Decals available from the minimum size of 6x6-inches all the way up to 52x1500-inch size, entered as Height x Width in Inches, and available in any square or rectangle shape.
File Submission Specs
We manually inspect every single file you upload before printing and will only proceed with your order if it can be printed at absolute 100% stunning quality with no compromises.
Larger files can be zipped and transmitted via any non-password protected cloud file sharing service
JPEG / PNG
Set to actual decal size, at 100-300dpi, RGB Color Mode, with no compression, Photoshop quality level 12
PSD / PSB / TIFF
Set to actual decal size, at 100-300dpi, RGB Color Mode. Combine all layers into single background layer
PDF / AI / EPS
Set to actual decal size. RGB or CMYK Color Mode. Embed all linked images. Convert all text to outlines. Expand all strokes. Only use high res raster images at 50-100% scale. Files should not be password protected, if available export to PDF
Warranties
Absolutely no warranty or guarantee of any sort is implied or provided
Printastic.com, it's employees, contractors and affiliates provide absolutely no warranty on any adhesive vinyl product we sell. Any and all information provided by Printastic.com is for reference use only. It is the customer's sole and full responsibility to test and determine if any Printastic products are a proper fit and should be used. Printastic.com shall not be held liable for any damages or failures arising from the direct or indirect use of Printastic's adhesive products. Printastic's sole liability shall be limited to the product replacement or refund of original order value only.
---
product reviews
5
1 product reviews
see all reviews

Lisa
on June 21, 2023
This was an easy-to-use website and shipping was fast! Plus, I had to do a custom size and I didn't have any issues with that. It took me a few days to get the nerve up to apply it to the window but once I did, it went on super easy with no hangups! I will definitely use this company again!