After School Program Banners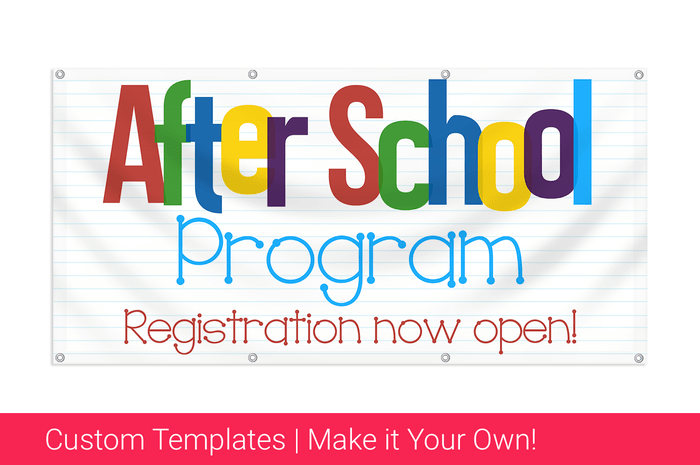 After School Banners
Our large vinyl banners grab the attention of students and effectively promote after school programs and special events.
Inform and engage students with large vinyl banners inviting them to attend an after school program or special event! Due to their busy schedule, students may not always be aware of the latest programs and after school gatherings that they might be interested in attending. Displaying after school banners from Printastic will ensure that the right message is delivered to the right students at the right times.
After school programs serve children and youth of all ages, and encompass a broad range of focus areas including academic support, mentoring, youth development, arts, and sports and recreation. The activities in which children and youth engage while outside of school hours are critical to their development, highlighting the need for quality after school programs in all communities. The demand for after school programs is strong and high quality after school programs generate positive outcomes for youth including improved academic performance, classroom behavior, and health & nutrition. Communities and businesses also benefit when youth have safe and productive ways to spend their time while their parents are at work.
All of Printastic's after school banner templates have been professionally designed with reassuring colors and strong, contrasting solid shapes to provide viewers with a sense of excitement and anticipation for the upcoming event. Our templates can be easily customized with your school's logo and information with our easy-to-use online design tools.
Schools that are wanting to buy wholesale school banners at huge discounts are invited to join our wholesale pricing program.