Bakery Banners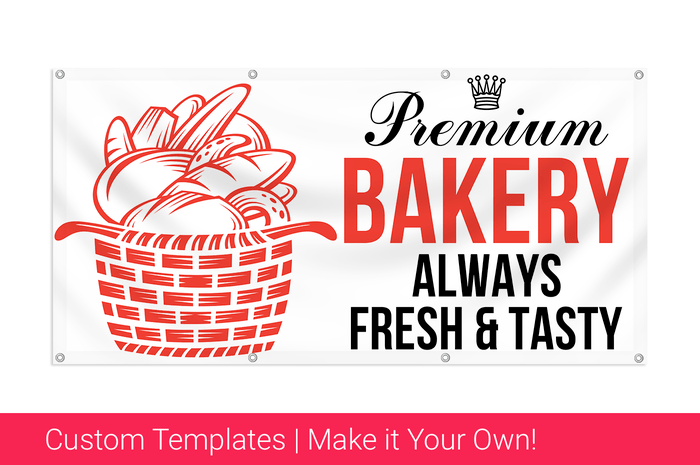 Bakery Banner
Using Printastic.com's full-color bakery signs adds professionalism to your business and gets the attention of potential customers. We offer a wide variety of bakery banner sizes and shapes, from small square signs, to very long banners that can stretch across the room, to vertical banners perfect for filling a window from floor to ceiling. You can even display your bakery banner off-site. Regardless of what type of baked goods you offer, Printastic.com has more banner products to meet your needs than any other online printer.
Personalize your bakery signs to fit your unique business. We offer a huge selection of professionally-designed templates for bakery signs and other restaurants. Simply select your favorite bakery banner and personalize it using our easy online design tool. Add your logo, your business colors, and even photos of your high-quality menu items so that potential patrons will view your bakery signs and come right in to see what you have to offer!
Bakery signage helps create a sensory experience for customers—they should smell your baked goods and see how delicious they look from far away, drawing them inside to make a purchase. We can produce bakery signs in any custom size and quantity you need, so whether you're covering your entire storefront or you need to identify an order pick-up area, Printastic.com is here to help with customizable templates for bakery banners.