Boot Camp Banners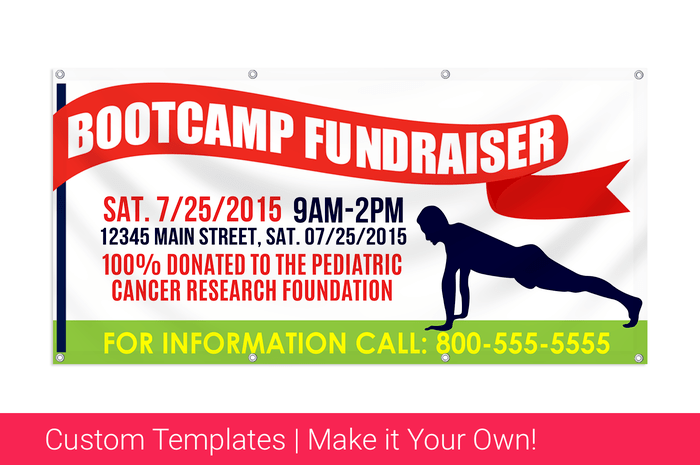 Fundraiser Boot Camp Vinyl Banners!
Custom Banners Boot Camp Fundraiser's Can Use To Attract Attention to any Boot Camp Sponsors Willing To Donate Funds or Boot Camp Recruits Willing To Donate Their Time.
Boot Camp events are popular among younger fundraiser organizations where a boot camp style event will be planned for a select number of recruits that will be subject to certain routines that will test the recruits durability and tenacity while going through the program aiming toward completion. Making it tough for the recruits is the name of the game, because for each recruit that does make it sponsors will donate funds toward an organization's worthy cause. Custom boot camp banners in these instances can be used for a number of reasons. First they can be used to attract recruits to sign up for boot camp. Also boot camp banner can be used to advertise to potential sponsors willing to donate funds toward the success of a recruit making it through the program.
Our custom banners can be modified in any way you want in order to make them unique to your brand and color choice easily using our online sign designer. These fundraising vinyl banners are one of the more affordable advertising solutions any organization can use, and we make creating your banners easier then ever by creating these customizable fundraiser sign templates that anyone can alter for branding and styling purposes.
To order fundraiser banners for your next boot camping event, feel free to customize any of our pre-designed boot camp signs using our easy to use design tools. Specialty constructed for the novice graphics person, anyone can upload new graphics, change color and font styles, and even add your organization's logo to differentiate your banner from the rest. Also, if you already have artwork ready to represent your next boot camp event on the banner(s) you want, simply upload your own print ready file at the time of ordering. Either way, you will be able to apply your signage on the banner of choice and we will promptly print and ship your banner to you fast.