Car Wash Banners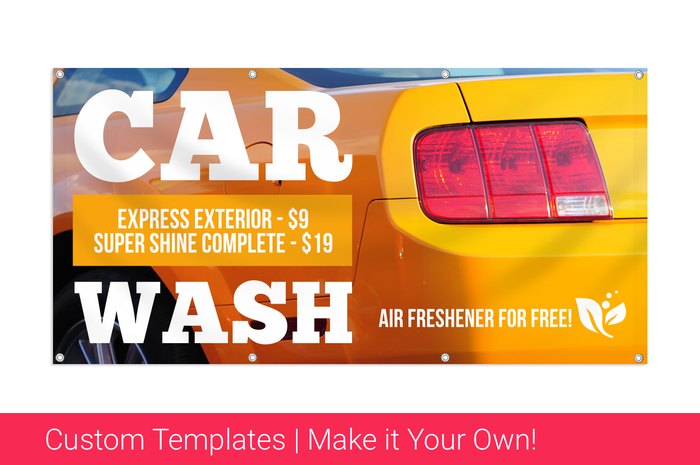 Car Wash Banners
Grimy cars are an unfortunate reality that motorists face on literally a weekly basis, and even when someone's car is slightly dirty, in the back of their mind, they are constantly reminded that they need to wash their car for a variety of reasons. Having the right car wash banner can grab the attention of potential customers all day long.
Regardless of the motivating factors that help keep clean cars on the road, car wash businesses all over America know that reminding motorists as they pass by to wash their car is the key to success. Advertising car wash specials, hand wash services, and even the occasional wash and wax promotion is one of the best methods to draw in customers. Direct response advertising using a car wash banner is not only the most affordable way to attract new business, but it literally can be the only advertising method a car wash needs.
The realization of using large banners to advertise car wash promotions is also a no brainer. Custom banners big enough to attract drivers swiftly passing by are best because they are effective in getting attention and standing out. With size being a factor, and the clarity of the message being so important, using quality vinyl banners as the sign medium makes the most sense.
Vinyl banners for advertising any car wash promotion can be printed up to 10x50 foot in size making the potential sizing you may need non issue, and the effective graphics and printed message for applying car wash offers on these banners is easily accomplished. Whether you already possess the print ready file that conveys the car wash promotion you have in mind, or you want to use any of our time tested car wash templates that can be customized to include your own logo or branding colors, making car wash banners is now easier than ever.