Check Cashing Banners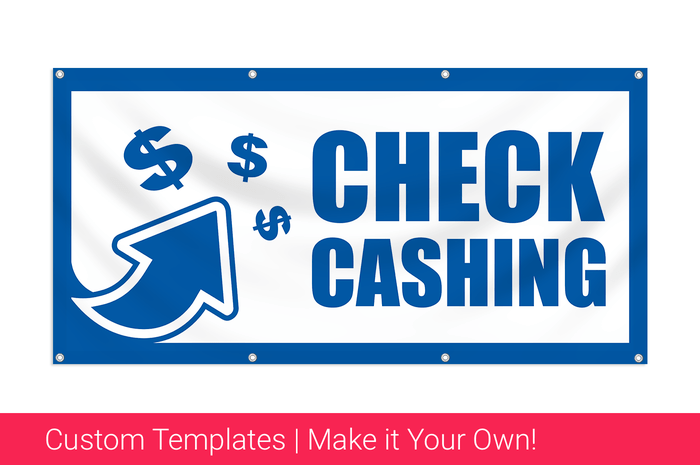 Check cashing service vinyl banners
Check cashing services already know how effective and affordable banner advertising is when enticing customers looking for a service that can cash checks without any hastle fast.
Many instances happen where we as individuals need to cash a check fast without any hastle. Although most of us have bank accounts, there are times where our local bank is not in the area and we have a check that we need to cash in order to obtain cash. Whether its an IRS check we want to cash, a payroll check that we want to get cash on asap, or any other bank instrument that we want to take and convert into spendable money ASAP, the immediate demand for cashing checks has become so popular that check cashing specialty businesses have become very popular.
The way check cash businesses make money is by cashing a check immediately for a person for a fee. Check cash fees can be expensive, but in order to be successful with a check cash service, the fee needs to be somewhat competitive and offer these services for a rate that looks attractive to customers needing such a service. Sign advertising in the form of hanging banners at the check cash location works well for advertising these services for a couple of reasons. First of all, advertising using check cash banners is cheap. The banners needed for check cashing promotions can easily communicate the fees a check cash business is charging at a more than affordable production cost. Secondly it is a known fact that banner advertising works best when a business is targeting customers looking for an immediate need, and check cashing services when needed by the consumer is a service that will be at the top of a consumer's mind until the demand to cash their check is fulfilled.
Check Cash Signage
Check Cash Services Can Use Banner Advertising To Bring In Customers needing to cash their checks.
Well though out check cashing ad banners should be hung along side a building or in a business window to attract the attention of motorists driving by your check cash business. These check cash promotions can be printed on large enough banners to easily read from moving motorists even at far away distances. For banners that promote immediate cash from your check services, your message should be more textual than graphical. Graphics that can be used are pictures of money and checks along with a promotional message that spells out the fees you charge for cashing checks. By being up-front on your fees and staying competitive, you are likely to find great success when using vinyl banners to advertise check cash services.
For sizing these types of banners for cashing check, we recommend using a traditional sized wide banner that is large enough to be perceived by traffic that passes by your location on a daily basis. Given the fact that most check-cashing services are situated within shopping center strips and other road side retail / office locations, the distance from your building where your banner will reside to the bulk of traffic you are attempting to communicate with is a big part of the number of visitors that will be able to read your message. By sizing your banners large enough to be read from a distance you are more likely to attract new business. We suggest using 3x8 foot banners, or even our 4x10 banners depending on how much installation space you have to work with.
We realize that most of you will already have print ready files for your banners ready to promote the check cash plans you offer. If this is the case you can easily upload your graphic file at the time you order, and we will review your file to ensure your banner message is printed to your expectations. However, for those of you that do not have a print ready file ready for making your check into cash banners, we have created some custom check cashing sign templates you can modify to suit your promotional needs and branding requirements. Simply find the check cash sign we have created that you like best and choose to modify that template using our easy to use online banner design tools. Our online designer will make it easy for you to customize your template so that your banner contains the unique check cash messaging, color schemes, desired fonts and type styles you need to ensure your banner can be created with the desired look you prefer on your advertising. We also allow you to upload your own graphics and logos onto these sign templates, so even if you have a graphical logo you want to use within your check cash ads, you can easily add your logo and any other graphics to your banners.
Be rest assured, when you buy any of our banners, high resolution printing is what you can expect from the banners you will receive from Printastic.