Home

\

College Bookstores
College Bookstore Banners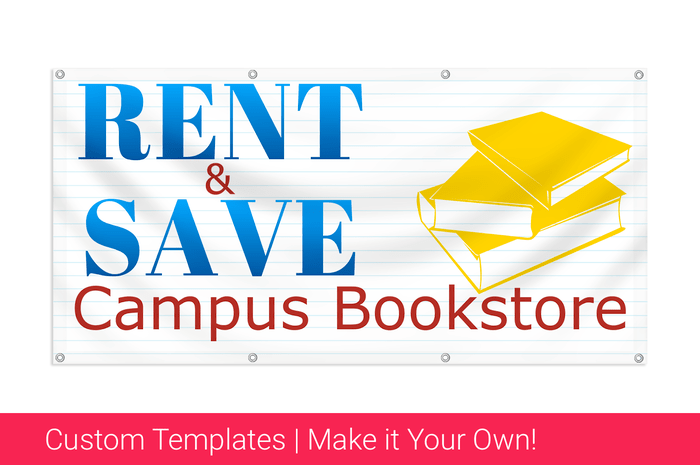 College Bookstore Banner
Make your college bookstore a success with custom vinyl banners from Printastic.
College bookstores are the one campus store that students have no choice but to attend in order to purchase the required text books and work study pamphlets professors demand. Since this is the case, the college bookstore is often a central meeting point where students hang out and socialize.
College bookstores will also stock products, clothing and writing study supplies that are both generic and custom designed with insignias and school colors that most students purchase in order to show their school spirit. From selling new and pre-owned text books, college study supplies to selling university apparel, creating custom banners to help promote the occasional sale event or entice a student to get that new university sweatshirt before they are out of stock, is one of the most affordable ways to advertise a book store's products.
Printastic's college bookstore banner templates are professionally designed and ready to print. It's easy to customize your chosen banner template using our online editing tools. Once you complete the purchase process, your college bookstore banner will be bringing in customers in no time. Printastic lets you customize banners to incorporate the necessary colors, insignias and logos to ensure the imagery you need to represent your banner is personalized to the college your bookstore resides in or near.
College Bookstores that are wanting to buy book store banners at wholesale pricing are invited to join our wholesale pricing program.