Donation Banners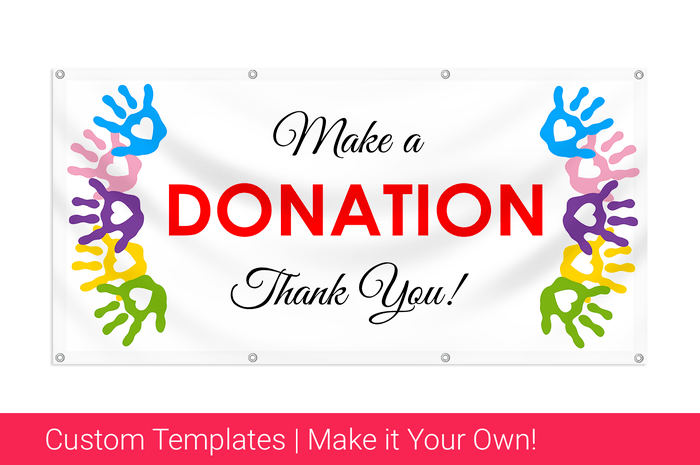 Donation Banner
Sometimes advertising the fact that your cause needs supporters is the most effective way to raise the funds you need. While donation events and awareness to your cause are important, a donation banner is sure to have the impact and "attention-getting" effect you are looking for to help increase funds. Donating is sometimes best when your organization allows anonymous donations to be made. If this is the case, think about creating a banner that promotes on-the-spot donations and hang it right above a table where your organization can have a large donation canister. Or have a jar ready to accept the immediate cash donations participants are willing to give.
Customize your banner any way you want and make it unique to your brand. It's easy to do using our online sign designer. Our fundraising vinyl banners are one of the more affordable advertising solutions any organization can use. And we make creating your banners easier than ever by offering customizable fundraiser sign templates that anyone can alter for branding and styling purposes.
To order fundraiser or donation banners for your next donation event, feel free to customize any of our pre-designed donation signs using our easy-to-use design tools. Specially constructed for the novice graphics person, anyone can upload new graphics, change color and font styles, and even add your organization's logo to differentiate your banner from the rest. Alternatively, if you have artwork ready for your next donating event, simply upload your own print-ready file at the time of ordering. Either way, you will be able to apply your signage on the banner of choice and we will promptly print and ship your banner to you.