Easter Banners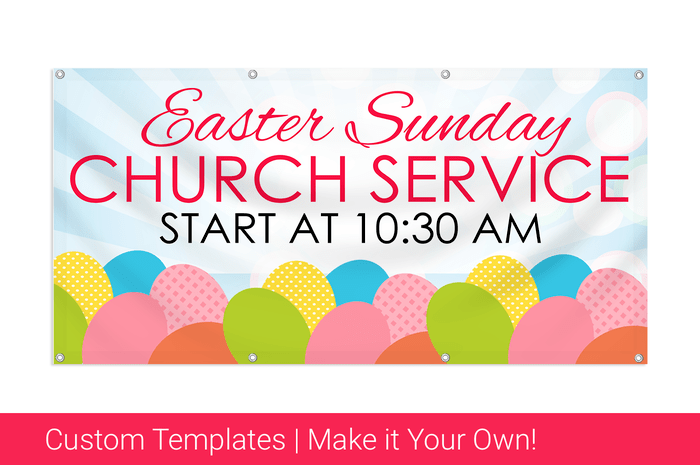 Easter Banner
An Easter banner from Printastic is a great way to promote your church, community or company Easter services, events and egg hunts. Using large, colorful banners makes it easy to announce your service times, children's egg hunt areas and generally spread the good news of Easter. With large vinyl banners, members of the community and parishioners can be made aware of the date and times of your community Easter festivities.
Add your church name and logo to create custom Easter banners which announce your specific Easter celebration. Vinyl banners can even be used on the church grounds to display informational messages, directions, and event times. In addition to Easter information, large vinyl church banners from Printastic can be used to promote Easter-related observances like lent. Use a customized Easter banner to remind church members to give up something for lent and to observe religious rules during the period of lent.
Happy Easter Banners Drive Spring Sales
In addition to worship, Happy Easter banners can also be used for business purposes. Add Happy Easter banners to your store to announce your Easter specials and sale events. From Easter dresses to Easter eggs and candy, spotlight your Easter products using Happy Easter banners in fun, pastel colors. Most Easter marketing materials have some form of Easter Bunny, colored eggs, springtime pastels or religious themes. These are all well-recognized symbols of Easter, and so you can gain instant recognition for your church or business by employing them in your banners. The trick is to pull it off without looking just like everyone else – so consider a couple unique ideas to help you stand out from the crowd:
Remake your logo in Easter pastels
Bright, glossy Easter pastels remind customers of the vinegar-stained, egg decorating joy of youth. Images that remind us of pleasant memories have the benefit of attracting immediate, undivided attention, and so you can't go wrong by incorporating Easter pastel greens, blues, pinks, purples and oranges into your color scheme. Bonus benefit: If your company is already well branded, the logo difference alone will become a conversation piece.
Easter theme change-up
Common Easter themes are easily recognized but otherwise boring by virtue of repetition. Bunnies and candy are expected, and so it is the unexpected that really has value. The trick is to retain an Easter theme while being so different that your audience can't overlook your designs. Sometimes a simple switch is all you need; for example, you might place a purple bunny or a product-shaped chocolate on the front of a product picture. Other times, you could be more extreme: a church Easter banner with silhouettes instead of bible characters to demonstrate that the church could help regular, everyday people with their suffering.
Also, don't be afraid to try something new. Easter is often considered a celebration of renewal and of new beginnings, and so it presents the perfect opportunity for re-branding your company and demonstrating how your products and services can "renew" your customers' lives. Spring is working to transition the winter chill into summer heat, and many celebrate the Resurrection of Jesus Christ, so this theme is likely to resonate with your entire Easter audience, whether they are Christians or not.
No matter your viewer's religious denomination, Easter banners are even a smart business investment. Due to the fact that the Easter message doesn't change, you can save money by reusing your banners year after year.
Easter Banners For Promoting Your Events
Most U.S. customers have been boarded up from the winter chill and are itching for a chance to get out and do something as spring thaws the frost, and an Easter-inspired event might be just the thing to get those customers to come to your place of business. Easter egg hunts, egg races, coloring contests, and photos with the Easter Bunny are common contemporary marketing promotions.
As an idea to increase excitement, consider hanging a different banner for each week leading up to Easter. Alternatively, if you have a large space, continue to add banners as the season progresses. These additional banners can be the same size, or smaller, to group beside the larger ones to promote related events such as Ash Wednesday services or Palm Sunday celebrations.
No matter which way you choose to go, Easter banners for church and community events are easy to create using Printastic's fully-customizable templates. Choose from any of our free templates and start designing Easter banners in an instant - our online designer, high-quality printing and quick production make ordering Easter church banners easy!