Financial Aid Banners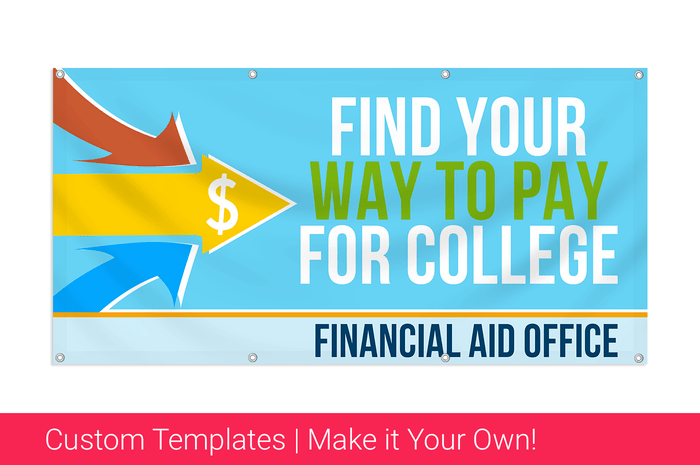 Student Financial Aid Banners
Financial Aid Banners Help Students Fund The Education Of Their Dreams!
Higher Education is a goal that is both admirable and noble.  Unfortunately, finances can sometimes become a barrier to reaching that goal.  Financial difficulties is a topic that many people prefer to avoid discussing and can be an emotionally distressing subject, but is necessary nonetheless.  Printastic's range of financial aid banners convey the idea that help is available to students from all walks of life with comforting and thoughtful messages of encouragement.
Students who are discreetly seeking information about financial aid, but don't know where to turn or who to ask, will be relieved to see that help is available to them. Our financial aid banner templates have been professionally designed to provide hope and reassurance to the viewer, while displaying an easy to read message with prominent spaces for key ideas and contact information.  We have conducted extensive research into the most successful design themes and messages among the most prestigious colleges, universities, trade schools and other educational institutions.  Based on that research, these banner templates allow you to take advantages of long term academic marketing experience and create financial aid banners that are proven to be highly effective.
As students pass through the hallways or walk across the campus from one class to the next, your financial aid banner needs to grab their attention and deliver a complete message in as little time as possible.  Keep in mind that successful banners capture the attention of busy people by keeping the main message large and easy to read with bold typefaces and vibrant colors.  While financial aid may not be a student's favorite topic, it is something that many students need, and highly polished, professional looking financial aid banners from Printastic help them find it.
Schools and institutions that are needing to buy large quantities of custom banners at wholesale pricing are invited to join our wholesale pricing program for awesome pricing we love extending to schools, colleges and universities.