Fitness Center Banners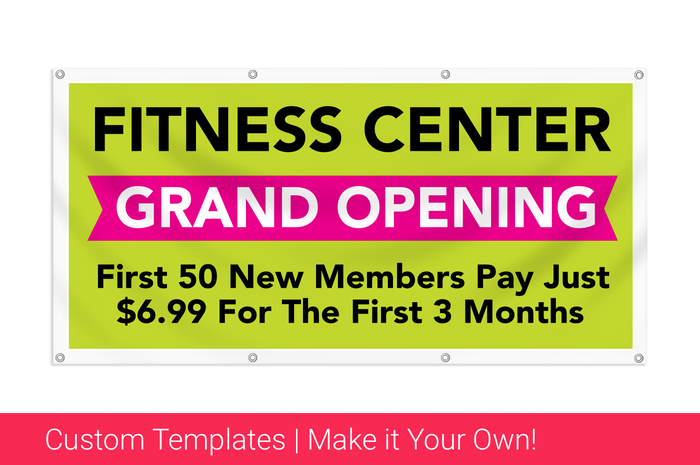 How Fitness Centers Use Banners
Gyms and Fitness businesses use banners for a variety of reasons. From advertising membership specials, instructing existing members with posters that demonstrate proper exercising methods, to notifying customers with safety precautions, custom banners and quality posters are a vital part of any gym or fitness facility.
Today's fitness business is so diversified. Whether you own a small Pilates business, your business provides crossfit programs, or you own a huge mega fitness center that offer every spectrum of fitness classes and equipment, employing cost effective custom banners and photo quality posters in your marketing advertising and daily operations will positively impact your bottom line.
ADA and Compliance
Your fitness center should be a welcoming place for those with disabilities. Compliant ADA posters can help make the identification and finding of equipment and dedicated sections of the gym easier. ADA standards require that public buildings, including gyms, make information available to individuals with visual impairments, including raised signage for elevator buttons and signs that indicate the location of elevators, bathrooms, and more.
Promoting Your Membership
New membership signups are the life blood of your fitness business. Fitness memberships have a huge churn rate, so ensuring your member roster is growing requires constant promotional strategies to acquire new members. Printing colorful inquisitive custom banners to aid in all your promotional programs is one of the more effective direct advertisement strategies a fitness center can deploy.
Using your fitness center's window space to advertise is important. You want the advertising to be temporary, due to revolving programs, so permanent signage is not viable making Window Banners your obvious choice for temporary displays. The photo-quality graphics we digitally print on our banners make these just as effective as permanent signs but can be changed out whenever needed and reused at a later date.
Using Instructional Posters Inside Your Gym
Exercising properly is the key to a successful workout, so to maximize efficiency so members see optimum results, printing instructional posters that demonstrate proper lifting methods and the correct posture one should have during aerobics or Pilates is an excellent visual tool for members. They will appreciate the advice and their efforts will be more rewarding leading to a higher member retention rate.
Ordering The Banners Your Fitness Center Needs
If you already have your banner's design ready, you can upload your artwork to us after you choose a size during the order process. If you need to create your design, consider customizing one of our fitness templates making it unique to your brand using our online design tools.