Home

\

"Funded By" Banners and Signs
Funded By Banners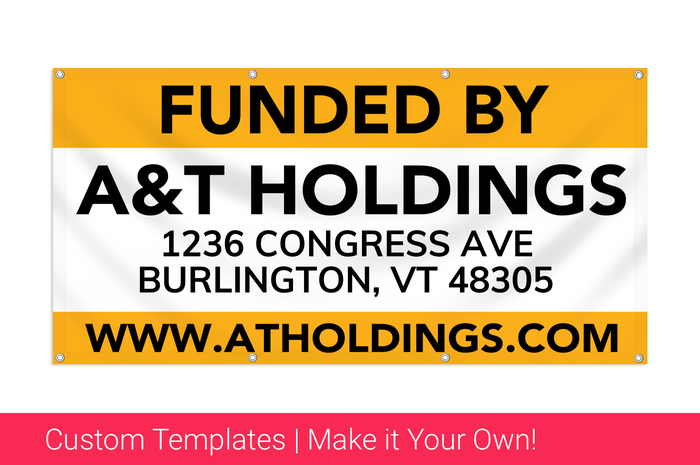 How Business Use Funded by Banners To Announce Sponsorships
Convey your business' sponsored contribution to its community with a large banner or sign that lets people know that you've recently funded a project. When planning to fund a worthy cause like a building project or a local charity, use the opportunity to communicate that your direct involvement helped improve the community. Not only does this benefit the community, but this kind of PR can help you earn more trusting customers and clients.
Good public relations improves your customer loyalty and retention and will help in showing your good will involvement to the community as a whole. It helps people living within the community to see you in a different light and show that you or the business you represent cares to make charitable contributions to improve the common good.
Funded by banners should be designed as simple as possible since you don't want it to detract from its charitable intent. Including a business logo or brand recognized graphics are okay to do, but we recommend keeping your branding to a minimum as the audience that see these kind of banners will make it a point to recognize the source of the charitable contribution.
Ordering Your Banners From Printastic
Simply upload the artwork you wish us to print on your banner(s), choose from our designs that can be customized online or design your own funded by themed banner from scratch using our easy online design tools.