Drive Banners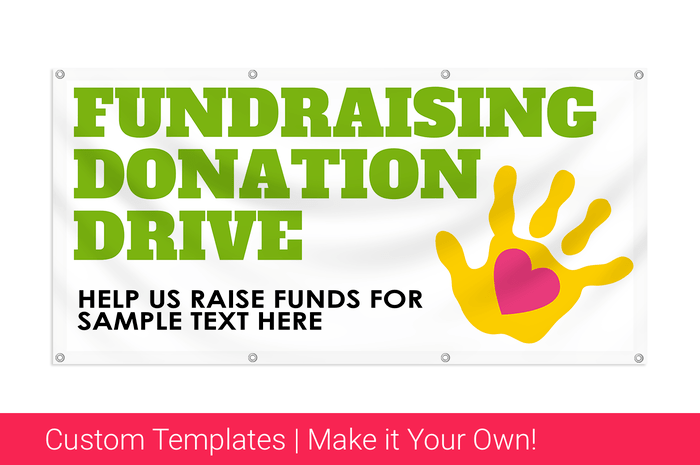 Fundraiser Drive Vinyl Banners!
Custom banners fundraising drive planners can use to acquire products that can be sold or auctioned to increase funds.
For those of us who don't always have the available funds to donate in order to help our favorite causes, it is often much easier to donate some item we own that can be used or sold to help an organization's agenda. These indirect fundraising programs are called fundraiser drives, and is a great way for non profit organizations to raise funds through the donation of items by supporters who want to help. When you see an auction or a fundraising sale, the items usually being sold or auctioned off is the result of a past drive that fundraising planners promoted. Other drive programs, will often take the donated items and instead of reselling what was given, actually offer the direct donations to other less fortunate members to help subsidize the needs we all have. From food drives to toy donations, many fundraising organizations, especially during the holidays will as the community to donate canned goods and toys to their cause, so children and families can benefit from the donations of others.
For any drive opportunity, communicating the cause and the items wanted in your drive program is the key to how successful the program will be, and communicating this message with words and graphics on vinyl banners is one of the most affordable ways to get the word out and ensure your next fundraising drive will be a hit.
Fundraising Drive Signs
Acquire product donations that can be used for thrift selling, auctions and other sales to increase funds for any fundraising cause.
Our custom banners can be modified in any way you want in order to make them unique to your brand and color choice easily using our online sign designer. These fundraising vinyl banners are one of the more affordable advertising solutions any organization can use, and we make creating your banners easier then ever by creating these customizable fundraiser sign templates that anyone can alter for branding and styling purposes.
To order fundraiser banners for your next product drive, feel free to customize any of our pre-designed signs using our easy to use design tools. Specialty constructed for the novice graphics person, anyone can upload new graphics, change color and font styles, and even add your organization's logo to differentiate your banner from the rest. Also, if you already have artwork ready to represent your next drive event on the banner(s) you want, simply upload your own print ready file at the time of ordering. Either way, you will be able to apply your signage on the banner of choice and we will promptly print and ship your banner to you fast.