Home

\

Banners for Hair Salons
Hair Salon Banner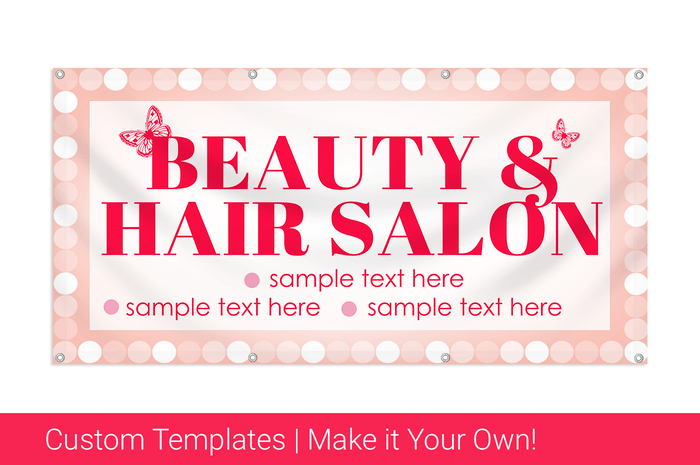 Print Hair Salon Banners
Order colorful photo quality Salon Banners to help bring in customers wanting the latest in hair styles!
Your hair salon deserves as much attention you can get, and custom hair salon banners from Printastic will help your hair salon stand out from the rest. Our banners are printed in brilliant color and produced with the best materials to showcase awesome pictures of the hair styles and cuts your clients want. With affordable prices and same day turnaround, you can make banners and posters that can transform your salon's image both inside and out.
With a fierce amount of competition from other stylists, it is important to help your hair salon attract new customers, and awesome photographs of a hairdo with special pricing for first time customers is just the message that is sure to bring in new clients like never before.
Custom salon banners revitalize your storefront and are perfect for showing off the latest top notch hair stylelists in Hollywood and New York have to offer. Using colorful posters hung along exterior windows of your salon are one of the more affordably and noticeable sign products that work wonders for building your salon's customer base.
All Vinyl banners are printed on top quality vinyl rated for indoor and outdoor use and use the latest print technology to provide a superior presentation of your graphics and promotional messages. Designing custom banners and vertical posters for outside and inside your hair salon is simple. Customize any of our professionally designed templates or start with a blank canvas using our online design tools to create the perfect hair salon banner.