Loan Banners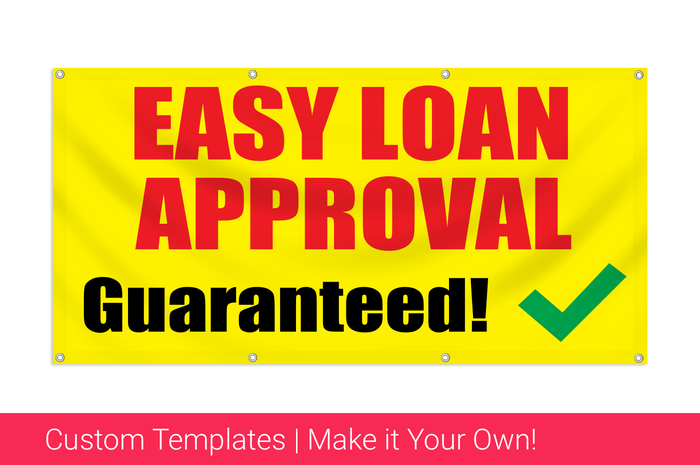 Promote Loan Offerings With Vinyl Banners and Signs
Offering loans is a great way to ensure your business continues to grow. Loans can not only provide businesses with another stream of revenue, but they're great for customers who don't have the money to pay for large, expensive purchases. The best way to bring in more customers with your loan offering is to keep them informed using large, eye-catching banners and signs.
Who Can Benefit From Loans Banners and Signs?
Any business or institution offering loans can benefit from using banners and signs to promote their loans. Here are just a few:
Dealerships
When someone is purchasing a car, they typically don't have the ability to pay the entire purchase price upfront. A loan allows them to purchase the car and pay it off over time, spending more money over time than they would if they paid at the time of purchase.
This opens up all dealerships to a whole new stream of revenue so that they can make more money over time. Dealerships can use banners and signs to promote the loans they offer so that they can inform the public as they drive by the dealership every single day.
Banks and Credit Unions
Banks and credit unions offering mortgage, personal, or auto loans can also benefit from using banners and signs. When someone comes into the bank to conduct their regular business, they can see the sign promoting a loan, which will put the idea in their head that should they ever need to finance a large purchase, they can come to the bank they know and trust for the loan.
Mortgage Lenders
Lenders specifically focusing on mortgages are another business that can use vinyl banners and signs to promote their loans. There are tons of different loans available for homebuyers and homeowners that can help them keep their payments low. Mortgage lenders can use banners and signs outside of their business location so that they can inform those in their community about their great offerings.
Pawn Shops
Going to a pawn shop for a loan is an ideal solution for someone who needs cash quickly. Instead of simply pawning one of their belongings, they can get a loan that, once paid back, allows them to get their belongings back. These solutions are great for those with lower income and credit scores so that they can get the money they need to pay essential bills and come back to pay the loan come payday.
Promoting pawn shop loans can help you reach more customers that need money quickly so that you can help those in need while generating revenue for your business.
Why Use Banners and Signs for Promoting Loans?
Wide Reach
No matter the type of business you're in, your banners and signs can reach a wide variety of people every single day. You never know who might be looking for the type of loan you offer. You can use your banners and signs every single day so that you can make sure you're reaching everyone in your local community.
Affordable
Banners and signs are affordable for all businesses. You don't have to be a large mortgage lender or a financial institution to promote your loan offers to the public. Pawn shops and small businesses can promote their offers with a vinyl banner or sign at an affordable price that increases their ROI.
Customizable
All vinyl banners and signs are completely customizable. Businesses can use their own logos and artwork to create a branded sign that promotes their loans.
Order a Custom Loan Banner or Sign Today
To create your own custom banner, all you have to do is upload your own artwork or choose from one of our customizable templates. No design experience required.