Pawn Shop Banners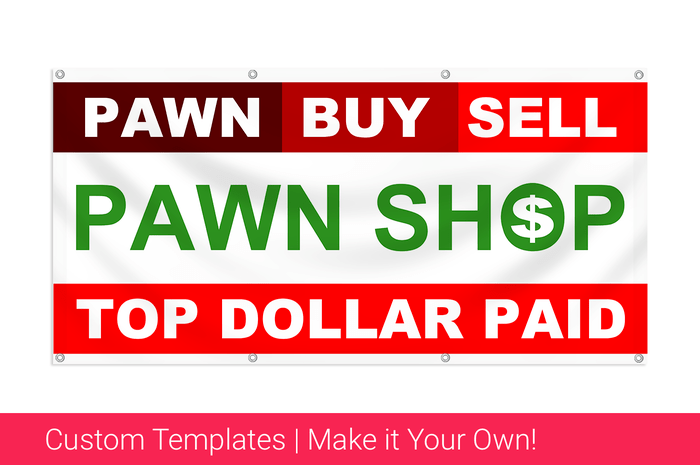 Pawn Shop Banners
Promote Any Pawn Business with A Custom Pawn Shop Banner Letting Your Community Know You Pawn For Fair Interest Rates & Buy Goods At Competitive Prices.
There's just no better way to advertise competitive pawn loan rates than to print a huge large format banner to hang outside your pawn business letting the public know you offer pawn loans at fair interest rates!
Pawn shop banners are one of the more affordable ad methods a pawn shop can use to both attract sellers and buyers. By creating several vinyl banners a pawn business is able to notify consumers you have awesome specials for sale, and for those looking to sell, banners will communicate the fair pawn lending practices your pawn shop offers.
Pawn businesses mostly print their banners to promote to passing traffic outside their shop, so we suggest printing your banners on tough 1000x1000 denier 13 ounce lightweight matte vinyl for eye catching clarity and ease of installation mounted on your pawn shop' exterior building or awning.
For sizing any pawn shop banner, visual perception in being able to understand the message is the key. Graphics should be secondary and the readability of your text message using sharp color contrast and clearly visible block lettering is what is most important. For size, we suggest a minimal size to be 3x8 foot banners, or even our 4x10 banners. Depending on how much space you have to work with, using even larger sizes will is best.
We offer several ordering options when it comes to providing us with the pawn shop promotion artwork and message you want to use. Our first and most used option is to upload your artwork to us. This can be done when ordering your banners by uploading the file directly to us, or using an open file management uploading service like Drop Box. For those of you that do not have a print ready file ready for upload, we have created some custom pawn sign templates you can modify to suit your pawn advertising needs. Simply find the design you like best and use our easy to use online design tools to customize your banner.
Be rest assured, when you buy any of our banners, high resolution printing is what you can expect from Printastic.