Pawn Shop Banners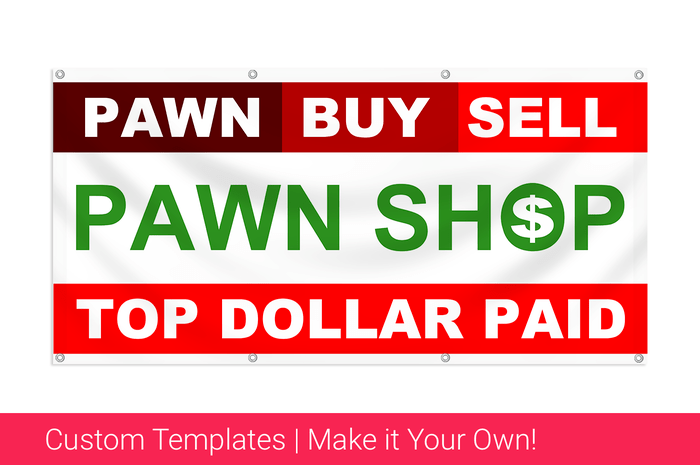 Pawn Shop Banners
Whether you need to educate customers that your pawn shop offers the best pawn rates for the pawning or sale of items in your city, or you want to promote the sale of awesome priced quality goods your pawn shop has acquired, banners are a great way to engage visitors outside your store to stop in and sell their goods or look for bargains.
Pawn shops are in high competition these days and their business model is quite simple. Using a buy and sell approach a successful pawn shop will be productive in buying items from the selling consumer as well as offering great buy back rates on items a consumer may want to pawn when needing to raise some cash for an immediate need. By notifying the selling and pawning crowd, a pawn shop is systematically acquiring products. In some cases a pawned item is not paid back within a certain time limit and at the expiration date, the pawned item is forfeited and essentially becomes the property of the pawn shop. Other times a consumer will simply come into a pawn shop to just sell an item for a quick sale. Either way it is the pawn shops business to know what price they can offer to a consumer, so they a consumer is willing to part with the goods they have, while at the same time, understanding the worth of that same items to ensure a pawn shop is able to re-sell it at a profit. This fine line between buying and selling will make all the difference in the world of whether or not a pawn shop is going to sustain itself and make a profit.
Pawn Shop Signs
Apply your pawn promotions to our banners to notify customers of your great buying rates as well as promoting the cheap sale of quality items that you are selling.
Pawn shop banners are one of the most affordable ads a pawn shop can use to both attract the sellers and buyers to their location. By creating several custom banners the largest variety of banner products that notify consumer of the kind of products you are looking to buy and informing them that you are paying top dollar for these items is a great way to attract sellers. Let's imagine for a second your city is in a community where golf is a popular pass time. Maybe through-out the years of your operation you have found that gold clubs, bags and other golfing gear is in high demand and your pawn shop is quite successful in selling golf products to your community. Possibly your golf inventory is beginning to deminish, and you want to ensure your supply can keep up with the demand of buyers that come into your shop. By publishing a we buy golf gear at top dollar pawn banner and hanging that outside your shop to attract motorists, you are effectively letting the selling demographic know that it is golf products you are wanting to acquire. This ensures you have the inventory that can supply the demand of buyers you get.
Regardless of whether its golf gear or not your pawn shop concentrates on, odds are there are in demand products that your shop is known for that delegates your store stays aggressive on sourcing and finding those in demand products at great pricing to ensure your buyers stay happy.
With buying notices now understood in terms of why a pawn shop needs to use banners, the same kind of psychology applies to enticing buyers too. Maybe you have had a resent influx on jewelry that you have acquired at far below wholesale pricing and you need to liquidate this jewelry inventory as quickly as possible. By utilizing these cheap banners to inform customers you have excellent pricing on jewelry, you will find that a simple blowout message on a banner exposed to motorists passing by your shop is all you need to get those bargain hunters shuffling in to buy up that inventory of cheap items you have received in no time.
For sizing we pawn shop banners, visual perception and being able to easily read your we buy or we sell message is the key to a successful campaign. Graphics are secondary as the action of what you're buying or selling is your key. When this is the case, size your banners to ensure they can be read by passing traffic and be sure to keep your text colors in sharp contrast with your background colors to ensure the text message stands out and can be easily read. For size, we suggest using 3x8 foot banners, or even our 4x10 banners depending on how much space you have to work with.
We realize that most of you will already have print ready files for your pawn store banners ready to promote the offers you want to promote or are looking for. If this is the case you can easily upload your graphic file at the time you order, and we will review your file to ensure your banner message is printed to your expectations. However, for those of you that do not have a print ready file ready for displaying your ad notices, we have created some custom pawn sign templates you can modify to suit your pawn advertising needs. Simply find the buy or sell message you like best from the signs we have created and use our easy to use online banner design tools to customize your banners. Our online designer will make it easy for you to modify any template so that your banner contains the unique color schemes, desired fonts and type styles your banner ads. We also allow you to upload your own graphics and logos onto these sign templates, so even if you have a graphical logo you want to use within your pawn banners, you can easily add your logo and any other graphics you want for personalizing your message.
Be rest assured, when you buy any of our banners, high resolution printing is what you can expect from the banners you will receive from Printastic.